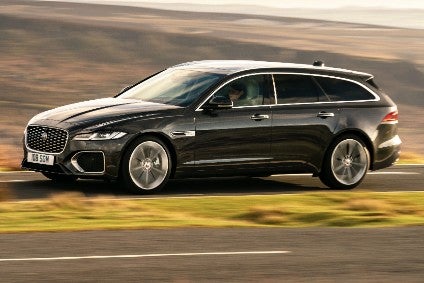 Big estates don't come much better than the Jaguar XF. Available to buy since August 2017, the Sportbrake still looks terrific and thanks to a major revamp for the interior, has even more of a luxury air about it. The model year 2021 saloon and estate have also been given a minor exterior makeover and just as importantly, a selection of new engines.
There was a time when 'bevy' could be accurately used to describe the line-up of powertrains for this saloon and estate range. No longer. As has happened with the XE, there has been a culling which is probably as much to do with trying to improve profitability as it is to meet emissions norms in major markets. The all-Ingenium choices are now:
D200: 150 kW (204 PS) and 430 Nm (317 lb ft) 2.0-litre four-cylinder diesel mild hybrid, RWD or AWD
P250: 184 kW (250 PS) and 365 Nm (269 lb ft) 2.0-litre four-cylinder petrol, RWD or AWD
P300: 221 kW (300 PS) and 400 Nm (295 lb ft) 2.0-litre four-cylinder petrol, AWD
Outside and inside – what's new?
Looks-wise, there are new bumpers, a wider grille and large air intakes below and to the sides of it, all-LED headlights with 'double J' shape DRL, plus a fresh set of alloy wheel choices.
It's on the inside where the big changes have taken place. Now you'll find a 48 per cent larger screen on the central console which features JLR's Pivi Pro dual-sim infotainment system. This powers up the moment the ignition is switched on. The curved glass screen has a simplified menu structure, the benefit being the ability to access or view up to 90 per cent of common tasks via one or two presses.
Since 1935
Other changes include a redesigned dashboard, new graphics for the instrumentation and a great looking steering wheel. The door casings have also been redesigned and these allow more space to store things. The plastics feel nicer too. Something which hasn't altered is the weight of what have always been pleasingly sturdy doors.
JLR has also gone to the trouble of specifying new, wider seats. The area which can be heated or ventilated is said to be greater and there is a fresh selection of man-made and leather covering options. Additionally, there's 'Est.1935 Jaguar Coventry' upholstery tags and a leaping big cat embossed on all standard head restraints.
Other novelties include Software-Over-The-Air capability, Active Road Noise Cancellation, and cabin air ionisation with PM2.5 filtration. That air reaches occupants via differently styled vents too.
The controls for the HVAC system are a hybrid of physical and virtual buttons. Once you learn that these need a firm push, everything works well, and the JAGUAR COVENTRY etched into this area of the centre console is a nice touch.
What, no parking brake?
How quickly an electric switch became the norm, replacing mechanical parking brakes in so very many cars. Then it was automatic activation and deactivation. It was therefore only a matter of time until even the little button was removed: this absence was one of the first things I noticed in the latest XF. Not that I didn't have a good look for it just in case there had been a relocation to some non-logical place.
Engines
Turning to those three engine choices, the diesel's mild hybrid system features a Belt integrated Starter Generator (BiSG), the energy it collects for acceleration boosts from a standstill being stored in a 48 V lithium-ion battery that's positioned below the boot floor. It's a shame this is so large and that the power converter is also there as this means no room for a spare tyre; not even a space saver, and the battery actually sits in a large round well. Jaguar says up to 57.2 mpg is possible from the saloon, as well as a CO2 average from 130 g/km.
P250, the lesser powered of the two petrol alternatives, has average economy of 33.9-35.2 mpg (saloon/estate/RWD/AWD) and CO2 emissions of 181-181 g/km.
The P300 Sportbrake, which is the one I recently spent some days with, averages an official 29.2-31.2 mpg and CO2 is 204-218 g/km. It's fast too, reaching 100 km/h in 6.2 seconds and the top speed is restricted to 155 mph. All three engines come with a ZF eight-speed torque converter automatic transmission and the test vehicle had paddle shifters too.
No matter how good the latest Ingenium engines are, no 2021MY XF stands much of a chance of sounding as great as the old 340 and 380 PS Ford V6s. Having said that, the 1,997 cc petrol turbo is very smooth even with only four cylinders, the latest idle-stop system working well with the engine to keep restart vibrations to a minimum. And as much as I also fondly recall the torque-laden PSA-Ford V6 diesel that was once also available in this model, it's fair to say the emissions of any of JLR's own four-cylinder Ingeniums are way, way less. I can also remember the soot that you'd sometimes see blast out of the tail pipes of some vehicles powered by older versions of that diesel V6. Things have moved on, much for the better.
Trim levels
Previously, there were 64 derivatives in the saloon and Sportbrake range but this has been reduced to 28. As part of that rationalisation, R-Dynamic specification can now be ordered in S, SE or HSE grades.
Summary
Competition in the E-premium estate segment is to a very high standard yet the updated XF remains one of the best alternatives to the E-Class, 5 Series, A6 and Volvo V90.
You can tell that committed chassis engineers worked hard on this car. The all-wheel drive system which comes as standard with the P300 engine gives you extra confidence whatever the weather and load, with handling being simply sublime. Throw in the excellent new infotainment system plus the more luxurious feel of the whole interior and the 2021MY XF deserves to be selling in far greater volume than the pre-facelift model did.
The model year 2021 Jaguar XF Saloon is priced from GBP32,585 or GBP34,605 for the Sportbrake line-up.
The test vehicle, which was in R-Dynamic HSE specification, costs from GBP46,610 OTR before options, which can include a fixed glass roof (GBP1,125), lockable cooled glovebox (GBP60), phone wireless charging pad with signal booster (GBP300) and cabin air ionisation (GBP140).