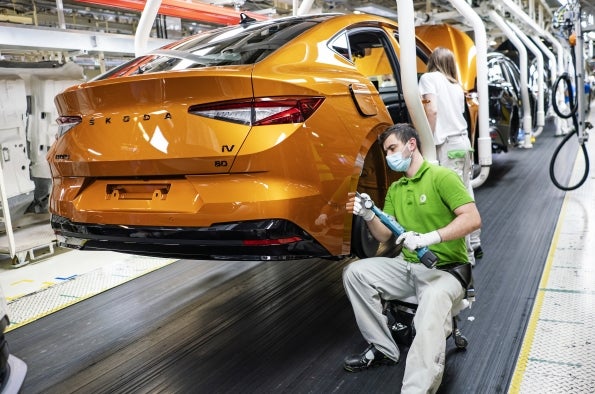 Why does Toyota lead the global automotive sales chart?, we asked this week. Good question – our in-house research shows a robust supply chain and strong growth in electrified vehicles were among the factors that lifted the Japanese automaker to top of the global sales chart in 2021. While many automakers continued to face COVID-19 headwinds in 2021, Toyota Motor seems to have fared best in 2021. Compared with key competitors Toyota excelled in sales volumes in all major markets. According to GlobalData's estimates Toyota, along with its affiliate companies, sold over 10.07m light vehicles in 2021, up from 9.3m the previous year. The performance confirmed Toyota as the world's leading automaker in terms of sales for the second consecutive year. The year-on-year growth of 9.2% increased the gap with Toyota's closest competitor Volkswagen Group to 1.63m units. Volkswagen Group sold 8.5m units in 2021, 5.9% down from the previous year.
Digging into the GD database again, we analysed global light vehicle battery market trends this week, and our look back at 2021 data revealed some astonishing, although not unexpected, trends in global battery demand for electrified LV production. The battery market worldwide doubled in size in 2021 to 289 GWh. Over half of global demand was from vehicle production in China. BEVs accounted for 87% of demand, and this share continued to rise. Battery cell plants around the world are already working at capacity, and the news from suppliers – large and small – has been a constant stream of announcements aimed at expanding production capacity as soon as possible. One-third of 2021's BEV battery market was supplied by CATL, now the leading cell supplier having overtaken Panasonic and LG Chem, thanks to its success in the booming Chinese market. CATL's preference for prismatic cells resulted in this format taking an impressive 53% of the market (up from 38% in 2020). Although almost 75% of the market continued to be dominated by those three suppliers, the cell supply chain became increasingly diversified, with OEMs sourcing from multiple suppliers, and hitherto small suppliers in China moving up the rankings and establishing extremely ambitious global plans for expansion. One-quarter of BEV battery capacity, and a quarter of lithium usage in batteries, was consumed by Tesla. Next came Volkswagen Group, but with only half of this figure.
Our new model futurist continued our deep look at Stellantis brands, putting Jeep, one of the jewels in the automaker's crown of money making divisions. The move into EVs really matters. Aside from the extraordinary situation whereby it missed much of the long boom in China, Jeep is a compelling story of success and expansion and reinvention. A joint venture in the PRC which continues to underperform is the only regional or national operation that Jeep's former and current owners just can't seem to make work. By contrast, North America and Europe are case studies in how to update, evolve and profit handsomely from changes in vehicle buyer wants and needs. Who would have suspected that Italians and even Germans would be mad for electrified American brand SUVs? The most popular models have not necessarily been small ones either. And now there are mild hybrids, plug-in hybrids and, relatively soon, Jeep BEVs will be available in Europe and later, in America too. Our report examines certain Jeep models which are new or coming next, starting with the electrified ones. It also explores Stellantis' odd idea of marketing certain obviously Jeep-looking models minus that brand name. The coming smallest Jeep may end up being quite a big deal. Such a vehicle would also potentially be very successful in Brazil and India: it could be built in both of those countries, not just in Poland.
Ford's Kuga, amazingly Europe's new top PHEV (I'd have guessed a Volvo model) came under our microscope this week as futurist Glenn Brooks scrutinised and 'fact checked' sales and segment classification data from several sources. Although Ford is battling to remain a major brand in Europe, it nonetheless grabbed the top spot in PHEVs with the SUV, selling around 48,000 of the plug-in variant Europe-wide last year. The basic vehicle has been around since 2019 but for a variety of reasons, sales only took off in 2021. So, is the Kuga really the No.1 PHEV? Read on.
Hertz said this week it was investing in Ufodrive – a self-service electric vehicle rental company and eMobility service provider in Europe. Ufodrive is the first all-digital, all-electric car rental service controlled from an app, Hertz claimed. Ufodrive raised US$19m in Series A funding, co-led by Hertz and Certares, in partnership with Knighthead Capital, along with participation from existing shareholders. Its technology delivers a two-minute 'arrive and drive,' entirely digital EV customer experience. The partnership builds on Hertz's announcement in October, 2021, the company is investing in EVs, with a commitment to offer the largest electric vehicle rental fleet in North America and to grow its EV fleet globally. Also in October, the company announced an exclusive partnership with Uber to make Tesla electric vehicles available for drivers to rent when using the Uber network.
Meanwhile, Toyota Motor announced plans to invest US$90m in new facilities for the production electric vehicle (EV) components in the US, as it looks to strengthen its EV strategy in the region. The Japanese automaker said it will invest US$73m in a new facility at its Buffalo plant in West Virginia with an initial annual production capacity of 120,000 rear motor stators, a key EV driveline component. This follows an announcement late last year of plans to invest US$240m in a new production line for hybrid powertrains at the same site. The Buffalo plant current employs around 2,000 workers, after 100 jobs were added last year following a US$210m investment to expand four- and six-cylinder engine production capacity. A further US$17m will be invested to increase production capacity of hybrid transaxle cases at the company's Jackson plant in Tennessee. In late 2021 Toyota announced plans to invest US$1.3bn to build an electric/hybrid vehicle battery plant in North Carolina.
Following the reveal of its full range of EVs at the Consumer Electronics Show (CES 2022) last month, VinFast is bringing its new VF 8 and VF 9 all-electric sport utility vehicles directly to Californians through a 'roadshow'. It has been hosting the 'VinFast California Roadshow' from 11 February to 6 March, aiming to promote the electric SUV models VF 8 and VF 9. Attendees can learn about the full lineup of electric vehicles and the exclusive pre-order programme which offers early reservation holders premium rewards including a five-star resort stay and US$3,000 to $5,000 discounts on vehicle purchases. The VinFirst program is open until April 5, 2022 (PST). The Roadshow came ahead of the initial VinFast company-owned retail locations and experience centre openings, which will be launching throughout California in coming months.
Chinese automakers appear to be targeting (RHD) Thailand as a base to build some overseas market models, including EVs (MG Motor already has a plant there). This week, Great Wall Motor Company (GWM) said it planned to begin electric vehicle production in Thailand in 2024, as part of a broader push into global emerging markets. The automaker, which last month completed the acquisition of a vehicle assembly plant in Brazil from Daimler, said it would invest close to THB23bn (US$710m) in Thailand to establish a regional production hub for EVs. It had already announced plans to build an EV battery production plant in the country in 2023. GWM sold over 3,700 vehicles in Thailand last year, after it finished refurbishing last June the vehicle assembly plant in Rayong province it acquired from US automaker General Motors in 2020. The facility has a production capacity of 80,000 vehicles per year, with the company planning to eventually export around 40% of its output to other southeast Asian markets. A new, dedicated EV production facility is expected to be built in Thailand ahead of the 2024 production schedule. Before that it plans to launch nine EV models in the ASEAN region between 2021 and 2023, which it will import directly from China.
SES AI, a US developer and manufacturer of high-performance lithium-metal batteries for electric vehicles (EVs) and other applications, announced it has established a subsidiary company in South Korea to develop local market opportunities. SES, headquartered in Boston, said it has just incorporated SES Korea – its second major operation outside the US after SES Shanghai Giga. The company said it plans to build a pre-production facility in South Korea this year and expects to employ some 50 staff locally by the end of 2022. SES said it is looking to strengthen its ties with important strategic partners such as Hyundai Motor Group, SK Group, LG Corporation and other major industrial groups in the country.
New model production start announcements are almost a weekly occurrence here at Just Auto. This week, VW-Group owned Skoda started output of the new Enyaq Coupe iV at its main plant in Mladá Boleslav. Like the Enyaq iV, it is based on the Volkswagen Group's Modular Electrification Toolkit (MEB). More than 120 units of the elegant new model will be produced every day at the main plant alongside the Enyaq iV, Octavia and Octavia iV model series. The two new variants are the only MEB-based models to roll off a European assembly line outside Germany. By 2030, Skoda plans to have launched at least three more all-electric models below the Enyaq iV in terms of size and price. Skoda is also working to develop its home country, the Czech Republic, into an electromobility hub; E-components or E-vehicles are to be manufactured at all three Czech Skoda sites in Mlada Boleslav, Kvasiny and Vrchlabi by 2030.
When developing a product strategy aimed at a range of vehicle platforms, is developing bespoke electric powertrains for each platform the way to go? With a limited electrified product range, vehicle manufacturers have been able to optimise their powertrains to suit a particular vehicle segment. However, as manufacturers look to increase their electrified offering key decisions need to be made; create costly but efficient bespoke powertrains for each segment or compromised but cost-effective solutions to be used across the product family. We spoke to Michael Bryant, principal engineer at Drive System Design (DSD), to cover the key technical attributes and the sub-system trade-offs to consider, the effect global economies have on the selection process and how answers can be found. DSD is an engineering consultancy specialising in the engineering, development, test and control of electrified driveline and transmission systems.
Have a nice weekend.
Graeme Roberts, Deputy Editor, Just Auto