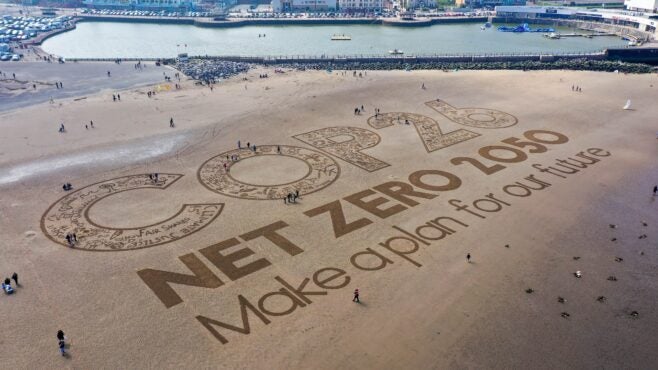 The COP26 UN climate conference will take place November 1-12 in Glasgow, hosted by the UK government. In a series of articles we are considering the automotive sector perspective on greenhouse gases, its contribution and reduction measures. This first one looks at the scale of the problem from vehicles in use and the response, with particular reference to passenger cars and the energy transition ahead. The automotive industry's contribution to global greenhouse gases (GHGs) – broadly speaking – takes two main forms. First, there's the contribution of road transport – passengers and freight – that is related to economic activity, the end-use of the auto industry's products. The UN's IPCC estimates that the transport sector as a whole accounts for approximately 23% of total energy-related CO2 emissions. The IPCC also argues that there is a danger that transport emissions could increase at a faster rate than emissions from other end-use sectors as per capita transport demand accelerates. In particular, rising incomes and the development of infrastructure in developing countries over the decades to 2050 will put upward pressure on greenhouse gas generation. As economies develop more industrial activities, the GHG-intensity of economic output goes up as people and goods in new supply chains move about more. Higher final household demand for consumer goods also follows higher incomes – particularly as economies move from being per capita low-income to middle-income. Breaking down the transport total, the IEA estimates that road vehicles – cars, trucks, buses and two- and three-wheelers – account for nearly three-quarters of transport CO2 emissions. However, it also says that the Covid-19 pandemic caused a big decline in road transport in regions with lockdowns in place – dropping by between 50% and 75% in the first half of 2020, with global average road transport activity almost falling to 50% of the 2019 level by the end of March 2020. However, as the pandemic eases and economic activity picks up, so will transport-related emissions.
This week we published a round-up of selected major M&A deals in the three months to August, compiled from GlobalData's Financial Deals database. There were 18 deals recorded involving top automotive manufacturing and supply companies in the three months to August with a number of high profile acquisition, private equity and venture financing deals. The deals we listed only include those that have been completed – so excludes rumours or those that have been agreed but not yet executed. The figures, which cover the top automotive manufacturing and supply companies, show the market in the US to be the most active, with seven deals taking place over the last three months. That was followed by India, which saw two deals.
Tata has enjoyed a return to form during 2021. Back in third place at home and well ahead of Kia, Mahindra, Toyota and Honda, the brand needs to keep the momentum going. Does it have the future models to do that? Indian market passenger vehicle sales reached 206,448 units at the end of August, cementing Tata's position behind Hyundai (365,612) and Maruti Suzuki (959,947). Crucially, its year on year rise (157.5%) was well above that of its rivals. The spectacular return to form is mainly due to new models. That compares most favourably to how things had been in 2018 and 2019. Back then it seemed that Tata was becoming a brand reliant on cheap, old-tech models which were well past their best before dates. Sensible spending on fresh platforms, and in one case a modified one courtesy of Jaguar Land Rover's array of Ford legacy architectures has greatly helped with the bounce back. How will Tata Motors do if and when EVs catch on with Indian consumers though? For now, Maruti Suzuki and HMG seem to be wary of spending too much cash on such models and TML is the same. Each needs to be ready though, as others such as SAIC (MG), Renault and Nissan already are. That could see such existing medium-sized rivals shifting fairly quickly and closing in on the big brands. The brand's latest model isn't electric, which makes perfect sense, as buyers, whilst interested in EVs, are turned off by the lack of a good national charging network and high vehicle pricing. Instead, Tata is rightly concentrating on where its best chances of gaining even more market share lie. Right now, that's in small crossovers.
The UK is seeing a strong surge in used car prices as the chips shortage causes short supply and long waiting lists for new cars.
UK average used car prices rose by 16.6% during the first eight months of 2021, according to market analyst Indicata UK. Higher demand is also hitting used car stock levels in the trade, with stocks around 9% lower at dealers now compared with at the beginning of August. Overall used car sales to August this year were up by 24.9% compared with the same period in 2020, and by 4.8% compared with pre-pandemic 2019. Indicata group sales director Jon Mitchell said: "Buyers continue to clamour for whatever stock they can get their hands on and generally dealers are holding onto the majority of their part exchange stock to retail. We have achieved 100% conversion rates on our online auctions for months as dealers are prepared to give all makes and models of used car a go just to keep their forecourts busy."
An electric truck pioneer has unveiled its new Tevva Truck – the first British designed 7.5-tonne electric truck intended for mass production. "The Tevva Truck will address the immediate industry need to electrify, with the EU committed to net zero emissions by 2050 alongside a proposed ban on the sale of all polluting vehicles by 2035," its maker said. The truck was launched at the Freight in the City Expo at Alexandra Palace, London, today. It offers a range of up to 250km (155 miles) in fully electric form or up to 500km (310 miles) with its patented range extender technology REX which has now been upgraded to use hydrogen fuel cells. Engineered by a team led by Ken Scott, formerly engineering director at both Bentley and Alexander Dennis, and styled by Dale Grewer, former chief designer at Jaguar Land Rover, the Tevva Truck will be manufactured in a new factory in the London Thames Freeport area providing close proximity to central London and Europe. The plants is expected to begin manufacturing 3,000 trucks a year by 2023. The EV truck can carry up to 16 euro pallets and over two tonnes payload at 7.5-tonnes Gross Vehicle Weight (GVW). The total cost of ownership is comparable to a diesel; parity is achieved at approximately 3,000km or when 500 litres of diesel is consumed per month. The truck is Tevva's third generation vehicle, representing the culmination of seven years of engineering development and the learning gathered from over 350,000km of in-fleet trials.
French car manufacturer Hopium said it had taken its first 1,000 pre-orders for the Machina, a high-end hydrogen-powered sedan. This followed the 17 June presentation in Paris of the Alpha 0, the first rolling prototype, which led to the opening of an order book for 1,000 numbered units. With an announced price from EUR120,000, positioning the Machina in the mid-luxury market, the closing of orders represents turnover of EUR120m anticipated by 2025, the expected delivery date of the vehicles. Hopium has gathered a team of specialists and leading suppliers at the forefront of innovation in the fields of hydrogen fuel cells, technology and automotive engineering.
According to data for 26 European markets, new car registrations slowed once again in August, with a decline of 18% to 713,714 units. This marked the lowest recorded volume in August since 2014. Last month's decline did not, however, offset the growth registered during the second quarter of the year. Year to date volume remained higher than last year, with 8,095,419 registered units compared with 7,192,839 registered between January and August in 2020. Despite these challenges, the performance of electric vehicles and plug-in hybrid cars continued to grow. A sharp uptick in demand last month saw these vehicles post their second highest ever monthly market share at 21%. The 151,737 units registered last month marked a year on year increase of 61% and took total volume since January to 1.32m units. In August, EVs and plug-in hybrids outsold their diesel counterparts. This time last year, the volume of EVs was 158,300 units less than diesel car registrations but last month EVs outsold diesel vehicles by 10,100 units.
INEOS is targeting 200 outlets for start of Grenadier off-roader sales in July 2022, with partner agreements signed in Europe, Africa, Asia Pacific and Middle East. North America is planned to follow in 2023. These partners will implement a global aftersales blueprint developed by INEOS together with Robert Bosch over the last three years. Retail partners will form the backbone of the service network, with additional geographical coverage provided by hand-picked Bosch Car Service outlets. INEOS Automotive said it is planning for annual Grenadier output and sales in the region of 6,000 units at its [former Smart] Hambach plant in France, with sales skewed towards commercial vehicle versions. After the 2022 launch in markets in Europe, Africa, Asia Pacific and the Middle East, it is hoping to start US sales in 2023. INEOS says the service network planned means most customers will never be further than 50km away from an INEOS-accredited workshop. Where spare parts are not on the shelf, INEOS is targeting delivery to major markets within 24 hours. Deliveries of the Grenadier will begin in July 2022.
Media reports in Britain said Ford's Halewood (northwest England) transmissions facility could attract new investment to make e-drive systems for electric vehicles. Ford is said to be weeks off a decision. Sky News reported Ford had been in talks with the UK's business department over the 'eTrans' investment, indicating that it is hoping for taxpayers' support from the Treasury's Automotive Transformation Fund. Ford is planning to turn its Cologne plant into a European manufacturing hub for electric cars, but making e-drive systems at Halewood would be a big win for the UK's automotive sector. Ford used to make cars at the Halewood manufacturing site, but much of it went to Jaguar Land Rover after it sold the brands to Tata. However, Ford carried on making transmissions at the site. It was in a collaboration with Getrag, but took full control of the operation earlier this year. The Ford Halewood site currently employs 500 people.
Have a nice weekend.
Graeme Roberts, Deputy Editor, Just Auto