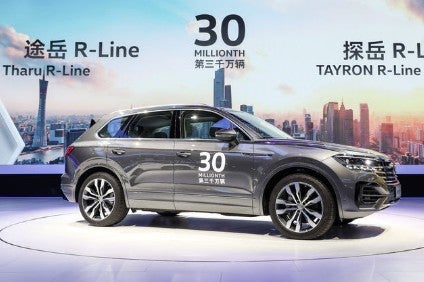 The Volkswagen brand said it had set a record in China with its 30 millionth delivery this month – a Touareg.
The range was strengthened with nine new models this year.
Speaking at Auto Guangzhou 2018, Stephan Woellenstein, CEO of Volkswagen Brand China, said: "We reached a fantastic milestone this November, as we delivered the 30 millionth Volkswagen – a Touareg – to a customer in China. And to remain the number one choice for Chinese car buyers, as we have been for many years, our product offensive will continue in 2019."
VW sold just 2,000 cars in China in 1985, in a market that totalled 5,100 vehicles. By 1992, cumulative deliveries had reached 100,000, and in 1997, sales passed one million. The fifth and 10 millionth sales milestones were reached in 2006 and 2011, respectively, while in 2015 the 20 millionth VW was sold. Another 10 million have since followed into 2018.
"This is a unique occasion, and a unique vote of confidence from all our Chinese customers over the years," added Woellenstein.
FAW-Volkswagen and SAIC Volkswagen are the group's local joint venture partners.
VW has announced another five new models for 2019 including 3 SUVs.
Woellenstein said: "Together with our joint ventures, we also will step up our efforts with our NEV offensive in 2019 – introducing three locally-produced battery electric versions of well known models. We will also introduce one more locally-produced PHEV and the [fully imported] Touareg PHEV."