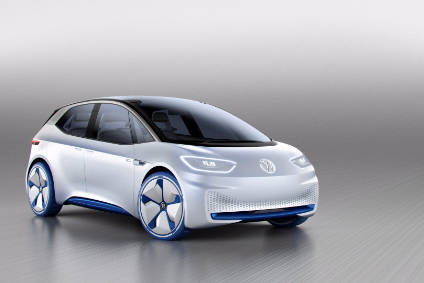 A Dutch website has published what appears to be a Volkswagen presentation which details plans for the I.D. range of electric cars. According to a slide, there will be five EVs for various regions between 2019 and 2022.
The website, groen7.nl, shows a timeline of five models to be launched from the I.D. family. Until now, only three vehicles had been known about: I.D., I.D. Cross and I.D. Buzz. The additional two are the I.D. Lounge and the I.D. AEROe.
Regions where the various models will be available are claimed to be as follows:
Europe: I.D. and I.D. Cross
USA: I.D. Lounge and I.D. AEROe
China: I.D. Cross, I.D Lounge and I.D. AEROe
A production version of the I.D. Buzz concept, an electric MPV/minivan, is confirmed by the slide but the regions where it will be sold are yet to be decided. The design study's name is thought to be a play on 'bus' as the styling showed influences from the 1950s and 1960s Bulli/Kombi/Microbus.
The I.D. will be a five-door hatchback and the I.D. Cross will obviously be a crossover (already seen in concept form as the I.D. Crozz). What forms the I.D. Lounge and I.D. AEROe will take is not yet known. A sedan would probably work in China and the USA, while the AEROe might well turn out to be a streamlined SUV. Volkswagen is expected to show I.D. Lounge and I.D. AEROe concepts in 2018 or 2019.
The I.D. series will be manufactured at three, or possibly four plants: Zwickau-Mosel in Germany, Chattanooga in the United States and at a yet to be named location in China. It may well be that both FAW Volkswagen and SAIC Volkswagen build one I.D. model each, though perhaps only one of VW's Chinese JV partners will be involved in the I.D. project.