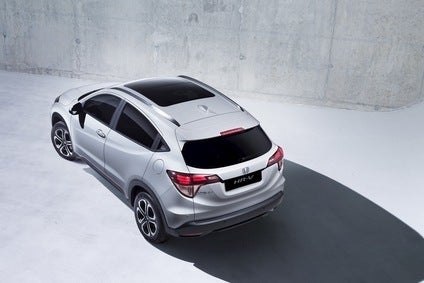 Honda's HR-V project leader, Masaki Kobayashi, has said the new crossover's design combines the dynamism of a coupé with the toughness of an SUV.
"We didn't want to just create a downsized SUV," he said. "Honda already has the CR-V, which combines the virtues of an SUV and a lighter, more nimble conventional car, so the HR-V needed to offer something different. The development team set a goal to create a new value or theme from the very start of the project."
The new design theme was to combine the elegance and fluidity of a coupé with the utility and strength of an SUV. "Combining high eye-point and toughness – core values of SUV – with a new level of emotion was the key," he said. "So we came up with an exterior concept encapsulated by 'Emotionality and Toughness' and an interior concept called 'Personal Cockpit and Expansiveness'. We wanted to fuse apparently conflicting values to create something fresh."
"Fusion of a cabin shape with good aerodynamics and a strong lower body became the basis of HR-V's dynamic form," Kobayashi maintains. "And what's satisfying is that we were able to create a product with no compromise in terms of size, function and design." He says the driving position is coupe-like. "The driving position is very much like a coupé and engenders a sense of agility and dynamism, yet because the architecture features a central fuel tank layout and elements like the Magic Seats the HR-V offers masses of space for passengers and great flexibility. This combination gave the design team a great deal of satisfaction."
The HR-V is Honda's new entry into Europe's fast-growing small SUV segment. Honda says the HR-V features a centre fuel tank location to create one of the "most spacious and adaptable small SUV cabins". Honda "Magic Seats" make use of this versatility by enabling a wide range of seating configurations, it says, with the ability to fold the second row seats completely flat for added cargo space.
Honda is looking for its new products to lead a recovery in Europe after a descent in sales that followed cutbacks to new product development programmes after the company suffered severely from the effects of natural disasters in Japan and Thailand during the 2011-2012 period.
Honda also claims its new HR-V will be one of the most efficient cars in its class when it arrives in Europe this summer.