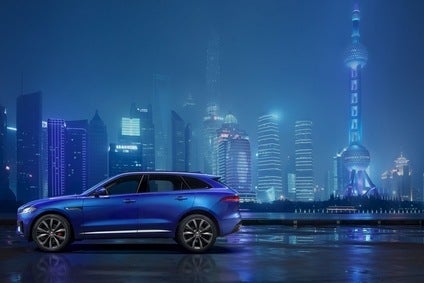 Tata Motors' luxury car unit Jaguar continued its drip-feed of F-Pace crossover information with the release, at last, of an image showing the complete car which makes its world debut at the Frankfurt show next week. 'Film' of the production version of the C-X17 concept vehicle has also been released via You Tube as the marketing activity for the brand's first crossover ramps up.
Jaguar will release a second film of the planned "dramatic" Frankfurt presentation on its website from 19.15BST on 14 September.
The F-Pace is the fourth new Jaguar in 2015 and the third based on the automaker's new light weight, aluminium architecture.
According to just-auto's PLDB, the crossover, a potential rival for the Porsche Macan, is due to enter production in late 2015 on the same production line as the XE. The vehicle architecture is a development of JLR's PLA aluminium platform but modified for smaller vehicles than the Range Rover and Range Rover Sport. The model name was announced in January 2015.
Petrol engines at launch are expected to be the existing Ford-sourced GTDi (two-litre four-cylinder) and AJ126 (supercharged 3.0-litre V6), as well as the Ford-supplied TDV6 (three-litre V6) diesel. JLR's own AJ200D ('Ingenium') four-cylinder diesel will also be available. JLR's AJ200P Ingenium is expected to replace the GTDi from late 2016 after production commences in June 2016.
The F-Pace was previewed by the C-X17 concept which premiered at the Frankfurt motor show in September 2013. At that time, Jaguar's media information referred to the future platform name as ' iQ[Al]', though it has also been known as the D7a architecture.
The dimensions of the C-X17 were quoted as: length: 4,718mm, wheelbase: 2,905mm, height: 1,649mm, width: 1,959mm, ground clearance: 213mm.
A five-seater C-X17 premiered at November 2013's Dubai and Guangzhou motor shows. A further concept, this one painted red, was revealed at the Brussels motor show in January 2014.
Production at Solihull is estimated to be around 50,000 units a year though some analysts believe that up to 65,000 is possible.
Exports to the US and China, likely to be the model's main markets, are due to commence following European launch.
A concept version of a plug-in F-PACE is expected in 2017 or 2018, with a possible production version due in 2019.
Jaguar Land Rover chief marketing officer Gerd Mauser, said: "2015 is Jaguar's 80th anniversary and it has been a monumental year of transformation for the brand. Our product revitalisation continues to move at a very confident pace."
Jaguar is also launching updated XJ and XF lines at Frankfurt ahead of European order books opening in September.