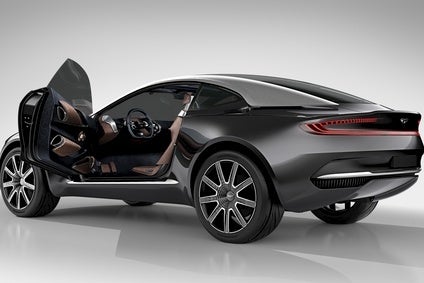 ASTON Martin will put its DBX crossover concept, unveiled earlier this year at the Geneva show, into production in a new factory by the end of the decade. A decision on where the new factory will be will be made towards the end of this year. Aston marketing chief Simon Sproule said that it is highly likely the new plant would be on a greenfield site.
He added: "We are looking at all options, including partnerships, but greenfield is preferred – and we are looking all over the world, not necessarily the UK."
Sproule joined Aston Martin almost exactly a year ago, recruited by new Aston boss Andy Palmer – they worked together for many years at Nissan. Over the past 12 months Palmer has been assessing a fully-funded business plan signed off by major shareholders, Kuwait Investment Fund and Investindustrial, which will see the launch of new models, architectures and power trains at a rate of one every nine months over the next few years. Next year will see the launch of the DB11, the first fruit of a collaboration with Daimler – which has a 5% stake in Aston Martin to supply V8 engine technology as well as electronic architecture.
Palmer said he wanted to cap Aston Martin sports car production at around 7,000 a year at its Gaydon HQ in the UK Midlands, largely to maintain the brand's residual values. DBX crossover production elsewhere, however, will push total production "somewhere north" of 10,000 vehicles a year.
At a conference in the UK last June, he acknowledged that the US State of Alabama was a candidate. "One of the candidates is Alabama, but likewise there are a number of other US states that have expressed interest as well as other countries that have expressed interest and there is also interest from within the UK."
Sproule said: "We are on plan in terms of financials and we want to be able to generate enough free cash flow to be able to take on new projects such as DBX without further shareholder investment."
DBX will almost certainly include a hybrid model while Palmer is keen to launch an all-electric Aston Martin to rival Tesla. Sproule said: "Since we put this idea out there we have had a lot of interest from a number of companies."
Key also to Aston's turnover is limited production run specials at a rate of around two models a year. This year has seen the GT12 based on the Vantage with restyled body and tuned V12. Priced at GBP250,000 (US$375,000), all 100 specials are already sold. Just launched is the Vulcan, a GBP1.5m (US$2.25m) racing version of the177 and, again, all 24 are sold.
Sproule said: "We consult our customers and dealers before embarking on these projects so we know we can sell the cars in advance – and it works, look at the maths."
Against this background Palmer has also been working to "right size" the business which will see a reduction in the number of employees at Gaydon – mainly office staff – although no numbers have been mentioned. Aston Martin currently employs 2,100 people globally and will report updated numbers at the end of the year.