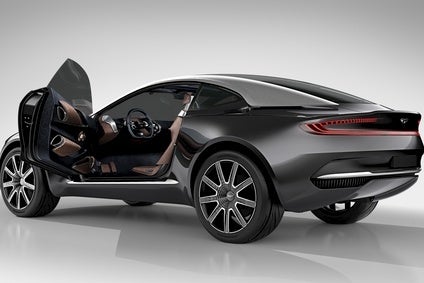 Aston Martin has narrowed down options for a new plant location, its CEO has said.
Palmer told Reuters the automaker had narrowed down a list of 19 possible locations to five or six sites, including Alabama in the US, eastern Europe, Wales and a site near the central English county of Warwickshire and the cities of Birmingham and Coventry.
He told the news agency he would like the firm to build its new model in its home market but potential financial support was also an important factor in the decision-making process.
"If you're going to build a plant then obviously you want to, generally speaking, put your plant into an assisted area so that you can reduce the risk and the burden," he said, referring to regions in which European Union governments can provide support, such as parts of Wales and eastern Europe. Aston Martin, as previously reported, which is aiming to make around 15,000 cars by the turn of the decade, is also considering Alabama , where 5% shareholder Daimler builds Mercedes models. But Palmer told Reuters there was no decision yet on whether to use a full Daimler manufacturing platform or just parts.
"It's an obvious choice when you take a complete platform from Daimler but that's not necessarily the only option that you have," he said, with the final decision over the location due by the end of the year. The firm is aiming to increase the number of conventional sports car models that it builds at its Gaydon, Warwickshire, plant to 7,000 by 2018. It also plans to make 3,000 to 5,000 DBX crossovers and up to 3,000 vehicles under its revived Lagonda brand.
Palmer told Reuters sales fell to 3,661 models in 2014 from around 4,200 in 2013 and, this year, the number would only be "slightly above" last year's levels. The automaker had previously forecast 4,000 deliveries for 2014.
Palmer, who left Nissan to head Aston a year ago, is trying to turn around the loss-making carmaker which saw its sales dive after the 2007-8 financial crisis. Last week, the company said it would cut jobs as part of its restructuring that includes a move into crossover sport utility vehicles. The plan includes building up to 5,000 crossover vehicles per year at a new site separate from its existing plant at Gaydon.
Aston, which Palmer said made its fourth consecutive loss in 2014 and will not return to profitability until at least 2017, has suffered due to low volumes, not being part of a wider automotive group and last year's recall.
Earlier this year, the automaker raised GBP200m from the group's major shareholders, mainly Kuwaiti and Italian private equity firms, to help fund its turnaround plan, Reuters noted.
Palmer told the news agency China would be an important market for the DBX crossover and that he was not concerned by China's economic slowdown that has hit car sales growth.
"How sure are we on the longer term that China will continue to grow? I'm pretty sure. There's a market there and it's predominately moving towards being an SUV market."