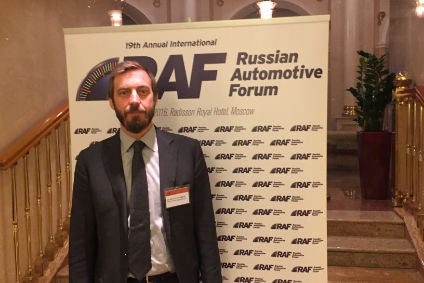 Pirelli Russia says it has not had to make any redundancies despite the country reeling from a slump in the automotive sector, which has seen more than a year of severe sales drops.
With the market plunging 36% in 2015, the Russian government has stepped in with stimulus packages to kick-start the moribund sector, but some iconic companies such as AvtoVAZ with its Lada have taken the drastic step of implementing a four-day week.
"Last year we were in an environment where we thought the crisis would be a usual Russian crisis," Pirelli Tyre Russia general director, Aimone di Savoia Aosta told just-auto on the sidelines of this week's Russian Automotive Forum (RAF) in Moscow.
"This year, the difference is the crisis is there, it will stay and a kind of stagnation for this year. We hope to see some better situation this year. I really want to hope. We see it from the tyre business – the market fell last year 17% – [and it] is pretty over-stocked with winter tyres.
"[There have been] no redundancies, that is the good part of it. Our plants have not diminished, [they] are fully working and as a matter of fact we didn't decrease the working days.
"Our situation is not as bad – our plans are working for exports – this allows me to have a competitive price and Pirelli to have a very good export business. We are enlarging our export [business] to winter tyres."
Aosta noted comments made earlier in the day at the RAF by Deputy Minister for Trade, Alexander Morozov, which outlined the support afforded to the automotive sector by the Russian State, totalling around RUB50bn (US$729m) this year alone.
"There are certain programmes from the Ministry of Industry," said Aosta. "It gives you a chance to have modernisation processes. We are looking into it.
"There is support for sales of new cars which is very positive for us. Pirelli believes this market will come back. We reconfirm Russia as a strategic country for us.
"We are definitely not downsizing – we are doing everything to keep the factories running."