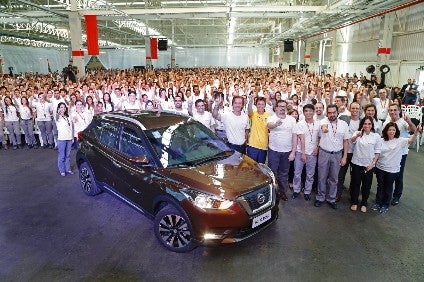 In the day by day activity at the Nissan Brazil manufacturing plant, 162km/100 miles northwest of Rio de Janeiro City, AGVs, or automatically guided vehicles, tiny, self-guided robots pull different parts carts and trolleys, driving through corridors while playing a selection of up to eight songs.
But, to this playlist was added a heavyweight on the first day the new Kicks model rolled off the assembly line, to replace units imported since last year from Mexico. And it was a live performance. Singer Daniel presented an hour-plus show to the 1,800 workers spread around the assembly line also celebrating the plant's third anniversary.
To produce the compact SUV here, Nissan spent BRL750m/US$240m and provided training to more than 700 workers dedicated to its production.
The plant, inaugurated in April 2014 to build the March (Micra), was fitted with more than 150 new production equipment and quality assurance tools specifically for the Kicks.
Ten latest generation robots are used in the paint shop which has two new masking processes for painting the 'floating' roof a different coloured to the rest of the body. This two-tone finish has been welcomed by consumers.
A handful of Brazilian experts were trained by the Global Pilot Line at the Oppama plant in Yokosuka, Japan and at the Aguascalientes plant in Mexico.
Currently the Resende plant still produces the March hatchback and Versa saloon along with one litre, three cylinder 12 valve and 1.6 litre 16 valve four cylinder engines. Both models are exported to other Latin America countries.