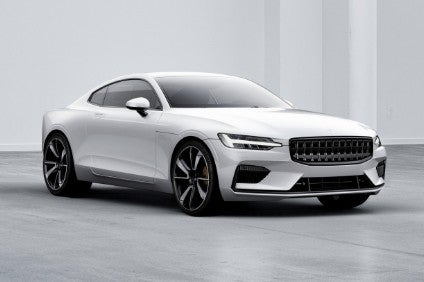 Polestar, Volvo Cars' new electric performance brand, is on track to have its first plant up and running in Chengdu, China, by the middle of next year with initial plans to make 500 models annually.
The first model, shown for the first time in Europe at the Geneva show this week, is the Polestar 1, a 600hp petrol electric hybrid.
It will be launched mid 2019 and will be followed in 2020 by the small, all electric Polestar 2 and, next, a larger SUV, again all electric.
Chief operations officer Jon Goodman said that, although initial production is planned for just 500 models, he is already looking at how production can be ramped up, such is the level of interest.
He told just-auto: "We have already had 6,000 inquiries for Polestar 1 from all over the world. China will be the number one market but the car will also be launched in the US and six key European markets, Germany, France, UK, Norway, Sweden and the Netherlands. It will be manufactured in left hand drive only but following models will be available with right hand drive.
"We expect China to account for 40% of sales and that market is going to be massive with the intent to have 15% of new energy vehicles on the road by 2022 – that would be a market larger than Germany's total vehicle sales."
Polestar 1 is based on Volvo's large SPA platform (which already underpins models such as the S/V90, XC60/90) and gets its power from the company's turbocharged, two-litre, I4 petrol engine developing 325hp. Two electric motors mounted on the rear axle provide an additional 275hp and there's a massive 1,000Nm of torque.
Comparisons with Tesla are inevitable although Goodman added: "We do have the advantage of having Volvo behind us along with all the research and development facilities that go with it. We also have an established route to market and we hope existing dealers will want to invest in the Polestar brand."
Investment will require dealers to have a separate Polestar 'Space'; around 300sq m of showroom where customers can "touch and feel the product".
The showrooms will be staffed by product specialists working on a non-commission basis and all financial transactions will be conducted on line.
Goodman said: "We are not interested in setting up 'cathedral' outlets, the Polestar Spaces will be small and intimate and based in key major cities.
"All aftersales and service will be carried out by Volvo and we will offer customers collection and delivery services."
Having acquired the Polestar performance and racing brand in 2015, Goodman said it was always the automaker's intention to establish a stand alone brand.
"With the backing of Volvo it's like being involved in a 90 year old start up. As well as development facilities and aftersales we also benefit from Volvo's experience in vehicle production."
The Polestar 2 willl be based on Volvo's small(er) car CMA platform (introduced underneath the XC40) while the SUV will also have SPA underpinnings.
Both platforms were developed from the start for electrification – Volvo already offers plug in hybrid versions of the XC60 and XC90 on the SPA platform and an plug in XC40 (CMA) is coming.