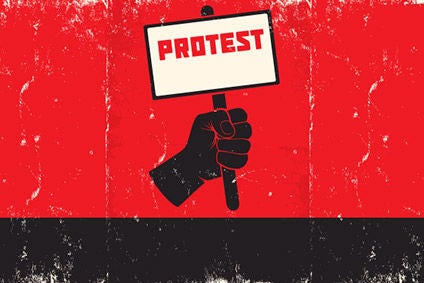 British logistics body, the Freight Transport Association (FTA) is urging its members to exercise caution as violent protests in France against soaring fuel costs escalate to their second week.
The so-called 'gilets jaunes' (yellow vests) protest movement saw more than 100,000 people take to French streets at the weekend, culminating in significant unrest on the Champs Elysée in Paris, with unrest showing no sign of dissipating.
"FTA advises all drivers planning to travel to Calais, France to be very careful: protests against rising fuel prices are escalating on the A16 in Calais," said FTA European policy manager, Sarah Laouadi.
"Trucks have been caught in illegal road blocks, with dangerous objects being placed on the road by protesters and two drivers have been victims of attacks with broken windows.
"Drivers are advised to be particularly vigilant as stowaway attempts have been reported amid this chaotic situation; vehicles stopped in queues are particularly vulnerable and there is notable traffic congestion.
"Industry best practice on preventing clandestine entrants – as described in the Border Force Code of Practice – is more relevant than ever. Incidents between demonstrators and police officers have also been reported.
"FTA is advising its members to stay safe and will keep its members informed of any developments – please stay tuned and remain vigilant."
The French government is focusing on the need to develop alternatives to fossil fuels and although the country relies to a significant extent on nuclear power, it appears carbon burning energy is very much in its crosshairs provoking the ire of rural France in particular.
Today (27 November), French Finance Minister, Bruno Le Maire is hosting a meeting with many professional bodies to take stock of the gilets jaunes movement.