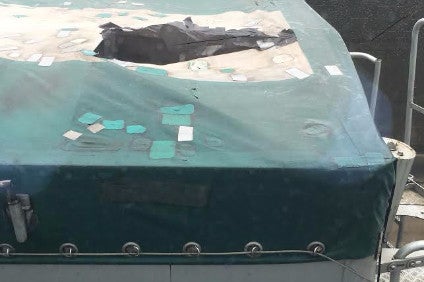 Extended major disruption at the Port of Calais would damage the British road freight industry to the tune of at least GBP1m (US$1.1m) per day, should the UK have to implement its 'Operation Stack' traffic holding procedures once more.
The migrant crisis at Calais, which has seen numbers in the jungle camp jump to a reported 10,000, has previously received relatively little attention in the light of far greater numbers of refugees fleeing political turmoil in the Middle East, but is once again under the spotlight as the economic impact starts to reassert itself.
Reports of burning road blockades, chainsaws being brandished and lorries being slashed with knives are legion, while a day of action planned by truck drivers and Calais businesses next Monday (5 September) looks likely to cause huge complications for commercial businesses and individuals alike.
Given the crossing from Calais to Dover , either by ferry across the English Channel or under it using Le Shuttle rail services, is the shortest and cheapest, truck operators forced to use alternatives such as Dieppe to Newhaven can add substantial mileage and cost to their businesses.
"With no substitutable capacity elsewhere, an extended period of disruption would be damaging to UK trade," noted research sent to just-auto by the Freight Trade Association (FTA) citing statistics collated last month.
"Between January and November, 2015, Operation Stack was implemented on a record 32 days. This included three implementations each lasting five days [while], at the peak of last summer, Operation Stack was put in place overall for 28 days, causing average delays to drivers of four to five hours, although at times, delays were up to 18 hours.
"FTA estimated the cost of these disruptions and related delays to the UK International Road Freight industry at almost GBP750,000 a day, or GBP21m for the 28 day period."
The freight body says some GBP89bn of UK trade passes through Calais every year, while the figure for Dover is GBP119m or 17% of British imports and exports. Truck movements through Dover and the Channel Tunnel were 4m per year in 2015 or 10,000 per day.
Forecasts for traffic numbers through the nearby County of Kent put freight vehicle numbers per day rising from 10,000 to between 14,000 and 16,000 in the next decade and it is clear with such rising estimates, increasing disruption at Calais will significantly impact operational effectiveness.
As well as the economic cost to the UK and other European operators, the FTA is also keen to stress the human impact on its members, particularly those drivers forced to run the migrant gauntlet every time they make a crossing.
"We have a lot of drivers who no longer want to do that route [and] are considering other careers because they are fed up," an FTA spokeswoman told just-auto.
"One of our drivers based in Ireland said his wife was more worried about the dangers he faced going through Calais than she was about him having an accident in the truck [and] he has been doing that trip for 10 years."
The FTA also revealed authorities in Calais were now deploying heartbeat monitors in a bid to track human activity within lorries, while drivers concerned there may be refugees on board can specifically ask for the equipment to be used.
Newly-appointed UK home secretary Amber Rudd met her French counterpart Bernard Cazeneuve in Paris yesterday (30 August) to discuss the escalating difficulties at Calais with both politicians agreeing to maintain juxtaposed controls. These see British immigration authorities conduct checks across the English Channel in France at ports and Eurotunnel train stations, while the French can do the same at Dover .
France has sent 1,000 police to Calais to deal with the issue, with this number being boosted by an additional 160 officers.
Rudd and Cazeneuve also revealed France and the UK had "disrupted" 28 crime gangs looking to exploit the Calais situation in 2015 with a further 28 this year.