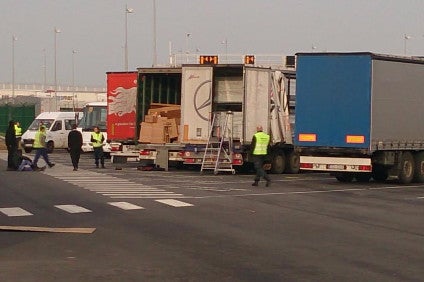 Britain's Road Haulage Association (RHA) says lorry drivers being forced to use alternative destinations to Calais, are seeing huge extra costs as the French Interior Ministry reveals there are currently 5,000 migrants without shelter at the port.
The news such a vast multitude are homeless at the so-called jungle camp in Calais may explain the sheer desperation of so many attempting to stow away on trucks bound for the UK via sea or Channel Tunnel crossing, with the visit today (2 September) by Interior Minister, Bernard Cazeneuve, an indication the issue is starting to climb up the political agenda.
Cazeneuve, fresh from his Paris meeting this week with British Home Secretary, Amber Rudd to discuss the deteriorating situation in northern France, may be attempting to defuse a planned mass demonstration in Calais next Monday (5 September) as a coalition of hauliers, farmers, port workers and Calais businesses vents its fury at what they perceive as political inertia.
His visit could also have been given extra impetus as those 5,000 without shelter will shortly have to face worsening weather conditions as the northern hemisphere's autumn and winter seasons start to bite.
Last year, British and French television screens were filled with harrowing scenes of appalling camp conditions in the jungle, which has extremely basic sanitary conditions leading many on both sides of the Channel volunteering their services to ease the refugees' plight.
But as well as humanitarian considerations, lorry drivers are also extremely concerned for their own safety as migrants attempt to break into vehicles, while the economic impact on hauliers forced to change routings, is clear.
"We know it costs thousands and thousands of [extra] pounds because they [truck drivers] have had to change their route," an RHA spokesman told just-auto. "They have to go though Southampton or Portsmouth [rather than Dover], which means it is less frequent and adds 200 miles to their journey. We know it is costing a lot of money.
"[There will be] action on Monday – it is going to be happening on the A16 [motorway] and approach roads to the Port of Calais – it will happen between 06:30 and 19:00. Whether it is convoys [or] trucks going up and down very slowly or they are going to park up – causing standing queues."
Should significant disruption occur next week, British police may have to implement 'Operation Stack,' which sees thousands of trucks parked along motorways in south east England, as sea or tunnel crossing timetables start to snowball. When this happened last summer for an extraordinary 28 days, the Freight Transport Association (FTA) estimated the cost to have reached GBP21m (US$37m), prompting some drivers to rethink Calais as a prefered port.
The freight body says some GBP89bn of UK trade passes through Calais every year, while the figure for Dover is GBP119m or 17% of British imports and exports. Truck movements through Dover and the Channel Tunnel were 4m per year in 2015 or 10,000 per day.
The RHA's French equivalent – Federation Nationale des Transports Routiers (FNTR) told just-auto it was worried a driver could be seriously injured or killed and was fed up of being effectively ignored by Paris.
"We can't tolerate this continues," FNTR secretary general, Sebastien Rivera told just-auto from France. "We have written letters, [held] meetings, we have arrived at the end of our tether. We will have a lorry driver who is seriously injured or killed – I am not exaggerating.
"We want urgent measures – not just fine words."
Specifically, the FNTR is calling for the jungle at Calais to be dismantled, migrant flows into the town to be controlled, the complete security of the ringroad and A16 motorway on the approach to the port and tunnel and an end to British fines should stowaways be discovered.
Cazeneuve also revealed some 2,700 migrants without the right to be in the country, had been deported from France.