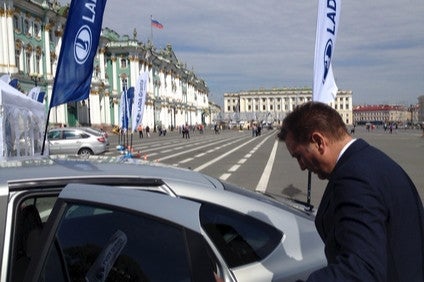 AvtoVAZ CEO, Bo Andersson is to step down, although no indication is as yet available from the Russian automaker who his successor will be.
The Togliatti-based Lada manufacturer recently posted a 2015 operating loss of RUB24.7bn (US$343m) compared to RUB10bn in 2014, while it has also introduced a four-day working week as Russia continues to endure enormous economic challenges.
An indication of how tough conditions are in Russia is also illustrated by AvtoVAZ Group revenue down 8% at RUB176.5bn, set against a market backdrop plunge of 36%.
AvtoVAZ production volume of Lada, Renault, Nissan and Datsun brands, including CKD kits, amounted to 469,000 units, down 19%.
Today (7 March) is a public holiday in Russia and an AvtoVAZ spokesman directed comments to the Renault-Nissan alliance, which owns a majority stake in the joint venture controlling the Togliatti company and the grouping did confirm Andersson is to leave, although no date is yet available.
"Alliance Rostec Auto today announced Bo Andersson, CEO of AvtoVAZ, plans to step down from the Russian automaker," said a statement sent to just-auto from Paris. " Andersson came out of early retirement in 2013 to lead AvtoVAZ.
"He continued the strategic turnaround of AvtoVAZ and he focused on process modernisation, new product launches and technology transfers."
An AvtoVAZ Board of Directors' meeting is scheduled for 15 March, at which time Andersson's replacement is expected to be announced.
Andersson was due to be a keynote speaker at next week's Russian Automotive Forum in Moscow and is currently still listed as attending, although the AvtoVAZ spokesman was unable to confirm to just-auto if he would be presenting at the conference.
The Renault-Nissan Alliance has a majority stake in Alliance Rostec Auto a holding company that controls AVTOVAZ. Renault, Nissan and AvtoVAZ's Lada brand build vehicles together in Togliatti and other plants throughout Russia.
In a bid to stimulate the moribund market, The Kremlin is to pump RUB50bn into the automotive industry, mainly through an aim to reduce Russia's car parc age, while lower vehicle credit and rental rates programmes will remain.
Russian companies will also receive financial support on their investment credits, with the State allocating funds to regional authorities
The money will be used to purchase municipal service vehicles running on natural gas, as well as to buy buses and trolleybuses.