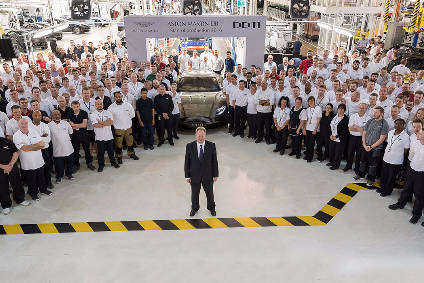 Aston Martin has commenced production of the DB11 for UK customers, the first core car launched under the luxury carmaker's six-year 'Second Century Plan'.
With the first DB11 coming off the Gaydon production line today, first deliveries to customers will take place during October.
Aston Martin President and CEO, Andy Palmer, said: "It's an exciting moment for the entire company when the first car of a new model goes into production. The DB11 is a special car and it heralds the start of a new and exciting era for Aston Martin."
The new DB11 is the first in a line of seven new models to be launched over the next seven years, in line with the company's 'Second Century Plan', which takes the 103-year-old company into its next century of operation.
Aston Martin says that to date, over 3,000 orders for the new DB11 have been received and they will all be hand-built at the company's sports car production plant and headquarters, in Gaydon, Warwickshire. Earlier this year, Aston Martin announced the company's second UK manufacturing facility will open in St Athan in Wales where the new crossover will be built.
After the DB11, which replaces the DB9, Aston Martin is planning to follow with a new Vantage and then new Vanquish.
However, the big change to the luxury sportscar company's business model comes with the new crossover. CEO Andy Palmer also stresses that Aston Martin is on a journey to becoming an established luxury brand, rather than simply a maker of luxury sportscars.