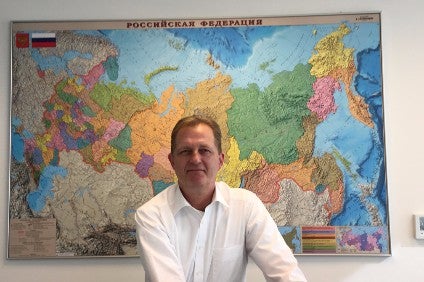 Russia's Association of European Businesses (AEB) says the country could one day potentially grow to become a 5m market, although myriad economic obstacles will have to be overcome first.
Just how far Russia has to go to even remotely approach that figure can be gauged by last year seeing full-year sales of passenger cars and light and medium commercial vehicles reach 1.42m units, 11% below the 2015 result of 1.6m.
However, there is a sentiment as oil stabilises at around US$50 a barrel and the ruble slowly appreciates, the worst may be over with inflation falling to 5% and a raft of government measures designed to kick-start the moribund market, which had seen four years of dropping sales slash volumes by 50%.
"If Russia holds together as a State, which it should do, by all accounts there is no way for the market not to grow, 5m at some point in time," AEB Automotive Manufacturers Committee chairman, Joerg Schreiber told just-auto in his Moscow office where he is also president and managing director of Mazda's Russia operations.
"If you put the maths together and look at the base factors that are driving demand, it is a matter of potential [although] it is not a matter of a few years to get there. We have been saying now for quite some time there should be some growth."
Infrastructure challenges remain ever-present in Russia with the sheer size of the country, coupled with a severe climate: "Swampy in summer and deeply frozen in winter," as the AEB chief put it, making road construction expensive. "It costs a lot," added Schreiber, "the cost is huge."
What is slowly gaining traction though and which may fuel vehicle sales growth, is increasing acceptance of providing more enviromentally-friendly transportation, by renewing bus fleets for example, while diesel has never proved popular. "Russian people are starting to think about the environment, we see a lot of eco-friendly stores [and] the whole health thing is gaining traction in Russia," said Schreiber.
"Diesel has never been a big topic in Russia – there are no incentives whatsoever," added Schreiber. "There is the cold climate – it is no secret a diesel engine may struggle at low temperatures.
"I am not sure when I will see this [5m market]. What is clearest to us is a target to actually see a turnaround happen and then some more or less robust momentum to the better side of the business.
"The government has been trying to push a new automotive strategy until 2025. It employs many people, this industry, [it] is very important politically. We have monotowns where every second or third job or seven out of ten is dependent on somehow plant [s] producing cars."
Part of the AEB's remit is to maintain contact with the Russian government as it looks to stimulate demand through either financial incentives, export inducements or to encourage domestic component production, for example through the Decree 166 initiative.
"Our major role is to maintain close dialogue with government bodies who provide support to the automotive sector," added Schreiber. "Despite the political rifts with Western countries, the attitude to Western businesses, particularly in Europe, has always been good. We have not been made to feel we are not welcome – on the contrary they are desperate to maintain good relations.
"We are still not out of the woods with regulation. We understand this [government subsidies] is a short-term drag. All we want is an environment that would make this kind of subsidy completely redundant."