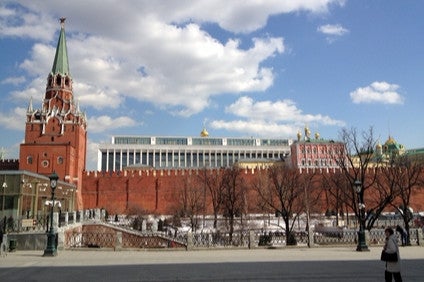 Russia's Association of European Businesses Automobile Manufacturers Committee (AEB AMC) says it is sure the UK will open dialogue with Moscow concerning any post-Brexit trade agreements, despite suggestions yesterday (11 April) British Foreign Secretary, Boris Johnson had called for further sanctions against The Kremlin.
Moscow has been subject to a series of international economic sanctions following its annexation of Crimea and supposed involvement in Eastern Ukraine, but despite Johnson's efforts this week, it appears the G7 club of the world's most industrialised nations, with the deliberate exclusion of Russia, have rebuffed any attempt to ramp up punitive action.
The British Foreign Secretary has been particularly exercised by what he sees as overt Russian support for Syrian dictator, President Bashar al-Assad following a chemical strike in the country last week, but it appears the current sanctions regime imposed by the West will remain the same.
That will come as some relief to Russia's beleaguered automakers, who at least had some glimmer of good news yesterday with figures showing the first small quarterly sales gain for four years.
Into that mix now steps the added unknown of Brexit, with the AMC looking to the British government to keep an open mind with regard to Russia.
"The UK government will be well advised to have as many options as possible," AEB Automobile Manufacturers Committee chairman, Joerg Schreiber told just-auto in his Moscow office, where he is also president and managing director of Mazda's Russia operations. "In talking to Russia…whatever bi-lateral trade agreements…I am sure this will be part of the UK government strategy.
"If only just to show the European Union (EU) there are options out there. Russia has never been comfortable with a unified Europe, but having individual relations is always an element of any government not just in Russia. Not to divide up Europe into single parts, just because it makes sense. You don't work with a block if you can work with single elements.
"The Russians will not want to initiate anything. As [far as] sanctions stand, the Crimea thing needs to be handled delicately. Those sanctions cannot be maintained for a long time – they will be softened. The UK has a huge interest in lifting financial sanctions – this is the leading thing for the Russian economy."
International sanctions for the past few years have contributed to huge pressure on the Russian economy, with consumers highly reluctant to purchase new cars against an onslaught of high inflation, a depreciating currency and problematic access to credit.
But news of a slight uptick this quarter – coupled with the G7 rejection of further sanctions against Moscow – may at least give the sector a breathing space as it looks to drag itself back from a 50% sales drop since 2013.