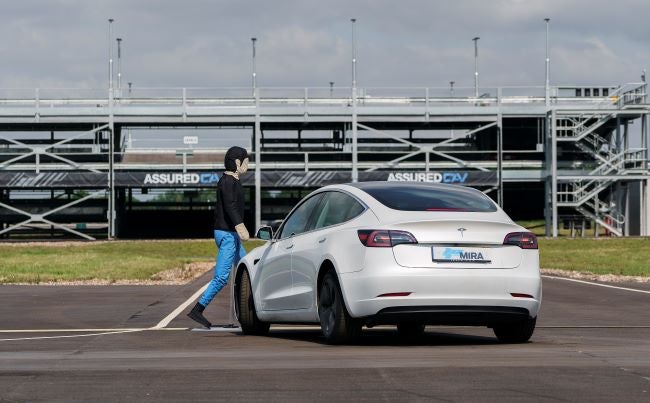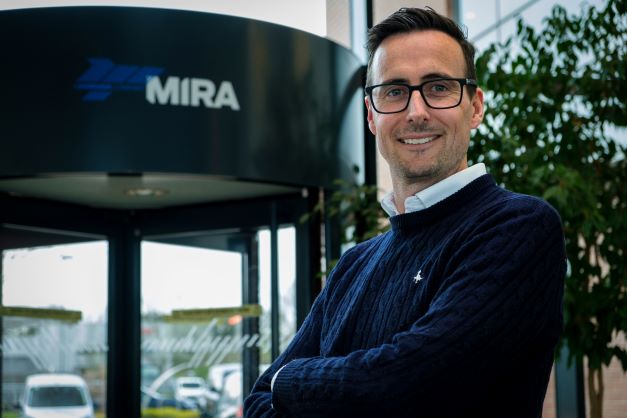 Can you provide an overview of the HORIBA MIRA ASSURED CAV facilities and capabilities on-site?
ASSURED CAV is a comprehensive ecosystem for developing and validating connected and automated vehicles (CAVs). It sits within our globally-renowned facilities in Nuneaton, Warwickshire, where we support global mobility innovators with the critical infrastructure and engineering competencies to accelerate the design, development and validation of self-driving technologies, ensuring they are robust and safe for the vast use cases possible on public roads.
The new ecosystem is consistent with our broader philosophy of providing both the very best environment to challenge connected and automated technology, but also a highly capable portfolio of related engineering services offered by our expert engineering teams. Therefore, clients have the ability to utilise our ecosystem on their own test programmes or use our expertise to help develop a validation and verification strategy and test programme that will ensure they understand the residual risk of their technology.
ASSURED CAV comprises four physical facilities that are supported by a dedicated operations team for scenario set-up. HIGHWAY allows vehicles to be tested to the limit of controllability. It's a dynamic platform with fully configurable lane and junction markings for scenario-based testing of ADAS and automated driving to their limits. CITY is a fully controllable and configurable connected urban and sub-urban driving environment; PARKING, a dedicated multi-storey car park to support the development of self-parking solutions, and finally, ROUTES, which extends along a 500km network of CAV-enabled public roads, beginning as you exit the HORIBA MIRA facilities. This is supported by advanced simulation capabilities, while deployed throughout is a 4G and 5G mobile private network with the latest ITSG5 standard.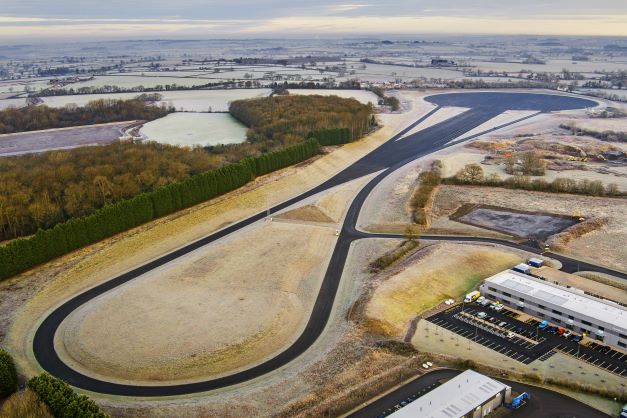 What primary testing use cases does it support?
With CAVs set to encounter an infinite number of potential scenarios when they reach public roads, the validation use cases supported are vast – in fact, it covers the majority of operational design domains likely to be encountered by an autonomous vehicle. We have the ability to follow international regulatory protocols, such as NCAP testing, right through to a bespoke systems engineering approach to identify the limits of the system in more 'edge case' scenarios.
In order to overcome this breadth of use cases and applications, simulation is a major part of the offering to provide the required coverage and efficiency, allowing testing to be done at scale virtually and then correlated physically. We have digital twins of the physical tests within ASSURED CAV and on the public ROUTES network with a pre-configured 'test-ready' scenario database.
On the HIGHWAY facility, lane markings support the development and testing of lane assist systems, while vehicle overtaking, undertaking and oncoming vehicle scenarios can also be carried out. Amongst others, Autonomous Emergency Braking (AEB) for rear end, vulnerable road users and junctions can be tested, with an NCAP specification junction marked. Meanwhile, on CITY there is a mix of urban junction types and street furniture, such as connected traffic lights, which enable the development of Green Light Optimisation systems and support the ITS G5 protocol.
Autonomous Valet Parking (AVP) is widely considered to be the first autonomous use case that will be seen on the road because of its relatively confined operational design domain, so the PARKING facility replicates the challenging real-world situations that need to be overcome, such as restricted visibility and varied lighting conditions, sensor deflection, GPS drop-out and constricted spaces.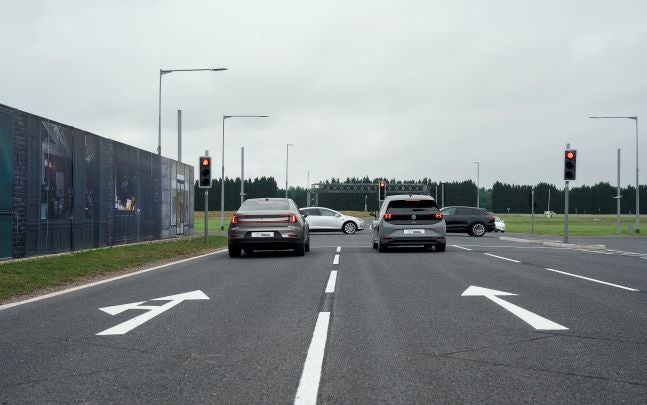 How does the facility and services compare to the likes of Applus IDIADA (Spain), AVL ZalaZONE (Hungary) and the proposed CAVWAY facility in Buckinghamshire (UK)?
ASSURED CAV provides the most comprehensive facilities in Europe, spanning high-speed, urban, inter-urban, rural, and parking environments, as well as limit handling test areas – no other facility provides such wide-ranging facilities and offers the potential to replicate testing scenarios from simulation through to proving ground testing and public highway trial. There's also the way that we operate these facilities and the help that we can provide to our customers. We ensure that testing is done in a really efficient way so that the time to acquire data is maximised. This includes setting up bespoke tests and scenarios to customers' given specifications.
An extension of that service is how we help customers get the most out of the ecosystem and in turn their own technology. Actively supporting in the development of their validation and verification plans means we can design test plans in a way that ensures they get the best understanding of their system. A multi-pillar approach is taken, meaning we combine simulation, controlled environment, audit and public road in this activity. We also offer our clients an easy landing where they can collocate on the technology park to access these facilities and services.
ASSURED CAV is also part of CAM Testbed UK, which brings together world-leading facilities with the aim of making the UK the go-to hub for next-generation mobility development. This network includes CAVWAY, which is currently under development.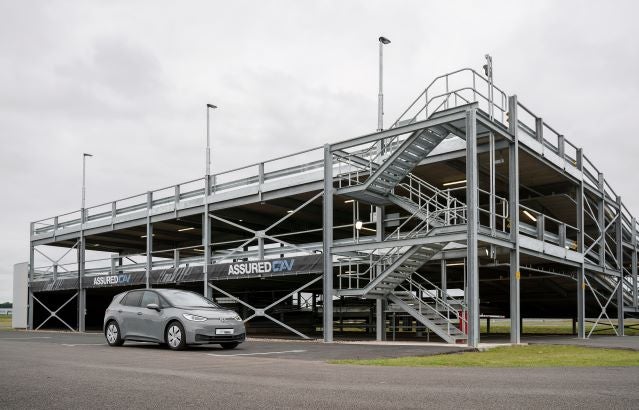 What customers are making use of the new facilities? Are you noticing any trends in the services they are requiring as a priority?
As ever, due to the sensitive and confidential nature of our business, we cannot name customers, but we have a number of global OEMs and new entrants already using the facility.
Pending legislation always drives trends in service requirements and as such support around the development and testing for GSR2 compliance is a priority for many customers at present. This will come into force in July 2022, with full compliance required by 2024. For GSR2 specifically, commercial vehicle manufacturers have more of a challenge to meet the upcoming requirements and we're seeing this reflected in support requests.
Yet, while ADAS and automated driving systems (ADS) are evolving rapidly, regulatory requirements are still in development. We're seeing an increasing number of customers, both automakers and suppliers into the automotive industry, who know their products can go above and beyond regulatory requirements and they want to quantify that. They want to set their own testing standards beyond these industry guidelines to ensure public confidence, while also putting themselves in the appropriate position for yet-to-be-determined standards and regulations. We're increasingly supporting customers in this area, providing a methodology to develop more rigorous validation and verification strategies and design validation plans (DVPs) meaning they achieve their safety aspirations far in advance of the regulation implementation.
How is HORIBA MIRA supporting vehicle development with both virtual validation and real-world testing?
Our offering provides layers of services so that the progression from simulation, through controlled proving ground testing and onto live public highway is seamless, with improved accuracy, fidelity and correlation.
With the support of Midlands Future Mobility (MFM), a database of test-ready scenarios has been developed – complete with natural language recognition – that allows engineers to quickly search, surface and use prepared simulation scenarios. The fidelity of these simulations is significantly enhanced and a comprehensive array of weather and environmental conditions have been developed. These can be used to add realistic context to simulation testing or improve correlation with ambient conditions encountered in real-world testing. Combined, the almost limitless array of weather and road conditions adds rigour and definition to virtual test conditions.
The challenge many face is how to overcome scale, in the sense that there are practically infinite real-world parameters that this technology will encounter. Trying to constrain that to meaningful scenarios that provide data on system performance is incredibly important, and having a methodology to do so is key.
This includes improving the correlation between simulated, controlled and real-world testing in a multi-pillar approach, which allows you to scale. HORIBA MIRA engineers have designed and tested a new generation of infrastructure that includes temporary buildings (façades) that authentically replicate the sensor signatures of masonry, vegetation and other physical materials vehicles will encounter in the real world. Along with precisely laid out roadways, appropriate road markings, sign degradation, street furniture and vegetation can be installed that initiate authentic responses in CAV sensor technologies, including LiDAR, radar and cameras, while correlating with both the real-world and virtual test environments. This proprietary façade technology can be configured in sections up to 30 metres. A sensor-neutral screen-print layer allows the façade to be dressed to visually represent scenes from the real world or other test scenarios as needed.
If Automated Valet Parking Systems (AVPS) are expected to be amongst the first autonomous use cases on the road, how is HORIBA MIRA helping parking providers keep pace? What benefits will this bring?
The slow speed and constrained physical environment of a car park makes it a more easily resolvable operational domain for the first introduction of automated technologies. Benefits will come in the form of improved space utilisation and safety, reduced congestion and time-saving while creating new service and payment optimisation opportunities.
The 1,900m2 multi-storey PARKING facility offers a controlled and 4G/5G connected environment for vehicle manufacturers, hardware and software developers, communications providers and infrastructure players to collaborate, develop and test solutions. A multitude of challenging test scenarios can be arranged, including sensor deflection from ramps, while configurable lighting can create sensor blindness situations. Using indoor localisation technology, other actors, such as vulnerable road users can also be injected into scenarios during manoeuvres.
It can support the requirements of all upstream and downstream contributors to AVP – from architects to civil engineers, payment software and Mobility as a Service providers, to fleet managers and car park operators. As well as AVP, the wider CITY ecosystem makes it possible to accurately replicate the last mile dynamics that see a vehicle transition from highway travel to city streets before completing its final route into a parking bay.
What do you foresee as the major obstacles to overcome ahead of the proliferation of autonomy features in new vehicles?
I think this is a really interesting question. The obstacle that is causing as much concern for the manufacturers and technology providers as consumers is liability. Shifting from personal to product liability is a fundamental change and in doing so the confidence all parties need to have in system performance is paramount. Having a robust evidential prove out of that technology will be absolutely key and that's where organisations like HORIBA MIRA will play a large role. Gaining that consumer confidence is a significant obstacle to overcome: a Volkswagen Financial Services UK study indicated that only one in five British motorists are likely to buy a driverless car when available. Safety assurances will be key for brand perception and user adoption, with OEMs needing to demonstrate that solutions have been thoroughly interrogated.
Is proving ground testing still relevant for progressively more automated vehicles? How do you envisage expansion and development of the facilities as these technologies progress?
Absolutely, they're essential for providing a safe, controlled and reproducible environment where you can remove variability from a situation to iterate and develop the technology to a point where it is robust and safe. It's not just the facilities themselves though, it's about creating an environment and designing a test plan that can deliver across the vast and wide-ranging use cases that CAVs will experience in the real world. That is a complex challenge and one that we will continue to engage with industry on, not only automotive customers but also infrastructure custodians, legal and insurance experts, as well as government and regulatory bodies, to make sure that we maintain and further develop the unique capability and ecosystem that we've invested in and developed.
Complementary to our ASSURED CAV offering we continue to develop our MIRA Technology Park where automakers and mobility players have the opportunity to base teams on-site to make best use of the facilities and accelerate their route to market. We already have a number of parties utilising our engineering expertise – with several recent additions attracted by our new green hydrogen production and refuelling facility – creating a hub of forward-thinking players in automotive development.