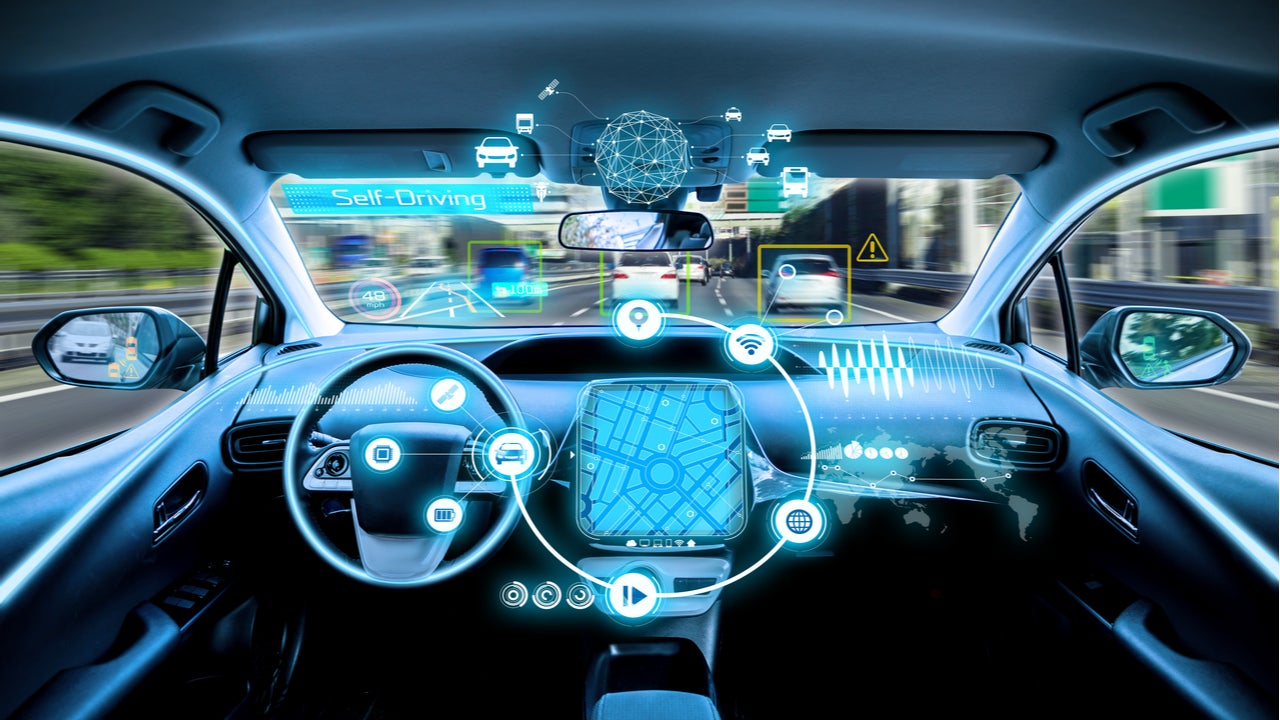 With the automotive sector delivering experiences previously more familiar in consumer tech, the Experiences Per Mile Advisory Council has developed the 'EPM Index'. This metric evaluates the in-vehicle experience and aims to assist consumer purchase decisions while also making it easier for automotive players to understand changing consumer demands. EPM Advisory Council member Tom Rivers, vice president of global automotive marketing at Harman International, explains.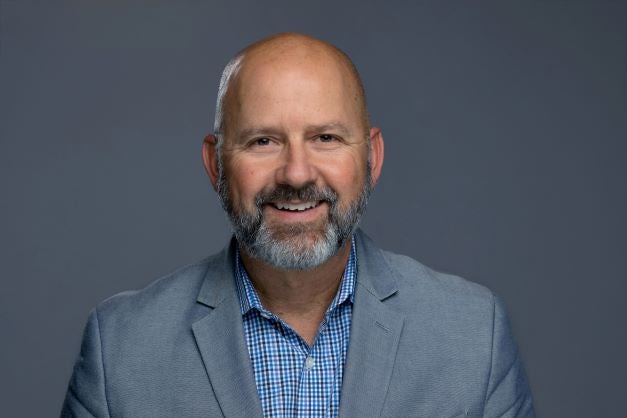 Just Auto (JA): What is the Experiences Per Mile (EPM) Index? Why does the EPM Advisory Council see it as necessary?
Tom Rivers (TR): The automotive industry is evolving from valuing the traditional criteria of horsepower and RPM to one where the experience in the vehicle is more highly prized. Previously, a consumer would ask 'how fast can I go from 0 to 60?' when looking to purchase a vehicle, but such questions have now become 'how can this vehicle improve my commute?', or 'can I access my important content on the go?'. Electrification and the progress of autonomy are compounding this shift.
While consumers can source a list of individual features and functions offered in a vehicle, with the Experiences Per Mile Index – or EPM Index – the aim is to provide a holistic evaluation of how effectively a vehicle provides users with a positive and fulfilling experience. The metric scores the vehicle from 0-100 based on its ability to achieve a users' experience goals for different journey types, which might be commuting, running errands, giving others lifts, or excursions and road trips. This is a first-of-its-kind rating that views the in-cabin experience as a true value-add, and we believe can become a valuable tool to support consumers' buying decisions, as well as help OEMs to tailor their in-cabin offerings to user requirements.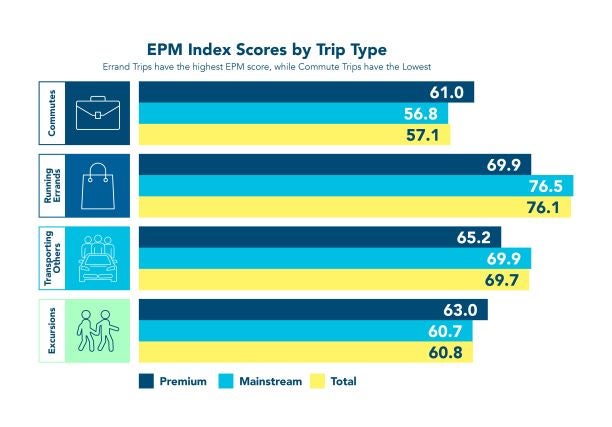 JA: How is the metric calculated?
TR: The formula for the EPM Index was developed following an exploratory research study by Ipsos, commissioned by the EPM Advisory Council, whereby SUV owners evaluated how well their experiential goals were accomplished for a certain journey type. The experiential goals comprise connecting, being productive, feeling good, de-stressing/relaxing, entertaining and finding privacy, while the journey types, as mentioned, focus on commuting, running errands, giving others lifts, and road trips. This experiential net score is multiplied by the importance, or weighting, that goal has for a particular trip type. The sum of the weighted scores calculates the EPM Index.
For example, the journey type of 'commuting' prioritises the experience goals of feeling good, finding privacy, and connecting and communicating with others. A vehicle may be very good at delivering across all these experiences, resulting in a high EPM Index out of the maximum 100 score. However, if a consumer uses their vehicle to give others lifts most regularly, they may put a greater value on de-stressing and entertainment while on the move. They need a vehicle that has a high EPM Index focused on these goals instead. Each vehicle model will have an EPM Index score for each journey type.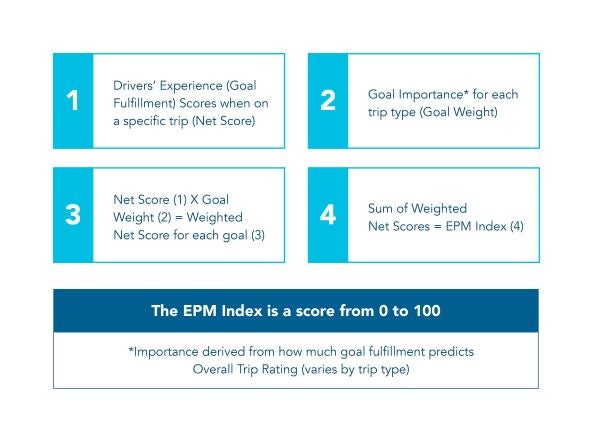 JA: What is the aim for this? Will it apply to each vehicle or piece of technology?
TR: The concept is that each new vehicle model coming to market is given a EPM Index rating to enable consumers to make like-for-like comparisons before purchasing a vehicle. It provides a score at the overall trip or journey type level, rather than rating different functions or technologies. A consumer can focus in on their most common trip types and look for vehicles that score highly for those journeys and goals. Someone that clocks up lots of business miles would seek a high-scoring vehicle for commuting journeys, while those wanting a suitable family car might seek out a vehicle that has high marks for both giving others lifts and for road trips.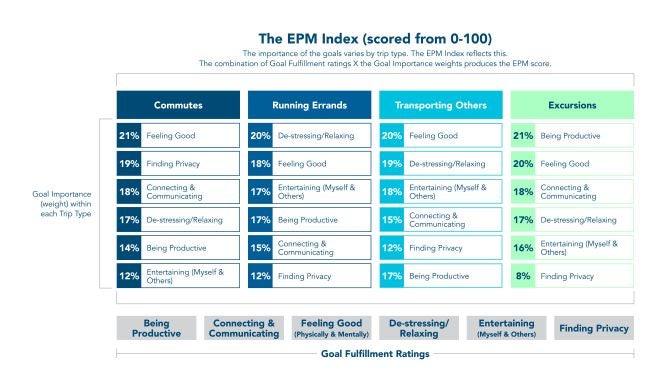 JA: How do you see this being used in a retail setting?
TR: The vision of the EPM Advisory Council is that each new vehicle model will receive an EPM Index rating that can be merchandised by the OEM or by retailers, making it incredibly easy for consumers to access and cross-reference during the purchase process.
JA: How are OEMs reacting to this?
TR: Several OEMs, including significant global players, are represented in the EPM Advisory Council, such as Ford, GM, Hyundai, Nissan, Polaris and Stellantis. From what we are seeing, they, like Harman, are recognising the shifting emphasis from individual features and functions to the importance of the overall experience for users, how it integrates within their daily lives and works seamlessly with their other devices. These OEMs find great value in the measurement and see how it has the potential to build a better understanding and stronger brand connections with the younger and upcoming generations of motorists.
It will also be a helpful tool for OEMs to assess where they are today with their current offerings, see that benchmarked against consumer demand and get insight into how they can develop future vehicles and their offering to meet those consumer experiential requirements.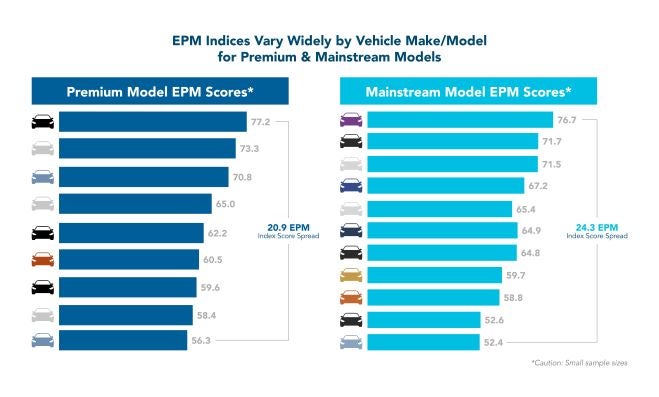 JA: BMW has recently been criticised for putting features behind a paywall. Would subscription-based features be assessed within the EPM Index rating? What is Harman's outlook on OEMs taking this approach to functions?
TR: The first study conducted by the EPM Advisory Council was exploratory in nature. It included features that were important to consumers based on other research studies analysing EPM, both qualitatively and quantitatively. Future features, such as those features behind a paywall, would be evaluated for future studies as we see changes in the experience provided by various OEMs.
JA: What's the next step to implementing such an initiative industry-wide? What are the challenges?
TR: An industry-wide implementation of an EPM score is being evaluated now. It is being decided in consultation with the members of the EPM Advisory Council from various companies across the industry. As it is ready for the market, it will be announced. Many of the challenges have been tackled with the exploratory study. The EPM Advisory Council is evaluating interest by the OEMs and making sure it is targeted enough to aid the product planning process. We foresee it being helpful for various industry contributors, as mentioned.
The EPM Index report is available to download from EPM Advisory Council | Automotive Solutions | Experiences Per Mile Experiences Per Mile