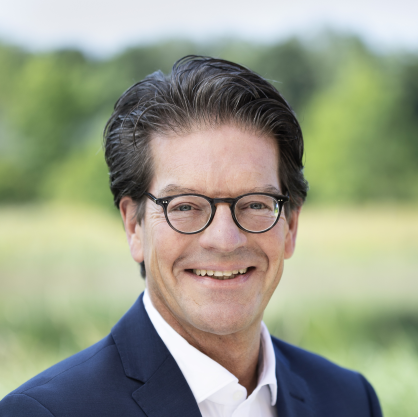 What is the headline message that Infineon is putting out at this year's CES?
At CES 2022, we are reimaging innovation with dependable electronics.  Infineon is highlighting the semiconductor backbone of the technologies that support automotive megatrends including electromobility, automated driving (ADAS), connectivity and cybersecurity.
One of our highlights is the launch of the new generation of our AURIX microcontroller family, the TC4x series. The AURIX family has become the first-choice automotive architecture for high-growth and safety-critical applications such as powertrain, safety, assisted driving as well as domain or zone control. For example, a leading European car manufacturer will have about 35 AURIX MCUs onboard a new car scheduled to be produced as of the middle of this decade. The new AURIX generation will advance the scalable family concept allowing for a common software architecture enabling significant platform software savings.
Further solutions include the SEMPER NOR Flash Memory family for critical safety applications and most advanced connected automotive systems; the REAL3 automotive imager based on 3D Time-of-Flight (ToF) technology for accurate and robust depth sensing; and Infineon's proven TRAVEO and TRAVEO 2 automotive microcontroller product families for conventional, hybrid and virtual gauge instrument cluster.
The recovery of global car production continues to be hindered by supply limitations. What areas of your automotive business are you particularly well positioned in the marketplace and which show the most promise for growth in 2022?
Microelectronics are driving innovation in the automotive world. Based on our system knowledge and our passion for innovation and quality, we provide our customers' industry's most comprehensive portfolio of dependable power semiconductors, sensors, microcontrollers, memories, connectivity and automotive communication devices.
Infineon is ranked the world's number one supplier in the automotive semiconductor market driving electrification and digitalization. Electromobility (xEV) and Advanced Driver Assist Systems (ADAS) are strong drivers – taken together they drive around 50 percent of our growth in automotive semiconductors. The remaining 50 percent is driven by classic, comfort, and premium where semiconductor content is rising.
As the leading supplier of automotive and power electronics, Infineon is well prepared to meet the growing global demand for electric vehicles and the required charging infrastructure. In 2021, nearly six million plug-in hybrids and battery electric vehicles would be produced. We estimate that about half of the inverters built into these vehicles are fitted with power semiconductors or power modules from Infineon. In the next five years, xEV is expected to grow around 20 percent. A broad portfolio, broad customer base, SiC and IGBT portfolio, as well as scalability, places Infineon at the forefront of xEV. And our large IGBT customer base is an essential asset now for the transition to SiC which further improves performance and range.
Another growth driver is ADAS which is expected to grow in the high-teens in the next five years. The shift towards higher levels of driver-autonomy is particularly positive for us because we are excellently positioned in the areas of radar, microcontrollers and actuators.
And lastly, in classic, comfort and premium segments, we have a mixed bag of legacy business, like power window and central door lock which is saturating, as well as fast-growing businesses like matrix lighting and premium comfort features, for example, heads-up displays, digital instruments cluster and in-cabin infotainment. Taking all together these applications they are expected to grow to high-single-digit.
Infineon has benefited from surging demand for semiconductors amid a global shortage this year. When do you see the chip shortage easing and at what pace?
Electrification and digitalization will shape the decade. Semiconductors are therefore in greater demand than ever. This demand is being driven by efforts to reduce CO2 as well as the desire to make objects intelligent and to securely connect them. Infineon's corporate strategy is aligned with these key trends. Semiconductor technologies make the energy-efficient and connected world possible.
However, demand continues to outstrip supply by far. Many products are in allocation, and inventories are low. We do not expect the situation to normalize any time before well into 2022.
The supply bottlenecks underscore the strategic value of our in-house manufacturing. Infineon's plants are operating at full speed. We have started production at our new 300-millimetre fab in Villach, Austria, and are increasing capacities at our fabs in Dresden, Germany, and Kulim, Malaysia. This will enable us to meet the growing demand for power semiconductors as well as memory products and sensors.
Nonetheless, due to the long lead times in the semiconductor industry, any capacity expansion takes time and contract manufacturers' capacities are limited.
It is estimated that about 90 per cent of innovations in the automotive industry are based on microelectronics and hence semiconductors. With electrification and autonomous driving, the dependability of electronics, as well as supply security and operational excellence, become essential for the automotive industry. On a system and chip level, what are the trends?
Firstly, system complexity is increasing with the level of automation. Today's architecture with its 80-100 electronic central units (ECUs) is already very complex and further increased with the level of automation. To reduce this complexity, the E/E architecture of the car will undergo the evolution from a domain architecture, via a mixed, to a zonal architecture.
On a system level, we are therefore discussing two central units and four-zone units for the future as well as smarter sensors. In the area of central processing, Infineon is partnering with e.g. Nvidia or Qualcomm. Here, we see the AURIX as a companion chip to grant functional safety. Furthermore, separate electronic systems also remain for basic driving functions such as brakes, electronic steering or even airbags. As sensors need to become even smarter and more reliable with this concept, we are combining them with e.g. Infineon PSoC microcontrollers.
Secondly, regarding software enablement, chip solutions are the foundation for software applications, like e.g. security chips that store cryptographic keys for secured V2X communication or software-over-the-air updates.
And lastly, on a chip level, scalability is key. Infineon's chips and packages can hence be flexibly adapted to the OEM's systems and platforms. For example, when OEMs want to expand IGBT-based car models or introduce electrified car models with Silicon Carbide (SiC) technologies we offer an easy, seamless and cost-effective upgrade path across the entire power range with our scalable product and packaging technologies and innovations.
Besides these aspects, Infineon stands out with regard to dependability, system understanding and application knowledge.
Growing vehicle complexity and functionality drive the need for dependable electronics which includes automotive quality, functional safety, innovative products and system understanding as well as operational excellence.
Zero Defect enables robustness and reliability at the core. The aim is to reduce the likelihood of component failures with a probability bordering certainty (sub-ppm; parts per million). Infineon's automotive quality approach includes quality of processes in chip design, chip development, manufacturing, supply chain, and many more. We deploy thought-out methodologies for enhanced testing and screening that we developed ourselves. This is why we can rightly claim that Infineon produces products of the highest automotive quality. They are also based on a holistic functional safety approach and broad system knowledge. We also add cybersecurity as there is no safety without security.
There is a lot of hype around Vehicle-to-Vehicle (V2V) and Vehicle-to-Everything (V2X) communication and the possibilities for safer roadways and more efficient travel. What's your view on the realistic possibilities?
xEV charging, Mobility as a Service, car-sharing or pooling, urban parking guidance systems or most importantly traffic safety will strongly benefit from Vehicle-to-Vehicle (V2V) and Vehicle-to-Everything (V2X) communication.
Although it will probably be a while before drivers can sit back and truly become passengers, we are convinced that the future car is all-electric, autonomous, fully connected, user-centric, and cyber secure.
To make this a reality, it takes the combination of dependable technology and consumers' trust. Furthermore, it also requires interoperability and common standards, robust connectivity, and certainly strong cybersecurity to protect the car and the infrastructure from manipulation.
Infineon supports the trend towards increasing connectivity. This includes the communication between control units within the vehicle, vehicle-to-vehicle communication, communication with the cloud, and connection to mobile devices via Wi-Fi and Bluetooth.
Looking around at events such as the CES, it seems like almost everything is connected to everything else including cars. What is your vision of the connected car? 
Connectivity and digital services are becoming the key differentiation when buying a car. For younger users, in particular, the digital experience in the car seems to be more important than the prestige that comes with a particular brand.
A positive user experience created by such systems as infotainment, comfort features, voice recognition, in-cabin wireless charging, state-of-the-art exterior and interior lighting and keyless entry will form future generations' decisions about the car they choose, regardless of whether they're buying or sharing.
Infineon has a broad product portfolio to address these digitalization tasks starting from digital lighting solutions, capacitive sensing, connectivity such as Wi-Fi, Bluetooth, USB C products as well as security products.
ADAS is a fast-evolving landscape. While we are seeing an acceleration of level 1 and 2 driving automation, there are delays in higher levels due to the lack of an established regulatory framework and the technical challenge of providing safety in all driving situations. In terms of Level 2+ for cars shortly, how do you see the market evolving?
We expect 2.5 million L4/L5 vehicles in 2030, the majority of which will be L5. These L5 vehicles are vehicles like people-movers, where the area of use is clearly defined. So we are not talking about private cars driving through historical city centres. The L4 vehicles are also not vehicles for private individuals, but rather trucks or delivery services. If the driver's workload can be reduced, for example by adjusting rest periods, the investment will pay off.
Level 3 was delayed due to legal issues, i.e. liability issues. However, recent regulations, for example in Germany, seem to address some of the challenges to accelerate L3 deployment. But there is another aspect: A few of the L3 functions were taken over from Level 2, resulting in L2+. This was a pragmatic decision based on a cost-benefit calculation.
Accordingly, the role of Level 3 is often discussed today. There will perhaps only be a few premium manufacturers who will put limited edition L3 vehicles on the road. In turn, there will be a large L2+ segment.
As the automotive industry shifts toward higher levels of driver autonomy, what are the opportunities for Infineon?
The shift towards higher levels of automated driving is particularly positive for us because we are excellently positioned in the areas of radar, microcontrollers and actuators. We have an outstanding sensor portfolio that allows the car to see, feel and hear what's happening inside and outside.
So far, we have shipped more than a quarter of a billion radar sensor chips worldwide – which, by the way, are among our most complex products. Statistically speaking, two out of three 77 Gigahertz radar systems in cars use our sensor chips today.
Recently, we launched an automotive-qualified XENSIV MEMS microphone solution.  It enables cars to "see" around the corner and to warn about moving objects hidden in the blind spot or approaching emergency vehicles that are still too distant to see.
Also, in the next five years, every second radar module will be equipped with an AURIX microcontroller. So we will benefit from increased automation.
How are you feeling about 2022 – both in terms of business prospects and more generally? And when do you see yourself getting back to pre-pandemic growth levels?
I am a positive person and would like to start the new year with confidence. However, the COVID pandemic remains challenging for all of us – as private persons, societies and businesses. And secondly, protecting the environment remains a key issue of our times.
Therefore, electrification and digitalization remain key themes that will shape the decade. And we are part of the solution: semiconductor technologies make the energy-efficient and connected world possible. So overall, after a robust start in a strong fiscal year 2022, Infineon remains on the growth path.
As for the automotive industry: It is experiencing a profound transformation that we will support with our system knowledge and innovative semiconductor solutions. The semiconductor content in a car is growing significantly from year to year. We are therefore very confident that we will be able to show at least ten percent annual revenue growth with automotive solutions.
Environmental awareness and actions, urbanization and changing consumer preferences are providing exciting impulses to the world of mobility. Mobility that is greener, safer and easier. With our passion for quality, Infineon helps make it a reality.