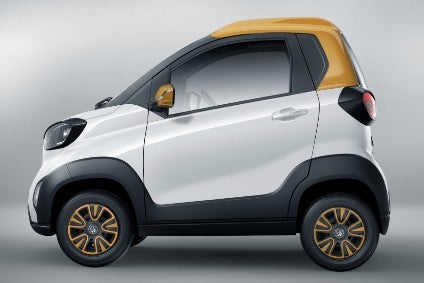 Seven years ago it didn't exist. Today it's General Motors' number two brand in the world's largest market. Baojun is more successful than Chevrolet, isn't far behind Buick and outsells Wuling by a factor of two to one.
There are a couple of reasons why this division of the SAIC-GM-Wuling joint venture struck gold with Chinese car buyers. The main one has been the JV's genius in seeing exactly where the sweet spot was for pricing, quality and vehicle design. SGMW decided to go after customers in lower income so-called second tier cities, developing small and medium sized crossovers and SUVs based on mainly older GM architectures.
What can be thought of as the second armada of products is now hitting the market: electric cars. These will obviously never become best sellers. That's not what they are meant to be though. As laws mandating the production of electric and hybrid cars begin to come into force from 2019, Baojun is in a great position.
Baojun is China's eighth most popular brand ahead of Hyundai and Chevrolet.
With the market falling by five per cent in July and SUV/crossover sales dropping by eight per cent, Baojun's nine percent tumble is a fair result. Geely has been careful not to put all its eggs into the SUV basket and has been the major winner. The company's decision to continue investing in sedans is paying off handsomely.
In July, Geely (not including Lynk or Volvo either) soared past the Japanese big three to take second place behind the mighty Volkswagen. Year to date, China's most popular home grown make is close to 100,000 vehicles ahead of Toyota, although VW is a long way ahead.
Baojun? Its tally of deliveries puts it in eighth, the top ten YtD brands being Volkswagen (1,773,480), Geely (828,355), Honda (760,149), Toyota (729,758), Nissan (618,275), Buick (588,430), ChangAn (537,807), Baojun (528,914), Hyundai (409,208) and Chevrolet (377,883). After the top ten it's Haval (362,603) followed by Audi (333,916), which has taken back its place from BMW as the number one high-priced brand.
Unlike VW, Nissan and Toyota, and in common with Honda and Geely, it is rare to see a Baojun model inside the top ten. The strategy works: offer a variety of vehicles then strengthen the brand continuously and with consistency. July was a typical example. While seven of the ten best selling vehicles were sedans, hatchbacks and wagons, with only the VW Tiguan, Geely Emgrand grouped models and Haval H6 representing crossovers and SUVs, the Baojun 510 was down in 17th place. This was followed by the 530 in 23rd and the 360 in 30th position.
Crossovers and SUVs
GM's ancient S4200 architecture, albeit in updated form, forms the basis of Baojun's best seller. The 510, a 4.2m long SUV, had its world premiere at the Guangzhou motor show in November 2016. Sales in China commenced in February 2017 and prices started at an affordable Yuan 54,800.
A facelift is due out in the first quarter of 2020 with the second generation 510 expected in 2024 although it might be brought forward to 2022 or 2023. That model will most likely use SAIC and GM's low cost GEM architecture.
Sized to compete with the country's long-time best selling SUV, the Haval H6, Baojun's second most popular model is the 530. This 4,655mm long model had its world debut at the Guangzhou motor show in November 2017 and went on sale in China four months later. Given its pricing and size, the 530 could in time become the brand's most successful model yet.
SAIC is expected to base its first locally built MG for the Indian market on the Baojun 530.
SGMW released the Baojun 530 with a choice of eight variants offering 1.8-litre and turbocharged 1.5-litre petrol engines. There are three gearbox options: six-speed manual, dual clutch automatic and torque converter automatic.
SAIC is expected to base its first locally built MG for the Indian market on the Baojun 530. SAIC officially took over General Motors' former plant in Halol in September 2017 and is revamping the factory ahead of starting production in 2019. The Chinese firm is yet to say what models it will make there.
The 560 is very close in size to the 530. It has been around since mid-2015 and therefore due for a facelift within the next six months. The second generation 560 will likely become larger and also be based on GEM. It is due for sales release in 2022.
MPVs
The new vehicles just keep coming for Baojun, with the 360 being the latest one. Revealed at the Beijing motor show in April, sales commenced immediately. This 4,615mm long MPV/minivan has three rows of seating and room for six occupants.
SGMW has used General Motors' Global Delta for the 360 as a way of keeping engineering costs down. In GM models, this architecture will soon be replaced by VSS-F, a new platform for front- and all-wheel drive cars and crossovers.
The 730 is another, older low-priced minivan. It has been available since July 2014. There should be a second round of tweaks to the styling and powertrains in 2019. A second generation 730 should be launched in 2021.
Wagon
Estates up to 4.7m long are becoming ever more in demand amongst Chinese buyers. Baojun offers its own alternative to the VW Gran Lavida in the form of the 310 Wagon.
The second generation 310 is almost certain to use GM-SAIC's GEM small car architecture.
SAIC-GM-Wuling revealed this 4,620mm long model at last year's Auto Shanghai. Just a year later, a facelifted car appeared at the Beijing motor show in April. That wasn't totally unexpected as the model which the Wagon is derived from was launched back in 2016.
Hatchbacks and sedans
The 310 is a five-door hatchback but the fascinating thing about it is the size: at only 4,032mm, it competes in the B segment, whereas the Wagon is a large C/smaller D segment model. As with the 510, the 310 is based upon the previous Chevrolet Sail.
The 310's public debut was at April 2016's Beijing motor show and the car entered production four months later, going on sale in September 2016.
The eventual replacement model is almost certain to use GM-SAIC's GEM small car architecture. The second generation 310 is due in 2023.
In addition to SUV, hatchback and wagon body styles, Baojun also offers one sedan. The 4.3m long 330 was launched at the end of 2015 but it was dropped after being a disappointment. The same cannot be said for the 630, which had been a strong seller for many years. Now at the end of what should be an eight-year manufacturing plan, this was the first Baojun. A five-door hatchback variant, the 610, has already been discontinued.
Small scale production of the 630 started in November 2010 on the 8th anniversary of the founding of the SAIC GM Wuling joint venture. The vehicle itself was previewed at the World Expo in Shanghai earlier in 2010, badged as the 'Wuling Demo Car'. In July 2010, SGMW revealed that the car would be launched under the 'Treasured Horse' or Baojun brand.
Electric mini cars
Baojun offers two tiny EVs, the E100 and E200, in certain large Chinese cities. Each should be in production for around seven years, which means facelifts in 2021 and 2022 respectively, and replacements in 2024 and 2025.
Depending on how sales of the two city-EVs go, SGMW may add larger electric models for the Baojun line-up of models.
The E100 is a 2,488mm long two-seater. It went on sale in Guangxi province – where the car is manufactured – from July 2017. The price at the time of its market release started at below CNR36,000 (post-subsidies).
According to SAIC and GM, the car's name is meant to represent a 100km/h top speed. The range, originally between 100 and 160km, was lifted to as many as 200 after a battery pack update was announced in June. Sales expectations were not high, but deliveries averaged around 1500-2000 a month during the first year.
The E200 isn't yet available but it should be within a matter of weeks. Set to be one of the most striking looking cars sold anywhere, the 2,497mm long hatchback is to be powered by a 39hp motor. Top speed is claimed to be 100km/h while the maximum range is stated as being 200km.
Depending on how sales of the two city-EVs go, SGMW may add larger electric models for the Baojun line-up of models.
Recent reports for many other manufacturers' future models are grouped in the OEM product strategy summaries section of just-auto.com.
Future product program intelligence
More detail on the past, current and forthcoming models for General Motors brands can be found in PLDB, the future vehicles database which is part of QUBE.