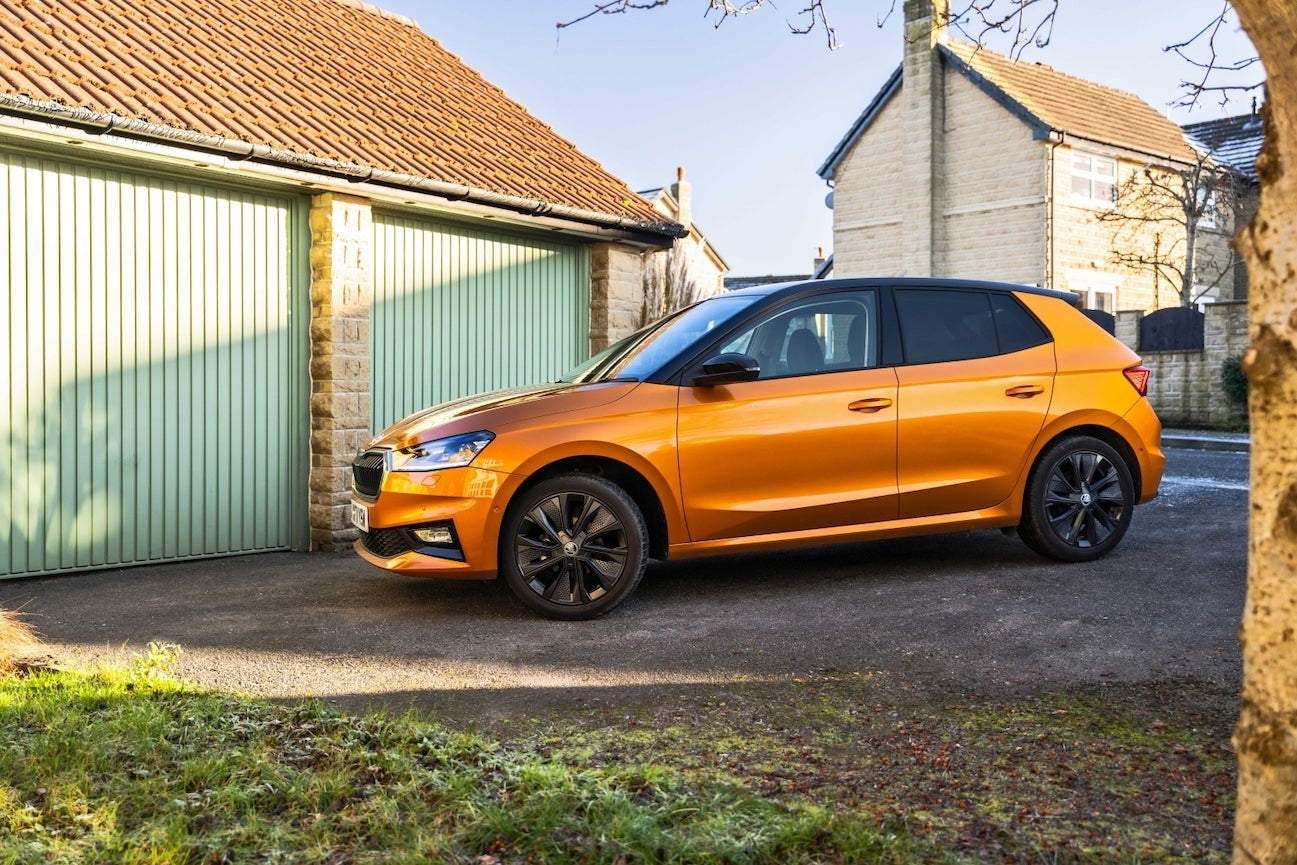 Volkswagen's latest 1.0-litre turbo and a seven-speed gearbox are capable of remarkable economy in the Škoda Fabia. And not to detract from the brand's latest PHEVs and EVs but many of its IC-only cars and SUVs are still selling very well.
In fact, as electrification sweeps seemingly almost all things automotive before it, nine of Škoda's ten best sellers are either wholly or mostly ICE-powered. As at the end of Q1, they were:
Octavia (45,000)
Kamiq (32,300)
Kodiaq (26,500)
Fabia (25,500)
Karoq (25,500)
Superb (15,700)
Scala (14,100)
Enyaq iV & Enyaq Coupé iV (12,400)
Kushaq (6,200)
Slavia (4,500)
The Rapid, missing from the list, is more than a decade old and built solely in China. Some 1,600 deliveries during the first quarter made it the brand's number eleven best seller.
Fabia – a bigger deal for Škoda than it seems
There are some oddities in those bullets, not least of which is the company grouping three Kamiqs as one: China has not only its own model but a Kamiq GT too, each part of a JV with SAIC. Meanwhile the best selling Kamiq also has its own body and is built in Mladá Boleslav for mainly European countries.
Consider too that the Karoq is now in the final phase of its life cycle (an EV will replace it in 2024). All of which means the Fabia is closer to being the brand's number three global best seller than is immediately apparent in Škoda's data.
The latest shape's performance is doubly impressive considering there are no Chinese market sales in that 25,500 total. Nor is there an estate with the new generation. Also, looking again at the above list, only the Enyaq SUV and its Coupé brother are EVs.
The future is EVs but IC-power is still strong
Škoda is clearly doing very well indeed from a range that's way less electrified than that of many competitors. This is changing but the brand is not yet going all-in.
The Volkswagen Group's strategy of protecting VW itself from too many internal challenges continues as mid-2023 approaches. An example which immediately comes to mind is the Fabia being allowed to premiere the MQB A0 Evo architecture. Yet there are no stand-out features in the car itself compared to the older and same-sized Polo. That's not a criticism, more admiration for how VAG operates.
New platform, classic technology
I've just handed back a bright orange (yes another one) example in high-spec SE L form and even this lacked things you'd usually find in a Volkswagen. The Fabia press tester had no electric parking brake, nor did it come with fully digital HVAC controls and gauges.
Seeing the Fabia's hand brake is as welcome a return to simpler cars as the display of low-distraction needles and dials. A pity then that the audio system lacks no volume knob. At least there's a real switch to deactivate Lane Assist with two presses all that's needed. Each done via a steering wheel control.
It might be for cost reasons but Škoda has also partly covered what are alloy wheels with plastic trim pieces. Not that they look cheap, the effect being quite smart in fact.
Protecting the group's main brand
Volkswagen surely did not intend to make the new Fabia more appealing to many buyers than its own higher-priced cars and SUVs. I mean that in the context of the ID. range of models.
As fine as native-electric VWs are, each comes with much technology which a lot of people never use or perhaps do not even want. Still, others are happy to have all the whizzy electronic alerts, large dashboard screens and attention-seeking instrumentation so it's horses for courses.
A small Škoda which betters the Polo?
The Fabia has the feel about it of a state-of-the-art B segment hatchback (it's 4,107 mm long) which was born lean. The idea might have been to keep higher cost features to a minimum so that the Polo isn't undermined. Yet it's the little Škoda which has more appeal. And that statement comes from someone who really likes the similarly sized VW.
The usual high-quality but no-nonsense aura features in every part of this car. It has an appearance all of its own and that extends to the inside too.
Seat fabrics and plastics are soft but not really luxurious, the whole cabin feeling all very durable and stylish. You won't find much in the way of chrome-look accents, the same applying to the car's exterior. And this less is more approach has a lot of appeal.
Keeping things light
Preventing unnecessary mass was without doubt a conscious effort on Škoda's part. How else to explain why this non-hybrid somehow manages to average more than 70 mpg if you drive it only a little bit carefully. I decided to see what the consumption would be by pretending it was an EV. By that I mean sticking in the slow lane at between 50 and 60 mph on two long mostly-motorway drives.
The left lane slipstreaming HGVs is a place I often choose to linger so as to avoid charging anxiety, the new concern of Britain's electric car drivers. Queues at motorway services or the fear of slow/inoperative chargers has replaced range anxiety for many EV-owners. These places really can be a proper pain, unlike plugging in at home – drive at a modest speed and the battery's rate of depletion can be mild.
Seventy-plus miles per gallon…
Equally, spending not much at all on energy replenishment is the result of driving a petrol-powered Fabia fairly gently. The best displayed average was slightly better than 73 mpg and one 300 miles+ day of M4 and M25 journeys delivered 70.8 mpg. Which is damn impressive. Observing the way that the car's powertrain acts is fascinating too.
Whereas some EVs almost bombard you with chimes and/or illuminated messages suggesting all manner of things to save energy, the Fabia is free of prompts and nagging. All it does is switch – as often as it can – to 'Coasting'. That's the word you see appear within the gauge cluster as the engine drops to an idle at cruising speeds.
Seeing the tachometer's needle gently descend to a sub-1,000 rpm reading at 50mpg is just as satisfying as the instant consumption meter's read-out of some extraordinary numbers. These can be 80, 90, 100 or even a theoretical 300 mpg. But also worse too, of course, yet like enjoying the challenge of keeping the remaining miles number in an EV as high as possible, this can be similarly fun in the Fabia.
…but also as few as forty-plus MPG
Around town, and when the car is cold, economy remains firmly in the forties, but it will soon climb to 50 or more, helped by high gearing and the stop-start system. CO2 is 126-137 g/km and official Combined consumption is 46.8-50.8 mpg.
In the press test model, the 81 kW (110 PS) 1.0-litre turbo was linked to a seven-speed DSG. While there isn't an abundance of torque (200 Nm/147 lb-ft), there's enough.
Flicking the lever to manual mode often flags up the ratio you're in being one or two cogs higher than expected. And on A roads, the electronics frequently order the gearbox to slip into seventh. That can even be when the engine is spinning at well below 2,000 rpm. No wonder economy is so spectacular.
Not so speedy but so what?
The little three-cylinder motor even has a pleasing sound, albeit fairly bland at idle. Above 3,000 revs, there's quite a nice, non-buzzy note but overall, it's a very quiet car. Which probably means aerodynamic drag is low. An officially stated top speed of 125 mph backs up that presumption. Acceleration is only modest though, 0-62 mph taking ten seconds exactly.
It's not a Cupra, nor is it an Audi or even a Volkswagen so the fact that the Fabia leans a bit in corners is unsurprising. And that's also fine. The steering is a touch on the light side too, but grip is very good.
Comfort was clearly the default for the dynamics. You can still have some fun though. Plus it's practical to boot, if you'll pardon the pun, luggage capacity being 380 litres (+50 compared to generation three).
Not every one of these powertrains is available in Britain but there are five in all. None is electrified or a diesel:
48 kW (65 PS) & 95 Nm 1.0 MPI, three cylinders, five-speed manual
59 kW (80 PS) & 95 Nm 1.0 MPI, three cylinders, five-speed manual
70 kW (95 PS) & 175 Nm 1.0 TSI, three cylinder turbo, five-speed manual
81 kW (110 PS) & 200 Nm 1.0 TSI, three cylinder turbo, six-speed manual or seven‑speed DSG
110 kW (150 PS) & 250 Nm 1.5 TSI, four cylinder turbo, seven-speed DSG
Sum-up
With the shortage of microchips mainly a thing of the past, sales should really start to rise later in 2023. If that happens, Škoda will thoroughly deserve the spoils of this great little model's success. For the money, the Fabia has to be one of the best choices anyone shopping in the B segment could make.
The Fabia 1.0 TSI 110 PS DSG in SE L trim is priced from GBP22,135. The pictured car's Phoenix Metallic paint is an extra GBP1,045.