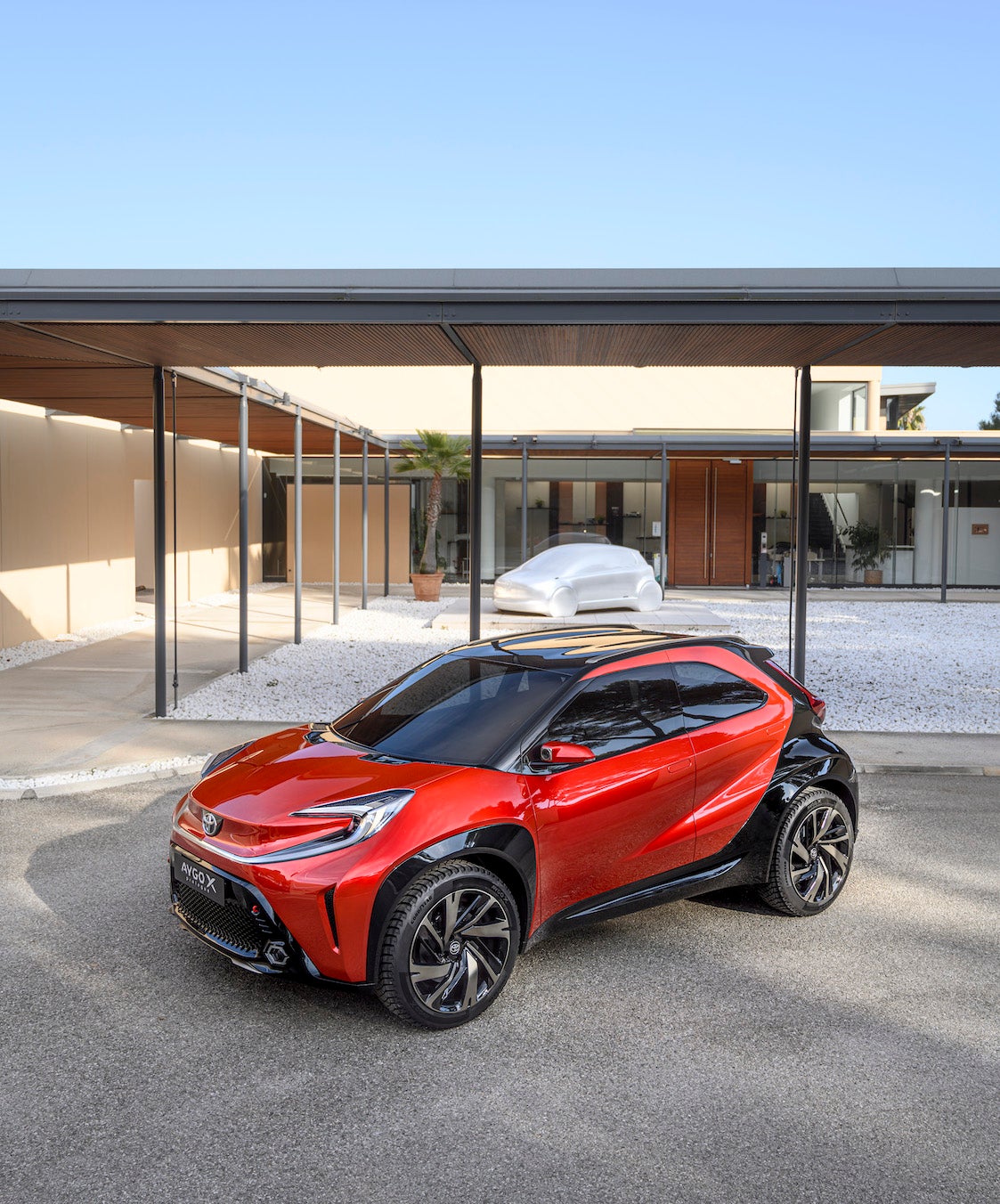 This report follows another one on the Toyota brand's crossovers, SUVs and pick-ups, similarly highlighting certain recently launched and future models.
Kei models
The brand isn't particularly strong when it comes to the Japanese market's mini-vehicles, this segment being mostly left to Daihatsu: 13,926 Pixis series cars were sold during the year to the end of August.
As was the case with the original, the current generation Pixis Epoch is the Daihatsu Mira e:S with some minor changes. Launched in 2017, it is due to be replaced in 2023.
A segment
Toyota Motor Europe (TME) took control of a former JV plant in January. At the same time, the factory's name was changed from Toyota Peugeot Citroën Automobile (TPCA) to Toyota Motor Manufacturing Czech Republic (TMMCZ).
It is not clear how long TME will manufacture the existing three cars (Peugeot 108, Citroen C1 and Toyota Aygo) for. The previous generation models were built for nine years and the current ones date to 2014.
Some wondered if the replacement for the Aygo might become a crossover but disguised prototypes of what was clearly a hatchback were photographed in December 2020. However, the Aygo X prologue, a concept revealed in March, was a crossover.
Six months ago, TME also told the media that it would be replacing the Aygo with a model which uses the GA-B architecture.
B segment
The second generation Aqua was announced for Japan, the first market, in July. Hugely successful in its original form, the new model is available only as a 1.5-litre hybrid. It isn't yet known if the Prius c name will be used in some countries, as was the case with the 2011-2021 model.
This is claimed to be the world's first vehicle to use a high-output bipolar nickel-hydrogen battery as an electric drive battery. Compared to the nickel-hydrogen pack in the previous Aqua, the new one's battery has approximately twice the output.
This B segment hatchback also comes with a 100-volt (alternating current)/1,500-watt accessory power outlet and an emergency power supply mode. That allows electricity to be drawn from the vehicle for external use during blackouts.
Production could endure for a decade with two facelifts: one in July 2024 and another in 2027. The platform is GA-B. While front-wheel drive, AWD is also available via an electrified rear axle.
C segment
In production since June 2018, the twelfth generation Corolla and its Levin derivative are due for facelifts soon. Each uses a version of TNGA, Toyota's global architecture.
The company revealed the Corolla and Levin sedans for China at the Guangzhou motor show in November 2018. North America's Corolla sedan then had its regional premiere a few days later at the LA auto show.
Generation thirteen is due in 2025 although cars for China and North America may not arrive until the following year. There will surely be electric versions too.
D segment
Will there be a tenth generation Camry? Without doubt: the current model sells very well in China and the US. The most recent news was a facelift for the 2021 model year.
The replacement will likely be in production at both of the Georgetown plants in Kentucky from the third or fourth quarters of 2023, to be followed by factories in Thailand, Vietnam, Russia and Japan in 2024. It will be interesting to see what replaces the Hybrid: possibly an EV but perhaps not until 2025 or later.
E segment
Toyota told suppliers in August that US production of the Avalon and Avalon Hybrid would cease at the end of the 2022 model year. This big sedan has been in production since February 2018. It is presumed that build in China will be unaffected.
There probably won't be a successor after build in Tianjin is wound down in 2024 or 2025. The next Lexus ES – very big in China as an import and still quite a good seller in the US – will be more or less the replacement.
Sports
The imminent GR 86, revealed online in April and on sale in Japan from October, replaces the 86 (also known as GT 86). The 'dynamic debut' took place at the Goodwood Festival of Speed on 8 July.
As was the case with the first generations, the interiors of the new Toyota and its Subaru BRZ twin are also all but identical. There aren't that many external differences either.
A non-turbo 2.4-litre flat four produces 173 kW (235 PS) of power at 7,000 rpm and 250 Nm (184 lb ft) of torque at 3,700 rpm. The engine's redline is at 7,400 rpm. Drive goes to the back axle only via manual or torque converter automatic transmissions, each of which has six ratios.
Both cars are manufactured by Subaru Corporation. The US should be the main market, along with Japan. An eight-year life cycle seems likely, meaning a facelift in Q4, 2025.
MPVs/minivans
A battery-powered Proace Verso was announced by Toyota Motor Europe in November last year. Deliveries commenced four months later.
As per the versions powered by combustion engines, the Electric is part of a JV with Stellantis (originally with Groupe PSA). Specifically, TME is supplied with vans and passenger vans which look only slightly dissimilar to the Peugeot Traveller, e-Traveller, Citroën SpaceTourer and ë-SpaceTourer.
The Traveller (i.e not the electric variants), SpaceTourer and Proace Verso were announced by PSA and TME in December 2015 three months ahead of their public premieres at the Geneva motor show. Each is available as an MPV for private buyers and as a Shuttle for business users. Up to nine occupants can be carried.
The Proace, SpaceTourer and Traveller share powertrains and a platform. The same applies to the Opel-Vauxhall Zafira Life & Vivaro Life. All are manufactured at the SEVEL nord plant in the French town of Lieu-Saint-Amand/Hordain which, by coincidence, is close to Valenciennes where Toyota has a car plant.
There should be facelifts in 2022 for the Proace Verso and Proace Verso Electric with replacements in 2024.
From Europe to North America now, where the larger Sienna was new for the 2021 model year. Deliveries commenced in November 2020.
This big minivan's chief engineer was based in the US, not Japan. The fourth generation was designed at CALTY's Newport Beach studio in California as well as at Ann Arbor in Michigan. Toyota says the front end is supposed to look like a Shinkansen, which it does.
Unlike previous generations this one comes solely in gasoline-electric form although it is not called Sienna Hybrid. The powertrain consists of a 2.5-litre four-cylinder engine and two motors, total power being stated as 243 hp. Front-wheel drive is standard and all-wheel drive optional. Drivers can tow up to a claimed 3,500 pounds.
Toyota Motor Sales USA is adding the Sienna Woodland Edition for the 2022 model year. This has raised suspension and a few other changes. There will likely be other derivatives to come ahead of a facelift for the 2026 model year and a replacement in CY2030.
Robo-minivan
The autonomous vehicles start-up Aurora, along with Toyota Motor Corporation and Denso announced an alliance for self-driving taxis in February. This followed an April 2019 statement from Toyota and its giant Tier 1 supplier, noting they would spend US$667 million to buy into Uber ATG. Aurora then purchased Uber Advanced Technology Group in December 2020.
The fleet of test vehicles, which will come into service by the end of 2021, is to consist of Siennas which will eventually be used as robo-taxis for fare-paying customers. No date has been announced for series production.
The three partners stated in February that the US-built hybrid minivans will be tested at sites in Pittsburgh, Michigan, Texas and San Francisco's Bay Area.
Hydrogen
The powertrain from the GR Yaris is expected to become available in the Corolla but with a twist: instead of petrol, the engine will run on hydrogen stored in tanks. The GR Hydrogen Corolla (exact name to be confirmed) should become available in Japan towards the end of 2022.
Toyota is also said to be planning a hydrogen-fuelled version of the next Prius for certain countries – potentially the US, Canada, Japan and a few others. It should be a plug-in hybrid with the combustion engine powered by hydrogen (therefore, and as with the Corolla, there won't be a fuel cell). The sales launch should commence in Q4, 2023.
Reports for many other manufacturers' future models are grouped in the OEM product strategy summaries section of Just Auto. That includes Toyota cars and MPVs not detailed in this report.

Future platform intelligence
More detail on past, current and forthcoming models can be found in PLDB, the future vehicles database which is part of GlobalData's Automotive Intelligence Center.
This is the fourth of four reports looking into what's likely to be ahead for Toyota Motor Corporation's brands and divisions plus the majority owned Daihatsu Motor Company. Lexus came first, followed by an exploration of future Daihatsu and Perodua models. The third chapter explored certain Toyota crossovers, SUVs and pick-ups.
Rivian will be the next OEM in Just-Auto's future vehicles series.