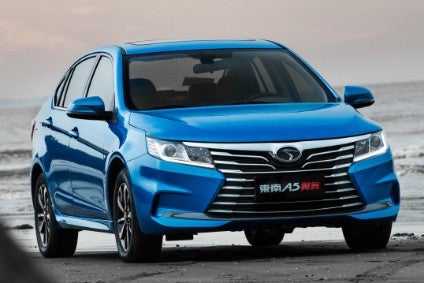 For years, Southeast Motor had a successful business building Mitsubishi-based vehicles in China. Now, amidst tough trading conditions, this small OEM is experiencing a major downturn. Will the addition of the DearCC and Enovate EV brands be enough to turn things around?
South East (Fujian) Motor Corporation Limited (SEM) is somewhat unusual for a China-based OEM in that it has strong ties to both Taiwan and Japan. The 24 year-old company, which controls the brand known as both Soueast and Southeast, is a JV between China's Fujian Motor, Taiwan-based China Motor Corporation (CMC) and Mitsubishi Motors. Most of SEM's models use powertrains and platforms which rely heavily on Mitsubishi technology.
This company has never been anything other than a niche player in China's giant market although CMC is highly successful in Taiwan even though most of its vehicles could be seen as outdated due to their age.
SEM needs to make some major investments in additional and new models if it wishes to stay competitive but at the moment it's unclear if that will happen. Wholesale deliveries in the Chinese market during the first quarter plunged dramatically (-78.5%) to 8,002 vehicles and fully half of that volume came from just one model.
Soueast: current vehicles
The DX3, a 4.5m long SUV, is the brand's number one model. However, its wholesale deliveries total, 4,007 for the first quarter, represented a 86% crash compared to Q1, 2018.
First seen as the DX concept in May 2016 at the Beijing motor show, the Pininfarina-engineered DX3 is powered by Mitsubishi 1.5-litre four-cylinder engines. The production version had its debut at the Chengdu motor show in September 2016 and went on sale in the Chinese market two months later. An EV version is said to be under development. Expect an eight-year life cycle for the original, which should mean a facelift in the final quarter of 2020 and a successor in late 2024.
The A5 Yiwu is Soueast's second most successful model and its most recently launched. This C segment sedan replaced the Mitsubishi Lancer-based V5 Lingzhi. Revealed in prototype form at the Chengdu motor show in August 2018, the production model had its Chinese market sales launch during the fourth quarter of last year. Wholesales for Q1 totalled 2,913 units.
The DX7 Bolang is now four years old and remains Soueast's largest model. Lately it has been in trouble, with a sales slide of 87% during the first quarter to 1,002 units. A couple of unusual features make this car stand out: D pillars which resemble those of the Bmw i3, and fake air vents in the front wings. There should be a facelift for this SUV in 2020 and a successor in 2023.
There is one other model and even though it has been in production for a long time, it still sells in decent numbers but in Taiwan, not China. Derived from the rear-drive Mitsubishi Town Box microvan, the Dongnan version built in China has updated styling, particularly at the front. The virtually identical Veryca is made in Taiwan by CMC. A successor should finally appear in 2020.
Soueast: future models
There is an obvious gap in the DX model series between the DX3 and DX7. A DX5 will likely be added either this year or next. This SUV would be a rival for the wildly successful Haval H6.
The DX9, a larger SUV, will sit in SouEast's range above the DX7 Bolang. It would be a rival for the Haval H9. The launch is expected to take place by year-end. As for this vehicle's platform, that should be derived from the Mitsubishi PS/PA architecture.
Dearcc: current models
The EV10 was the first model for Dearcc, an electric vehicles brand, the sales launch in China having taken place in December 2017. This 3.7m long five-door hatchback premiered as a prototype at the Guangzhou motor show in November 2016. The Chinese name for Dearcc is Dianka. Dian means electricity, from diandongche, electric car.
The most recent news for the little car was the debut of a new battery pack and resultant claimed major rise in range. The updated EV10 was seen by the public for the first time at the Beijing motor show in April 2018.
The company stated in late 2017 that it would have a bespoke factory built for electric cars at a site in Shaoxing. Due to open later in 2019, the Zhejiang province facility will have an annual capacity of 180,000 vehicles.
Dearcc: future models
The fledgling brand is to gain more models as part of its 'Enovate' sub-brand. The company stated in September 2018 that it would launch eight vehicles based on its so-called Intelligent Digitalized Architecture. This will include SUVs, sedans and MPVs, between 2019 and 2024.
The first Enovate model, a 4m long electric SUV, is due for release in China during the second half of 2019. The model name should be ME7, the same as a concept revealed at last month's Auto Shanghai. In two years' time, a production version of another study shown at the same event, the ME-S, could make production.
Reports for many other manufacturers' future models are grouped in the OEM product strategy summaries section of just-auto.com.
Future product program intelligence
More detail on past, current and forthcoming models can be found in PLDB, the future vehicles database which is part of QUBE.
The next OEMs to be featured in the future vehicles series will be Groupe Renault and Nissan Motor. That will include the following brands: Renault, Alpine, Dacia, Samsung, Lada, Nissan, Datsun, Venucia, Infiniti and Mitsubishi.