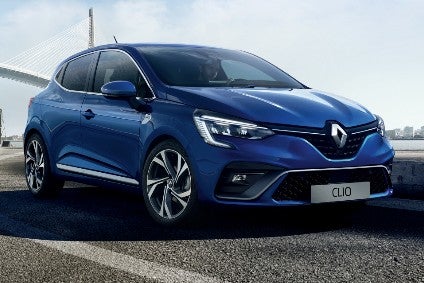 As Renault approaches mid-year and its AGM on 12 June, the group is in good shape. The first quarter was a strong one for the company's namesake brand and the new product pipeline is brim with fresh models due out very soon, the fifth generation Clio being the most important of those.
Cars
The new Clio (project code: BJA) is the first Renault for CMF-B, this architecture having been debuted by the Nissan Micra in 2017. Clio 5 will be available with a hybrid powertrain too. There should also be a version with raised suspension so as to compete with the Hyundai i20 Active and Ford Fiesta Active. That derivative is likely to be revealed at the Frankfurt IAA in September.
The main production sites for the new model are Bursa in Turkey and Novo Mesto in Slovakia. Flins, which also made the outgoing car, will build the fifth generation in relatively small volume (<25,000/annum) on a CKD basis. The French plant should instead increasingly become a site for the production of ever more electric vehicles and in high volumes. The Alpine works in Dieppe will again make an as yet unseen RS derivative.
The fourth generation Mégane is now only months away from having a mid-cycle facelift, which means the successor is being worked on and due for market release in the final quarter of 2022. That car seems certain to be based on an evolution of the Alliance's CMF C/D architecture.
Crossovers & SUVs
The next Captur is again expected to be manufactured in Spain, plus it will almost certainly also be built at the DRAC plant in China. Renault and Dongfeng Motor told the media in October 2017 that they would be expanding their DRAC joint venture to be manufacturing 400,000 vehicles annually by 2022.
Like the current model, the next one will share its architecture with the contemporary Renault Clio and other similarly sized Renault-Nissan Alliance models such as the Nissan Micra. Production is due to start in 2020 and last into 2027 with a facelift in late 2023 or early 2024.
The current Captur is codenamed J87 and the future one is HJB but there is a third model which uses this name, project HHA. The main difference between J87 and HHA is that the latter is based on a low-cost B-Zero/B0 architecture and is for lower income countries. That includes India and Russia, where it has been in production since 2016 and 2017 respectively. Unusually, the HHA Captur (Kaptur in Russia) looks almost identical to Europe's model yet it is slightly longer. There should be facelifts for these models in 2021 and replacements in 2024.
There will be another crossover/SUV for Renault's lower income markets plus South Korea, this one being in the C segment. A prototype of this vehicle, which is to be called Arkana, premiered at the Moscow motor show in August 2018. Renault terms this model "a distinctive coupé-crossover" and notes that Russia will be first to receive it, Moscow being the lead plant.
An update of the B-Zero platform, called B0+, will underpin the Arkana with this model supplementing the Kaptur. In the Russian market, two four-cylinder petrol engines will be offered: an atmospheric 1.6 as well as the Alliance and Daimler's newer 1.3-litre turbo. Production should start in September and last until the second half of 2027 with a facelift in 2023.
Renault's main model in the European and Chinese C-SUV segments is the Kadjar, a model it released during the first half of 2015 and then facelifted in 2018. Production takes place at Vallamuriel de Cerratos (Palencia) near Madrid and at DRAC, the Dongfeng Renault joint venture plant in Wuhan.
As well as the facelift last year, there were mechanical changes for the European markets Kadjar which became available from the fourth quarter of 2018: the Alliance-Daimler 1,332cc 16v turbo petrol four-cylinder 1.3 TCe was an engine new to this model, available in TCe 140 (103kW/140PS) and TCe 160 (117kW/160PS) forms. As for diesels, these gained power and are called Blue dCi 115 (1,461cc, 8v, 85kW/115PS) and Blue dCi 150 (1,749cc, 16v, 110kW/149PS), gains of 5 and 20PS respectively. The next news should be further engine tweaks ahead of Euro 6d later this year. The second generation model is due in 2022.
SUVs for China
China's Renault Brilliance joint venture is mainly for light commercials but it will also make SUVs. The first of these, codenamed F70, is due on sale in China later this year. The Shenyang-based JV's official name is Renault Brilliance Jinbei Automotive Co., Ltd. Groupe Renault is the junior partner with 49%, Brilliance China Automotive Holdings Limited (Brilliance China) controlling the remainder.
MPVs
The Triber is to be a small minivan based on the Kwid. It should be built only in India and use the Alliance's CMF-A platform as its basis. Insiders now say that the model will be in series production during July. Even though the Triber is small, it will be able to seat up to seven occupants. The standard engine will be the Alliance's 1.0-litre three-cylinder petrol unit.
Electric
Plans for a small EV were revealed in Renault's Drive The Future presentation in November 2017: an image of a Kwid with a cord and a Chinese flag was shown. This model will be manufactured by DRAC. The car was revealed in production form at the Shanghai motor show in April, with the model name announced as City K-ZE. Dongfeng Nissan will also have a version of the model, the e30, which was shown for the first time at the same event.
This small EV will likely have a short life cycle as the basic model – the Renault Kwid – dates to 2015 and so is due to be replaced in the Indian market during 2022.
One size up, the second generation Zoe should be one of the first models for the Alliance's CMF-EV architecture, which will stretch from the B to D segments. There may also be an RS (RenaultSport) version. Meanwhile, Mitsubishi Motors should have a version of this car, although it would have its own body. In June 2018, Renault announced that it would be doubling the capacity of the line on which the Zoe is built at Flins. The new model is due in 2020.
An electric C segment model is expected to become available in Europe and potentially China too from 2022. Such a vehicle will obviously share much with the third generation Nissan Leaf, including a bespoke electric vehicles architecture for models of this size and larger. This platform is likely to be a lower cost version of the Infiniti Electric architecture.
Renault announced plans for a Captur PHEV and a Mégane PHEV in October 2018, on the eve of the Paris motor show. As for the timing of the cars' release, this was stated as being in 2020, as follows:
"Renault also confirmed its plans to further electrify its range in its 2020 product refresh cycle, offering hybrid on Clio and plug-in hybrid on Mégane and Captur, giving consumers the possibility to go electric in the models they know and love. e-Tech, an innovative, 100% Renault in-house technology, enables Renault to offer hybrid versions on B and C segment models".
Renault is said to be planning an electric SUV around the same size as the Kadjar. The vehicle in question might even be a plug-in version of the second generation Kadjar and therefore called Kadjar Z.E. The company believes such a model will need a real world range of 500km. The architecture will be CMF-EV. This model is expected to be manufactured in France, potentially at the Douai plant. There should also be build in China.
Alpine
There were many sceptics but Renault has proved them all wrong by making Alpine a successful brand. The A110 has been built since October 2017 and still deliveries remain brisk and transaction prices high. Last year, 1,943 cars were sold Europe-wide and during the first quarter of 2019 the total was 1,266. As long as Renault can keep interest high, Alpine looks as though it will remain a popular, aspirational marque.
There is still no firm news about a possible second model with only a facelift for the A110 being on the medium term horizon. That should happen in two years' time. Well before then though there will almost certainly be a new round of limited edition cars to follow last year's A110 Pure and A110 Légende.
Reports for many other manufacturers' future models are grouped in the OEM product strategy summaries section of just-auto.com.
Future product program intelligence
More detail on past, current and forthcoming models can be found in PLDB, the future vehicles database which is part of QUBE. That includes Renault not listed above such as the Twizy, Kwid, Kwid sedan, Climber, Twingo, Symbol/Thalia, Clio Hybrid, Duster Oroch, Kangoo, Koleos, Alaskan, Scénic & Grand Scénic, Talisman and Espace.
The next brand to be featured as part of the Groupe Renault and Nissan Motor series will be Dacia. This will be followed by Samsung, Lada, Datsun, Venucia, Infiniti, Nissan and Mitsubishi.