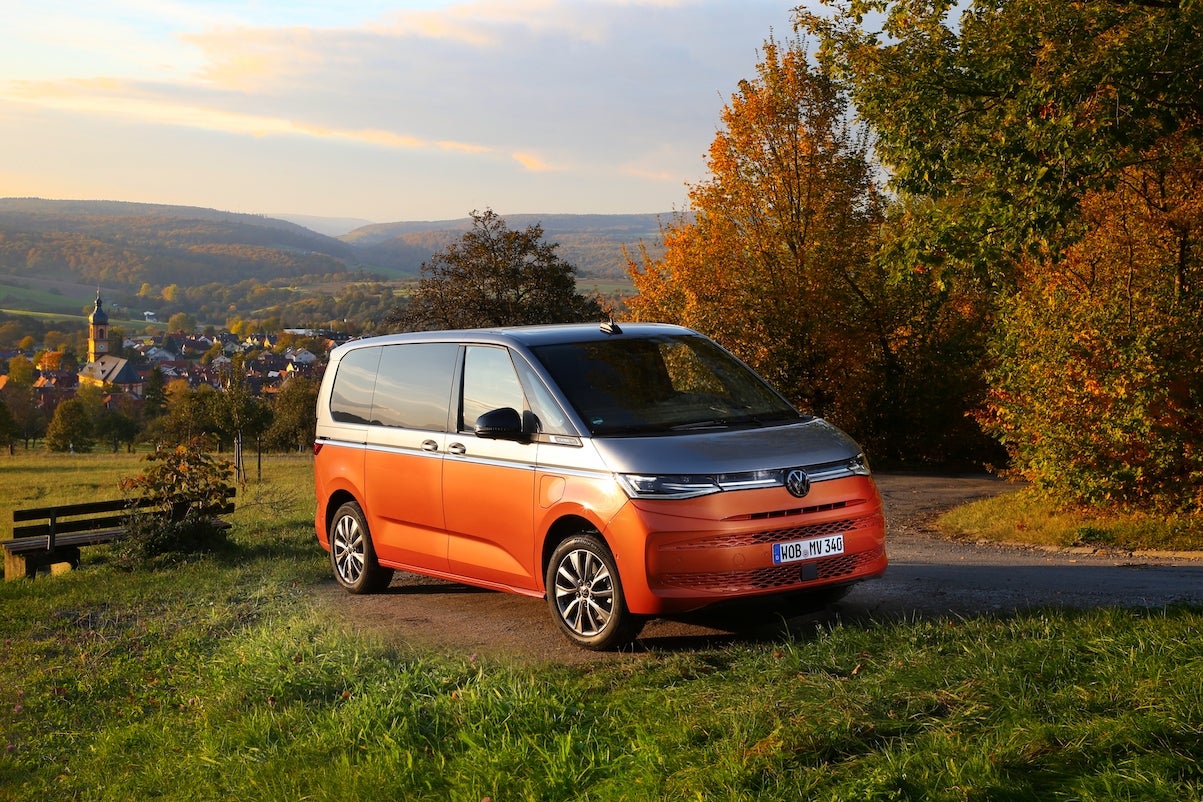 The new T7 Multivan is Volkswagen's most sophisticated and distinctive seven-seat MPV to date.
Built in Hannover by the company's commercial vehicles division, the latest model is a recent arrival in the UK. And for the first time in the T series' seventy-year history, it's available with petrol-electric power too.
FWD-only and standard DSGs
Called 'eHybrid', this first electrified model's PHEV powertrain produces a combined 160 kW (218 PS). That power is the net sum of a 110 kW 1.4-litre engine and an 85 kW motor. The 13 kWh battery is positioned below the floor and it can provide up to 30 miles of range.
As with all Multivans, drive for the eHybrid is to the front axle only and in this case via DQ400E, a specially designed six-speed DSG.
The dual clutch gearbox with all other engines has by contrast seven ratios. These three choices are a 110 kW (150 PS) and 360 Nm diesel plus 100 kW (136 PS) 1.5- and 150 kW (204 PS) 2.0-litre petrol units.
I tried out the last of those four alternatives. And even before you pull on the driver's door handle to unlock the vehicle, it's obvious that everything is new. Which is as it should be as the T6 was really only a major update of the T5.
Previous generation continues
Generation six continues in fact, as I noted in this review a few months ago, the T6.1 models remaining available as vans and campervans. The old-shape Caravelle, which is for business, family and outdoor sports enthusiasts, also lives on. In Britain, it's had a name change to Transporter 6.1 Shuttle. But back to the T7.
Based on the Volkswagen Group's Modularer Querbaukasten (Modular Transverse Matrix) A/B Evo architecture, the Multivan comes in two lengths. This means up to 4,053 litres of boot space (long body with glass roof, or 3,672 for standard body), the base version offering 469. Both sizes have a generous 3,124 mm wheelbase which is 124 mm more than that of the 6.1's.
Longer and wider but lower
The extended length body measures 5,173 mm from bumper to bumper with the normal Multivan 200 mm shorter than that. Width for both is 1,941 (up 37 over the Caravelle) and the height can be up to 1,907 mm (-43 mm).
Volkswagen boasts that interior volume is better thanks partly to a relatively low floor. Also, the body being closer to the ground makes entry/exit possible in certain car parks denied to the Transporter 6.1 Shuttle.
Even though it looks (outside and inside) like an executive shuttle, the new MPV is equally aimed at those who want versatility in the lives. Which means the second and third rows of seating can be removed, the idea being that bikes are able to be carried securely inside the vehicle.
Click-in seats
Those seats, while still not exactly light (each is between 23 and 29 kg), are at least easier to lift out of their securing tracks than the ones in the Caravelle. That applies to each of the four or five rear ones.
Should the vehicle instead be configured as a six-seater, those in the middle row can be positioned to face the two back-of-the-bus ones. In this 2+2+2 layout, what would otherwise be a three-place bench is replaced by a pair of individual seats.
Sliding table module
Volkswagen has provided a track system so that a module can be placed on the central dual rails and slid back and forth. This comes with pull-up-and-pivot tray tables plus the console itself can be raised, thus lifting the height of what is a table-top. There's also a huge, integrated storage compartment as well as three cup holders. And when the seat-backs are tilted forwards, they fold flat, revealing more drinks receptors.
It's simplicity itself to walk from either of the front seats right the way through to those just ahead of the tailgate, passing the sliding console. Or just touch either of the side doors' exterior handles and these slide back on their tracks. A small button beside the middle-row occupants also opens or closes them electrically. Foot gesturing is there too for both sliders and the tailgate.
And how is it to drive?
Stretching back even to decades ago, T-model Volkswagens have generally been less typically van-like than their contemporaries. Nowadays, driving almost any LCV is really not that different to an SUV. The applies to the Multivan too.
There's not insignificant lean in bends, particularly with a full load of passengers. Let's face it though, who's going to drive one of these luxury models like that anyway? The steering is fairly precise and for a two-wheel drive vehicle, road-holding is to a high standard.
Comfort is where the T7 excels. Its weight and long-wheelbase, combined with a car-like suspension system and the MQB platform's inherent sophistication are all factors in what's very smooth progress.
Great visibility, low wind noise
As a long distance limo-bus, the Multivan impresses. I put in a lot of driving hours during two of what were seven days with the press tester. And on the second and longest one, there was much rain and road congestion.
Due to an embargo on driving impressions which applies until 11 October, I'm not yet allowed to tell you how the new Alfa Tonale is on British roads. Why am I mentioning this? Because it was the T7 that took me to Yorkshire and back for that media preview event. In more than 500 miles on the M4, M5, M6, A1 M, M18 and a variety of A and B roads, the big Multivan was a pleasure to steer.
Solidity and style return
From the delight of all manner of nice looking trim pieces, including wood-look and chrome-look plastics as well as heavy-solid doors and big areas of glass, Volkswagen is reversing certain mistakes. Even lifting the bonnet and seeing how all the visible components are presented shows that VW has listened to accusations of cheapening its vehicles.
A hewn-from-solid impression has returned in the Multivan, along with some inspired German minimalism. And here and there, the dashboard greatly benefits from proper, chunky controls. The gear selector switch is one example: it looks brilliant and works perfectly. Shame the same can't be said for the volume slider or the on-screen A/C and seat heating though. At least the steering wheel buttons are a big improvement over those in the ID. models and all other plastics feel just as good.
Summary
It's tremendous to see that Volkswagen is finding its way back to being a maker of models which set class standards. The design department seems also to be realising that a loss of tactility in interiors was a major error. People may like a less is more approach for exteriors but why throw away interior touch-points which had felt expensive? The Multivan is therefore an eight out of ten experience for the driver and for their five or six passengers, it's close to a nine.
Pricing for the new Volkswagen Multivan starts at GBP44,950 OTR and inclusive of VAT. There are two model grades: Life and Style.