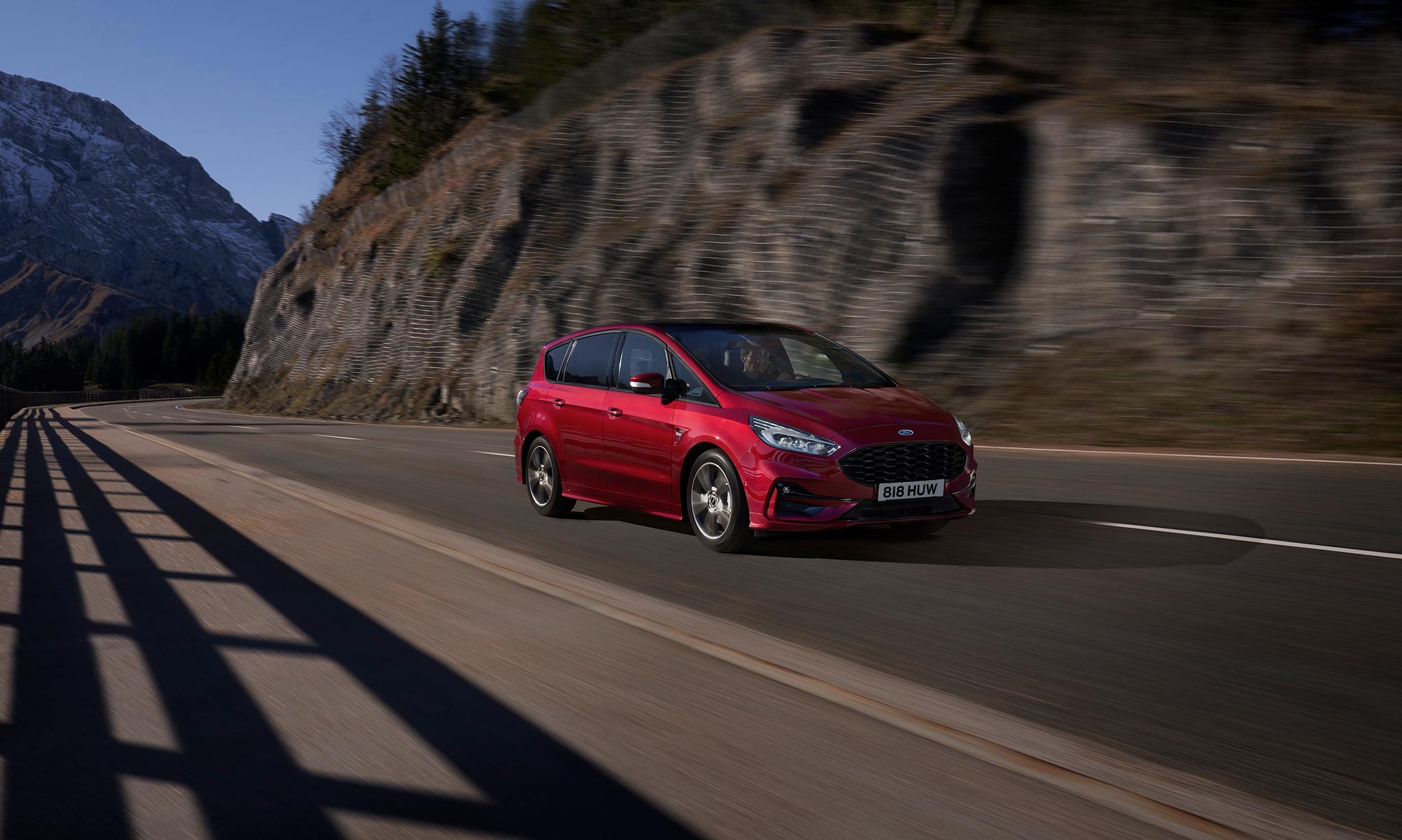 As others have exited or will soon exit the regional D-MPV segment – Volkswagen's Sharan and Alhambra twins come to mind – a handy bit of business remains for those alternatives still available.
Renault has the Scénic and Grand Scénic, BMW the 2 Series Active Tourer and Gran Tourer, Citroën the Grand C4 SpaceTourer,  plus a few others such as the Fiat 500L endure. Notice a pattern? Each is old and close to the end of production. Will they be replaced? It's doubtful, plus most OEMs already offer van-based sort-of successors.
Tech specs
An opportunity then for the Ford Galaxy and S-Max, newly updated with petrol-electric power. As a result, sales are rising in key markets such as Germany and Britain.
These aren't plug-ins, they're series hybrids or FHEVs as their maker labels them. The powertrain is identical for each, that being a 2,488 cc four-cylinder engine mated to a single motor.
Drive goes to the front axle only, via a Ford-developed CVT. It's one of the better designs, with none of the dreaded noisy-revving rubber band effect and there are even simulated gear changes.
The CVT works beautifully, as does the controller for P, R, N, D and L. The Mustang Mach-E, which has the same centre console dial, would also benefit from from paddles for engine braking rather than the Low button atop that same little knurled wheel.
Combined outputs for the Atkinson Cycle four-cylinder engine and motor are 140 kW (190 PS) and 200 Nm. You can tell there's no turbocharging, particularly when seeing that torque number. For that reason, anyone who loves their existing diesel S-Max but wants to try the petrol-electric alternative will be disappointed. A lower CO2 average might help to swing the deal though.
As with the motor, the 1.1 kWh lithium-ion, 60-cell battery is liquid cooled and mounted in a crash absorbent, waterproof structure beneath the vehicle's underbody. Which means good boot space too. Some of that is due to the exhaust system having been routed around the battery pack.
Five seats, or seven?
While a seven-seat layout is standard for the Galaxy Hybrid, the new S-Max Hybrid offers the choice of five or seven seats. A quick reminder of dimensions too, these being respectively 4,853 and 4,804 mm.
I say new because even though each was announced in January 2020, sales didn't commence until the first half of this year. Production is in Spain at Almussafes (Valencia).
The Full Hybrid Electric Vehicle joins a diesel alternative which in Britain comes only in 110 kW (150 PS) form. Other markets continue to offer a 140 kW (190 PS) version of this EcoBlue-branded 2.0-litre engine, along with six-speed manual and eight-speed automatic transmissions.
Does the S-Max feel its age?

Even though this is a model that's been around for a relatively long time, driver appeal is strong. I mentioned recently that Ford of Europe's vehicles tend to be either equal to or sometimes better than BMWs when the road gets twisty. The S-Max is no 1 Series (or Puma) but there's lots for a keen driver to love.
It's a testimony to the European division's obsession with excellent dynamics that this MPV can be entertaining on any road. A mere 200 Nm through the front tyres is never going to result in poor traction and that only makes you enjoy the steering even more. A shame the wheel itself doesn't have a smaller diameter or thicker rim, mind.
Another bonus due to the vehicle's age is a great, no-fuss dashboard which Ford has tweaked and matched with beautiful upholstery to create a feeling of luxury. Which it needed to, considering S-Max pricing. I'm talking about the Vignale model grade of the press tester though, including its grey leather with white stitching: lower trim levels are available too.
This model has become one of those vehicles which looks better and more premium than it did at launch. That's down to several things: Ford paid off all costs long ago so can easily afford to load it with nice materials, elegant alloy wheels and so on. More than that, newer vehicles can sometimes be too tech-heavy (literally). Meanwhile, thanks to many small improvements, the S-Max possesses a retro-premium aura.
Space and views out
The smallest that the seven-seat S-Max Hybrid's boot can be – third row upright – is an excellent 285 litres and this expands to a best of 2,020 or in the five-seater, 2,200. I find this interesting as so often with more recently launched SUVs or crossovers of roughly the same size, luggage volume isn't great. Plus those in the rear-most seats are fairly constricted.
The cosiness is usually to do with styling trends but electrification systems and even subwoofers are another factor – much of the gubbins being stashed below a false floor.
Something you immediately notice in the Ford is how refreshingly low the window line is. I still turn my head to reverse as an extra safety check and often there's little point in doing so due to a restricted view. The S-Max's tailgate glass is instead wonderfully large and the wiper clears the majority of it: more extra points.
Sum-up
That the new FHEV will probably be bought by lots of taxi operators who want something economical and nicely understated should be celebrated by Ford. This model also has much to commend it to families.
How new is new?
As the originals date to the second quarter of 2015, the S-Max will probably be phased out some time between 2023 and 2025. But it might not be.
This vehicle and its Galaxy brother must have fantastic margins and both are far past their best. Production could therefore be extended past the decade's mid-point.
Ford didn't take the opportunity to facelift either MPV as it added the hybrids, which could hint at a short life cycle. On the other hand, a minor freshening in, say, 2022 could improve their status even further as low-cost/high-profit models.
The S-Max FHEV costs from GB36,540 (Titanium model grade). Combined consumption is 5.6 l/100 km (50.4 MPG) and CO2 is 146-147g/km (17, 18 or 19″ wheels). The Vignale test car is priced at GBP41,790 before options.