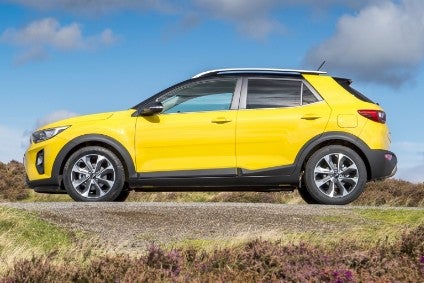 May saw Kia setting yet another sales record in its largest European market. Surprisingly, that's not Germany, but Britain, where the brand is ahead of not only its parent, but Nissan too. The Sportage is much of the reason for the ongoing rise but another, smaller crossover is playing an ever greater role in the growth.
Volkswagen, long absent from the B-crossover segment, has been playing catch up for much of this year, with the T-Cross doing well in most European markets. Only a few days ago, the diesel engine which was part of the line-up in most LHD markets at the time of that model's arrival late last year, was announced for Britain too.
Could it be that VW has been watching the numbers and looking at how certain rivals' equivalents are doing, Kia being one example? Remember too that quite a few OEMs are either culling their diesel crossovers and SUVs, or have launched models which don't offer such engines.
Diesel demand still low in Britain but…
Even if anti-diesel sentiment appears to have faded somewhat, demand is still in the doldrums in the UK, with a May share down by 18.3%. Some brands though are finding that interest is returning, but it's nowhere near as strong as had once been the case. No matter: volume might be modest but with pricing generally higher than for equivalent petrol model variants, the profit potential is still there.
…it's on the rise in Germany
By contrast to the situation in Britain, things have suddenly shifted in Europe's biggest market. Sales of diesel vehicles rose in Germany during May. And by double digits, the share up by 16% to 33.3% with deliveries of petrol-powered models gaining a mere 0.7% to 59%. Those OEMs which culled diesel models from their European ranges could soon be wondering if they weren't mistaken in doing so. Of course one month does not make a trend but it's a situation that will be under close scrutiny over the summer.
The T-Cross is taking its time to rise up the German sales charts as in that market, small crossovers aren't (yet) that much in demand. In pretty much every other European country, the opposite is true and has been for a long time, the Opel/Vauxhall Mokka X being the pioneer in this segment and a former big seller. Buyers in the 3.9-4.2m long size class are spoilt for choice and there have been casualties, especially among the longest in production models, the Nissan Juke being the best example of that. Hyundai Motor Group's two entries arrived later than those of many rivals with Hyundai Kona and Kia Stonic each having a strong following.
The diesel version of this little crossover offers a good alternative to the mostly 1.0-litre turbo petrol engines of competitors, although the Kia can also be fitted with just such an engine (there is also a 1.4-litre petrol unit and in some countries, a 1.2 too). The 1.6-litre CRDi is powered by HMG's latest 1,598cc four-cylinder engine and in as-tested form, had a six-speed manual transmission. In '3' model grade it weighs a claimed 1,270kg which somewhat blunts performance although it should be said that 0-62mph in 11 seconds and a top speed of 112mph are competitive. The C02 average is 106g/km and Combined consumption is 57.6mpg.
The interior is standard Kia: every control exactly where you would expect to find it, big dials, solid-feeling doors, a lot of room even in the back seats, high quality plastics. The Stonic, like other Kias, also has dynamics which are way better than many people realise and a ride which defaults to comfort.
This roomy small and tall 4.1m long hatchback has the same 2,580mm wheelbase as the 70mm lower and 35mm narrower Rio which hints at the fact that they share a platform. Kia builds both at its Sohari plant west of Seoul, the Stonic having been coming down the line there since November 2017.
Even though it's an import and has only been available in Europe for about a year, this model is already the brand's fifth best seller. For the year to the end of April, 21,177 sales were enough to put the Stonic ahead of the Niro (20,700). The three Kias which outsell these two are the Picanto (28,398), Ceed (32,241) and Sportage (40,287).
May sales record for Kia Motors UK
The Sportage is KME's top seller in Britain too, and in this country, such has been the make's success that it's now larger than Nissan and its owner, Hyundai. Sales last month rose by 8.3 per cent, making it a record May for Kia even as the overall market dropped by 4.6 per cent. Year to date, the brand has made a 5.6 per cent gain (to 44,705 deliveries) compared to the first five months of 2018. There's no one factor behind this achievement but having a line-up which is full of young models and also offering more powertrain choices than many rivals have to be two strong reasons.
The Stonic isn't the most exciting model in the B-crossover segment but that's not relevant for what buyers want. It only adds to the realisation that Kia deserves to have an image like that of Skoda: a feeling from driving the cars that it's getting ever closer to the Volkswagen standard.
The model range in Britain comprises 98bhp 1.4-litre MPi, 118bhp 1.0-litre T-GDi and 113bhp 1.6-litre CRDi engines, prices stretching from GBP16,815 to GBP21,475.