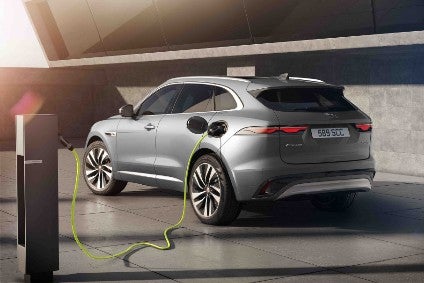 The leaping cat brand saw its EU-EFTA-UK sales halve to 24,389 during the year to the end of August. Data for North America are no longer made public while things still aren't good in China (12,024 YtD, -24%). What to do about Jaguar? That's a question that new CEO Thierry Bolloré will be wrestling with right now.
SUVs
Jaguar's smallest SUV is three years old this month, which should mean that a facelift is due in 2021, along with a range of revised engines and the addition of a PHEV. It is too early to know how JLR will replace the E-Pace, only that it could become a fully electric model or at least gain an EV variant. As for launch timing, that should be 2023-2025.
A plug-in hybrid was announced earlier this week as part of an overdue facelift for the F-Pace which has been in production since April 2016. Called P400e, it consists of a 2.0-litre petrol turbo four-cylinder engine and 105 kW motor. Their combined outputs are 297 kW (404 PS) and 640 Nm (472 lb ft). Drive goes to both axles via an eight-speed ZF automatic transmission. The lithium-ion battery's capacity is 17.1 kWh, the maximum range in EV mode is 53 km (33 miles) and the CO2 average is as low as 49g/km (WLTP).
Deliveries of the P400e won't commence until the northern hemisphere Spring, Jaguar says. As for other F-Pace variants, each of which is turbocharged and has all-wheel drive as well as an eight-speed automatic gearbox, these are now as follows:
163 PS 2.0-litre mild hybrid four-cylinder diesel
204 PS 2.0-litre mild hybrid four-cylinder diesel
300 PS 3.0-litre six-cylinder diesel
300 PS 3.0-litre six-cylinder mild hybrid diesel
250 PS & 365 Nm 2.0-litre-four-cylinder petrol
340 PS & 480 Nm 3.0-litre six-cylinder mild hybrid petrol
400 PS & 550 Nm 3.0-litre six-cylinder mild hybrid petrol
The mild hybrids feature a Belt integrated Starter Generator (BiSG) to harvest energy usually lost when slowing and braking. This energy is stored in a 48V lithium-ion battery and used to assist the engine when accelerating, as well as delivering a more refined stop/start system.
The facelift and revised powertrains are the main news for the 2021 model year in North American markets. The engine line-up in the USA becomes: 246 hp 2.0-litre four-cylinder turbo, plus the new mild hybrid 3.0-litre straight-six turbos with outputs of 335 hp and 395 hp. Each is linked to an eight-speed automatic transmission and all-wheel drive is standard.
Whether or not JLR will apply the facelift to the SVR isn't yet known. Powered by a 500 hp supercharged 5.0-litre V8, the fastest, loudest F-Pace was only launched 18 months ago.
As the F-Pace isn't due to be replaced until 2024, there will be a series of model year updates between now and then but likely no other major news.
The larger so-called 'J-Pace' will use MLA, the same platform as the future Range Rover and Range Rover Sport, and likely be priced halfway between the two. It should be around 4.9 m long although there could be an extended wheelbase derivative too, stretching to 5.1 m or more.
There could be a fully electric version too but this might instead be made at Castle Bromwich rather than Solihull, the expected plant for most J-Pace build.
Originally the big SUV was thought to be due out in late 2019 but cost cutting is said to have delayed its arrival in showrooms until mid-2021. Model codes are not confirmed but could be X392/X393. If these are accurate, it seems likely that the second of the pair is an extended wheelbase body or else an EV. Land Rover was to have an equivalent model, the so-called 'Road Rover' which was said to be codenamed L392. This big crossover was shelved, then cancelled.
Cars
Potentially giving Jaguar a C segment car in the style of the Audi A3, along with how to fix the poor sales of the XE and XF are just some of the many things which Thierry Bolloré will be pondering, should he believe that the brand has a future.
Even though both XE and XF are now more than five years old, the larger of the two hasn't yet been facelifted. That should happen soon, unless the brand is planning to exit the E-premium segment (and possibly the D segment too).
One option for replacing the XE would be making it electric. That might also mean the merging of the XE/XEL and XF/XFL successors into one project, although there could of course be a repeat of the standard and extended wheelbase bodies. Making one basic battery-electric model would mean substantial spending but it could potentially mean far greater success than what Jaguar's D and E segment cars currently enjoy.
There is even a suggestion that folding the successors for the XE, XEL, XF, XFL, E-Pace, F-Pace and I-Pace into one model family of battery electric vehicles could work. More likely would be two ranges, rolled out to the market between 2023 and 2026: a D segment sedan and estate plus an L for China, and an SUV as well as an extended wheelbase version. The key point in all of this is to get overall production volumes up and the number of models on different platforms powered by internal combustion engines down.
Unless the new CEO cancels this project, the next new Jaguar car will be a fresh XJ. This big saloon is expected to at first be available only as an EV with a 90 kWh+ battery pack. Versions powered by JLR's four- and six-cylinder petrol and diesel engines may come later. Production is to be at the retooled Castle Bromwich plant and the architecture is MLA, a new platform which can be adapted for EVs, hybrids and combustion engines.
COVID-19 likely means that the whole project will be delayed, possibly until October 2021. JLR is said to be planning to reveal the new XJ in pre-production form during November. The old model was discontinued in July 2019 having been built since early 2010.
The latest intelligence says there will be a successor for the F-Type, but it isn't due until 2023. JLR may launch the F-Type 2 with petrol and petrol PHEV powertrains and then bring in an EV alternative later in the 2020s. There have been suggestions that the name 'EV-Type' could be used.
Reports for many other manufacturers' future models are grouped in the OEM product strategy summaries section of just-auto.com.
Future platform intelligence
More detail on past, current and forthcoming models can be found in PLDB, the future vehicles database which is part of GlobalData's Automotive Intelligence Center. That includes Jaguar vehicles not included in this report.
This was the second feature in a series examining the current and future models of TML's passenger vehicle divisions. The first one looked at Tata, and the final report will focus on Land Rover.