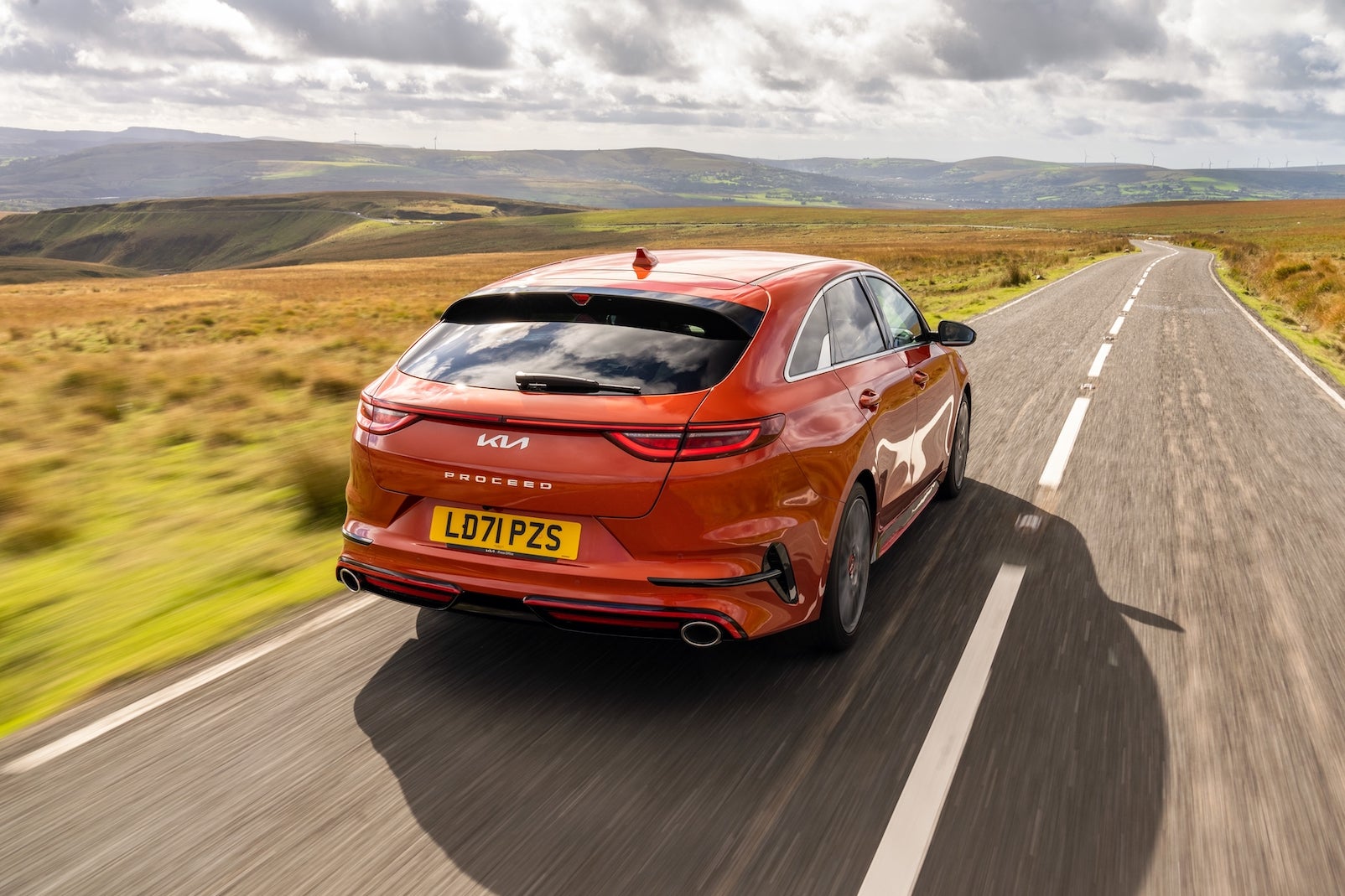 Is KIA the new VW? That question kept coming into my head every time I looked at or drove the just-updated PROCEED recently. The same thing happened with the EV6, my thoughts about which will also appear soon on Just Auto.
Let me explain. The Korean brand can more and more be considered a fledgling alternative to Volkswagen in the German marque's backyard. My theory has two parts to it, these being major changes to how VW keeps evolving its brand's cars, the same applying to those built in or imported to Europe by Kia.
Not one CEED estate but two
Take the ProCeed. The challenger brand saw the writing on the wall and realised it would have a tough time selling many examples of a new pro_cee'd: the market for three-door sports hatchbacks having collapsed.
Certainly, there wasn't a curvy, low-roof wagon with the old model and the decision to create one was a good move. Sales have been brisk. Not in all markets mind, but buyers have remained keen on the ProCeed in multiple countries since the launch back in 2018. The name's also easier to type.
Kia Europe chose to keep the shooting brake in the Ceed line-up as this model series now hits the half-way point of what should be a six-year production cycle. In other words, facelift time. And a reminder of the choices here: Ceed five-door hatchback, Ceed SW estate and ProCeed, plus the XCeed, a crossover. Other parts of the world can have a sedan (K3, Forte or Cerato – the badge varies), an electric K3, a plug-in hybrid K3 and/or a five-door K3.
A consistent and appealing look
Now. Why would I say that Kia is becoming a new version of Volkswagen in European markets? Well, this car shows some evidence of that. There's a large pool of people who have stuck with Kia from the days when the seven-year warranty was new, they like how the cars don't change radically when it's time for a replacement model (OK, the pro_cee'd to ProCeed is an exception) and everything is instantly easy to operate.
And am I alone in seeing that the brand is expanding in great volume all over the region? The chips shortage is a big issue, yes, although surely Kia and its parent company ought to be as badly affected as all other brands. They're not though. Europe-wide, Acea reports 5.3 per cent market share for January and February combined, from 3.9 a year ago. That's more than Renault, Hyundai, Audi, Opel-Vauxhall or Ford and is now equal to Skoda'.
The brand's vehicles all look just right, the interiors are spacious and attractive, there's not much in the way of have-all-this-tech-in-place-of-simple-stuff-we-used-to-put-in-our-cars, and you still get the great warranty. Prices have risen though, and the things which once came as standard are now either options or part of higher trim levels. Which is a clever move and no doubt part of a plan which has been years in the making.
Going for Golf
See what I mean about this being the new VW? The Ceed family can even be considered as the new Golf in certain ways. Volkswagen has taken a lot of heat over the Mark VIII's appearance and sometimes clunky-tech interior compared to the near-perfect Mark VII.
Hundreds of thousands of owners would faithfully trade one new or used Golf for another year-in year-out but for many, this model is no longer the default choice. Toyota has seen Corolla sales shoot up and Opel and Vauxhall are off to a strong start with the new Astra. Moreover, the Benz A-Class has been eating into the lead of what nonetheless remains the segment's number one for almost four years now.
Kia Europe does best with SUVs and increasingly, electric and PHEV models yet the division knew it too could entice many former Golf buyers by making the Ceed a bit more appealing. That it has certainly done, and the multiple body choices also help. Take the ProCeed, which really should be called Shooting Brake, which would help the brand to command even higher pricing.
Ever more slightly upscale
Kias, like Mazdas, are stealthily becoming more premium, the days of pile 'em high and flog 'em cheap being a distant memory. The cars also now have a signature look to them which applies equally to the interior, again something which VW once excelled at.
A week with a ProCeed got me thinking about how mainstream Kia has become to Europeans, the brand even knocking VW off the top spot in the British market for the first two months of 2022.
Alas not everything about the press tester was lovely (horrible electronic bells assail the ears should you dare to do things such as fire up before clicking your belt in) but most stuff is.
The GT-Line review model had the bonus of being just about leather-free, the fabric upholstery on seats and doors looking and feeling nicely premium, not to mention way better in cold or hot temperatures.
Nicer plastics than BMW
The quality of Kia's plastics is first rate and some pieces are better than in a certain new BMW: the speaker grilles were the opposite of the flimsy affairs I noticed during a recent drive of the 2 Series Active Tourer. While the German firms think few notice ever more cost-cutting, the Koreans quietly spend a little more and apply ever more appealing design touches, then lift transaction prices as a result.
A few other things about the inside of the ProCeed which emphasise the new-VW aura of this and so many other Kias: everything is beautifully styled and minimalist but that's not taken to an extreme. You even get real gauges for speed and engine revs; wonderful for those of us who dislike too much information trying to distract us from concentrating on and enjoying driving.
Push the button(s)
There are of course lots of and lots of car buyers who enjoy defaulting to lots of time fiddling with a screen for their cars' functions, believing this to be cool and high-tech. Volkswagen too has gone down the trail blazed by Tesla but Kia is resisting a vogue for putting safety and convenience second. Unlike a Golf, every Ceed has fast and precise physical dials, switches and buttons for important functions. They look good and feel nice. Could that be another reason why sales keep rising?
Just a few faults
Among the things which Kia might want to look at changing for the next generation model would be more torque for the 1.5-litre plug-in hybrid. While 253 Nm sounds more than enough, it isn't. The change-up light illuminates often but on even moderate hills, should you do as recommended, progress suddenly slows. At least the six-speed manual gearbox has a smooth action.
The one other annoyance is no electric opening for the tailgate. Normally not something I'd consider an essential yet in this case the handle is too low and exposed to winter road muck. That's been a Kia thing on other models too such as the old Sportage. At least the boot itself is huge, capacity being 594 l, expanding to 1,545 with back seats dropped.
Staying power
As something of a left-field alternative when it comes to family estates, the ProCeed has much to offer. Kia's corporate intelligence is on show with this car too: while others walk away from once big segments, it's staying or even expanding choice (i.e. there being a Ceed estate too). This is a smart company. No wonder the brand is on the up and up in so many European nations, not just the UK.
The as-tested Kia ProCeed 1.5 T-GDi in GT-Line trim is priced at GBP25,130. Claimed top speed is 130 mph, 0-62 mph takes a stated 8.6 seconds, Combined consumption is 48.7 mpg and CO2 is 131 g/km.