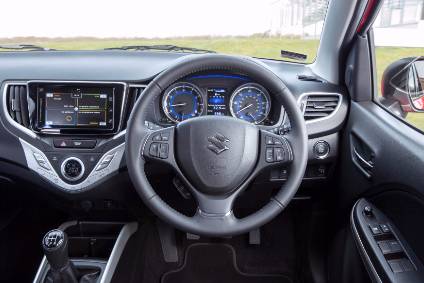 Alongside 4x4s, Suzuki is renowned for producing small cars that pack a lot of punch and ooze appeal. The Baleno is a fine example, marking one of the lightest, practical and most roomy B segment hatchbacks around. Continuing just-auto/QUBE's review of interior design and technology trends, we take a look inside this hidden gem.
This latest generation Baleno was first seen at the 2015 IAA in Frankfurt followed by its launch in India a month later, reaching our shores in summer 2016. This five-door hatchback is assembled in India, at Maruti Suzuki's Manesar plant in Haryana. It has emerged as the leading premium hatchback in the country. Its supermini rivals over here include the usual suspects, i.e. Vauxhall Corsa, Ford Fiesta and Skoda Fabia.
Based on the same platform as the Swift, Baleno is longer and wider. The boot has a capacity of 320 litres and incorporates a collapsing luggage board that can be repositioned in a jiffy to suit whatever it is you might be carrying. Drop the 60:40 seats and you can throw in the kitchen sink. Baleno also offers the best tandem distance in its class, which is the measurement taken between the front and rear seats.
Offered in three trims – SZ-3, SZ-T and SZ5 – standard creature comforts across the range include air-con, sat-nav, DAB radio with USB and Bluetooth connectivity, rear privacy glass and power front windows. The top-spec SZ5 adds automatic climate control, power rear windows and a 4.2 inch central and colour trip display.
Baleno has what Suzuki calls a 'Liquid Flow' design theme that is meant to evoke "an energetic mass of liquid in motion." Err, really? While it's true that its curving lines, expressive surfaces and a low and wide silhouette give it a compelling look, it is still conservative compared to certain rivals.
This flowing theme floods the cabin, too. Curving lines and silver accents dominate the instrument panel, together with reddish-amber illuminations dotted around. So far so good? Sort of. While the rest of the interior surfaces are a little too grey and lacklustre, some cool infotainment and connectivity features compensate for this. The audio system for both SZ-T and SZ5 models has a Smartphone Linkage Display Audio with a seven-inch touchscreen allowing you to poke and swipe intuitively through pages of nitty-gritty detail. A 3D navigation map also makes landmarks easy to distinguish and the system also allows you to use smartphone applications with MirrorLink and Apple CarPlay connection. Another convenience perk after parking the car at night or returning to it, a 'guide me light' function enables the dipped beam headlamps to remain on for 10 seconds after the door is locked/unlocked.
Suzuki has used plenty of ultra-high tensile steel to help make the Baleno crashworthy and fuel efficient. The lightweight highly rigid body structure has been achieved by widespread use of 980MPa and 780MPa grade steel sheeting. The result of this is a BIW basic shell structure weight of 196kg, the lightest in the B segment hatchback class. Depending on variant and transmission, kerb weight ranges from 935kg to 980kg also making it the lightest in this segment.
The Baleno's active safety equipment includes a Radar Brake Support system on SZ5 models. When travelling above 3mph, the system can detect a risk of collision with the vehicle in front. At higher speeds, if the possibility of a collision is sensed, the driver is warned with a buzzer and also via a notification on the multi-information display. The system warning can also be set for either Far or Near distance via a button on the dash. If the probability of a collision has increased, the system activates brake assist which increases the braking force during emergency braking. When a collision is deemed unavoidable, the brakes are applied automatically. Also fitted as standard on the SZ5 is adaptive cruise control.
On the road
Our test drive in early autumn felt comfortable and relaxed, unlike this stunt. During its development, revised shapes for the lower arms and suspension frame were used and improved strut damping adopted to give it improved rigidity and stability.
We had a 1.0-litre petrol (no diesels available) three-cylinder engine at our disposal, the second application of Suzuki's Boosterjet technology. Boosterjet first appeared in the Vitara S in January 2016. Offering the same level of power and torque of a much larger capacity normally aspirated engine (1.8-litre), it was a pleasure to drive with plenty of grunt and oomph thanks to a small displacement, high torque turbocharger. By controlling the wastegate valve, which closes to create higher boost pressure during heavy load operation and remains open during normal driving, the Boosterjet system reduces pumping loss, thus achieving high levels of both power and fuel-efficiency. An air bypass valve is also utilised to prevent turbo 'stall' after the throttle has been closed and then quickly reopened.
Fuel efficiency
This engine uses six-hole fuel injectors and high tumble port technologies to inject fuel. Officially, this model will achieve 62.7 mpg with a 5-speed manual gearbox and our real world test came pretty close. That's not surprising given the Baleno was voted the Best Real MPG Performer at the HonestJohn.co.uk awards ceremony held in London last May. The award was launched several years ago following complaints from readers that their cars could not match official EC Combined fuel economy figures. Readers can log the true fuel economy that their vehicles are achieving into a database of more than 121,000 Real MPG submissions. The database covers over 2,500 model and engine configurations of cars since 2006.
On balance, the Baleno interior is well packaged and spacious with some useful infotainment and connectivity features. Its sub-one-tonne frame with petrol turbo feels refined and punchy.