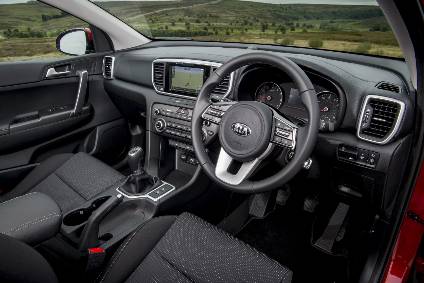 Unveiled at the 2015 IAA and updated in 2018, the fourth-generation Kia Sportage remains a key model for the brand in Europe. The latest refresh included an expanded engine line-up, some aesthetic changes and generous trim levels, all of which helped the model rank as the tenth best-selling car in the UK last year. Continuing just-auto/QUBE's review of interior design and technology trends, we take a closer look inside this ever-popular mid-size family SUV.
Before we start, let's get one question out of the way. Has the introduction of the Stonic and Niro in recent years harmed sales of the Sportage? Kia certainly doesn't believe it has and points out that the Stonic and Niro meet the needs of a different target customer and are attracting new customers to the Kia brand. A spokesperson said: "The Sportage remains our number-one best seller … accounting for a quarter of Kia's European sales. The Sportage is a larger car and offers more space and its own unique design. Customers appreciate the Sportage for its combination of style, practicality and popularity."
The original design of the fourth-generation Sportage was led by Kia's European design studio in Frankfurt, Germany, with input from the automaker's design centres in Namyang, Korea and Irvine, California. The Sportage for Europe is produced at Kia's manufacturing facility in Žilina, Slovakia.
Kia Motors' global sales rose by 1.2 per cent to 208,908 vehicles in January from 206,348 units a year earlier, with weak domestic sales offset by stronger overseas demand. The company has set a global sales target for the brand of 2.92m units in 2019. Domestic sales fell by 2.8 per cent to 38,010 units in January 2019 from 39,105 units in the previous year, while overseas sales rose by 2.2 per cent to 170,898 from 167,243 units, boosted by recovering demand in the US and strong global demand for the Sportage.
Interior
The equipment levels are laid-out in a no-nonsense 1, 2, 3 and 4 format, with a special GT-Line trim slipping into the middle and a First Edition special model available for a limited time at launch. All levels feature a revised steering wheel and updated instrument cluster, while 'GT-Line' models are available featuring black leather seat trim with red accents. The design of the HVAC controls at the centre of the dashboard have also been tweaked, with new bezels around the dials.
A number of other areas of the cabin have been upgraded. The dash itself is split into an upper display area, containing the thin film transistor instrument graphics and a touchscreen, thereby eliminating the number of switches. The lower section is the control area, with soft-painted buttons for the heater switches and audio system. The net result gives a slightly less cluttered appearance in the cabin while improving ergonomics, e.g. the centre console is angled at 7.2 degrees towards the driver for easier visibility. Everything is logically laid-out in Kia fashion with sturdy buttons on the dash. The dash and door trim panels are wrapped foamed plastic with detailed texturing and stitching.
Its 2,670 mm wheelbase and 1,645 mm height ensures plenty of head and shoulder room – in the front and back – for six-footers. The ten-way powered, heated throne-like front seats (heater element supplied by Gentherm) felt comfortable on long journeys.
Moving to the rear, passengers can recline and benefit from two-stage seat heaters. Unlike rivals, a seven-seater Sportage is not available. Space in the rear for tall adults is ample, despite the sloping roofline; it is not dissimilar to that found in a Honda Jazz.
The cargo cover can be stored either on the base of the boot or concealed under the boot liner and secured in place so it doesn't rattle around or take up space in the main storage area. That's a neat idea.
The 1.6-litre GDi and T-GDi versions of the upgraded Sportage offer 491 litres of boot space with all seats in place, while 1.6-litre diesel models provide 467 litres, to accommodate the urea tank required for the new SCR active emissions control technology. The rear seats split 60/40 and fold almost completely flat by pulling a lever on either side.
Infotainment
The infotainment system has been upgraded, too. Available are a seven-inch touchscreen infotainment, satellite navigation system or a new 'frameless' 8.0-inch system, each with DAB digital radio, depending on the trim level chosen. The '2' press review spec model we borrowed this week featured a sat-nav system that included Kia's Connected Services powered by TomTom. Connectivity features include traffic updates, speed camera locations and alerts, local search, and weather forecasts. A useful trick showed us the price of fuel at nearby filling stations, as well as the location and real-time availability of parking spaces. Seemingly little things like this can make a difference to driving pleasure.
All models in the Sportage line-up feature Apple CarPlay and Android Auto with voice control, as well as Bluetooth with music streaming. A USB port for a audio media device connection is located in the front; a USB charging port in the rear is available on grade '4' and 'GT-Line S'. The 160-watt audio system comes with DAB radio with MP3 compatibility and features six-speakers.
For audiophiles, 'Edition 25', '4' and 'GT-Line S' feature an uprated eight-speaker system from JBL, with a 320-watt output, external amplifier and Clari-Fi music restoration technology.
Other available convenience features in the Sportage include a wireless smartphone charger at the base of the centre console and rear-view parking camera with dynamic parking lines.
Advanced driver assistance systems
In terms of advanced driver assistance systems (ADAS), all models from grade '2' have lane keep assist (to alert a tired driver who may be about to stray into the path of a vehicle approaching from behind), high beam assist (a useful piece of tech that switches between full and dipped beam automatically) and speed limit information displayed on the instrument cluster.
All models have a reversing camera integrated into a touchscreen, and reversing sensors are standard on grade '2' and above. Front parking sensors are included on 'Edition 25', '4', 'GT-Line' and 'GT-Line S' versions and a 360-degree bird's eye view monitor (particularly helpful when manoeuvring in tight spaces) is fitted to all 'Edition 25', '4' and 'GT-Line S' models.
All versions have ABS with electronic brake-force distribution and brake assist (BAS), so that the car comes to rest in the shortest possible distance in an emergency, and with maximum retardation, regardless of the pressure applied to the pedal by the driver. Also incorporated are electronic stability control and vehicle stability management to prevent the car from skidding around corners or when accelerating on surfaces with varying levels of grip between left and right. Hill-start assist is another useful piece of kit – and widely available on other models – that holds the car for two seconds when setting off on inclines to prevent rolling backwards.
Cruise control is available on grade '1', while cruise control with a speed limiter is available from grade '2' onwards, with an advanced adaptive cruise control system fitted to 'GT-Line S' models. A tyre pressure monitoring system ensures the driver is given advance notice of a loss of pressure long before it could lead to sudden deflation.
On the road
Our press review 1.6 GDi unit paired with a six-speed manual gearbox returned 41.4mpg, just above the headline figure of 39.8mpg combined. While it isn't particularly quick off the mark, causing extra calculation during over-taking manoeuvres, it still manages to deliver power smoothly.
An all-wheel-drive is not available with the 1.6 GDi engine or 1.6-litre CRDi unit. "These engines were not engineered to work with all-wheel drive for the simple reason that research showed us hardly anyone would want such a combination," said a Kia spokesperson. "Customers who buy the Sportage mainly for its style and practicality expect small, economical engines and the familiarity of front-wheel drive. Those who intend to go off-road or, more likely, tow, do want all-wheel drive, but they also want larger, torquier engines."
Despite our test run taking us along some of Britain's most potholed roads, the Sportage remained comfortably composed. The roomier cabin filled with a generous list of standard equipment and an intuitive infotainment system adds to the driving pleasure. While the latest Sportage is a huge improvement on its predecessor, it is still not the most exciting drive. Yet it is more comfortable and quieter partly thanks to NVH refinements, suspension set up and a cabin filled with dense, soft materials.