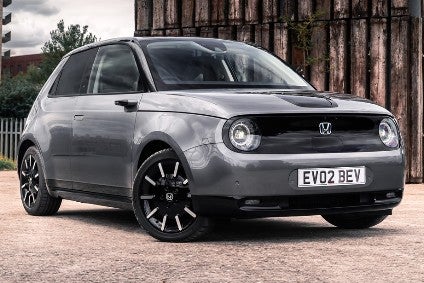 Retro-cute looks and snazzy interiors are not normally what we associate with Hondas sold in the European region. In that context the new e is revolutionary stuff.
Having held out against developing electric cars, Honda has suddenly given us arguably one of the best looking such vehicles yet, the opposite of all those worthy but derivative or oddball alternatives. The little e, which is about the same size as a Jazz/Fit, won't be for every region and there's a big reason for that. Namely, the range. Ah yes, let's get the bad news out of the way first.
While others in the B segment, including the best selling Renault Zoe, have batteries with capacities of 40 or even 50-plus kilowatt hours, the e has a 35.5 kWh pack. Which means a maximum range of 130 miles or allowing for A/C or heated seats/steering wheel and/or motorway driving, about 100 miles. That's around three fifths of what the Renault gives it owners, and the same applies to the Peugeot e-208 and Opel/Vauxhall Corsa-e.
Maybe big batteries aren't everything though? After all, BMW Group also fits a 35.5 kWh pack to the Mini Cooper E and even with a range that's about the same as the new Honda's, the cars seem to be flying out of showrooms: 11,000 have now been built. The same company's i3 is even more popular and like the Mini (and Zoe), it's not exactly in the first flush of youth. Perhaps then, Honda can blaze its own trail and find a fresh group of customers for whom curvy lines, along with big-round lights front and back, and a super-cool interior are the major drawcards.
Groupe PSA admits that the electric 208 has a 250 kg weight penalty over a comparable petrol-powered model, and that's before you even consider the engineering purity of Honda's decision to give the e a bespoke RWD platform. That also means a long wheelbase with a wheels at the corners stance, plus a 4.3 m turning circle. PSA and Renault, remember, created their electric B segment models by adapting existing front-wheel drive architectures, which is also what BMW did for the Cooper E derivative of the F56 Mini originally launched in 2013.
Something else which sets the Honda apart is offering two power choices. Buyers can go for the standard 100 kW (136 PS) motor or one with 113 kW (154 PS). In each case, peak torque is 315 Nm (232 lb ft). And charging the car isn't like most other EVs either, with the ports being integrated in the bonnet. You can get 80% of the official range in as few as 30 minutes via a fast charger or for a full charge via a standard socket it's three and a half hours.
The driving experience is equally novel, and that starts with pulling on a pop-out handle for what is a wide opening and pillarless door. The back ones hinge even further, to almost 90-degrees although they need to as the entry and exit points for back seat passengers aren't generous even if space once they're in is fairly good. You get an excellent view of the colourful dashboard with its two 12-inch screens, as well as another pair of six-inch ones.
The smaller screens at either end of the dashboard are there in place of door mirrors and surprisingly, they take no time at all to get used to. Honda terms this its 'Side Camera Mirror System'. Unlike conventional exterior mirrors, the cameras are contained within the width of the car and do not extend beyond the wheel arches.
The driver can choose between normal and wide views via the vehicle settings, extending the field of vision further than with conventional side mirrors and reducing blind spots. When selecting reverse gear, guidelines appear on the side view screens in addition to an enhanced camera angle.
Another unusual feature is timber trim for the interior which, like the steering wheel, has the look of Hondas from the 1960s and 1970s. That, along with a couple of sensibly included physical controls. One such is a knob for radio volume that either driver or passenger can adjust quickly instead of having to perform multiple presses of digital buttons on a screen.
The rear-wheel drive drivetrain and flat floor means no transmission tunnel and no plastic moulding extending behind the gear lever. Honda has used this advantage to include a fabric pocket for a mobile phone below the dashboard. Again, it reminds you of cars from many decades ago with lots of empty space beside your legs, only with all the crash protection and electronic safety systems of today.
If the e delights the eyes (and ears: it emits a pleasant artificial sound) then it's also one of the best EVs for keen drivers. There are several reasons for that, including a low centre of gravity, the lengthy wheelbase in a car that's just 3.9 m long, plus big wheels and tyres which are grippier than what we're used to in small EVs. Honda has also set up the steering with more weight to it than a car without much mass over the front axle should naturally have, and that's a very good thing.
The only negative with the chassis dynamics is more body roll than would be ideal in a perfect world. Perhaps there's plans for a sportier derivative; let's call it a Type S – and with a bigger battery pack later in the car's production life? We can hope. As for what exists now, the e is going to be more than good enough for most of the target market.
The e may not make money for Honda Motor Europe but if this is a compliance car which saves giant-sized fines and sells at restricted volume of sub-10,000 a year, then it will have succeeded. And that's without even considering how the sight of this model with Honda badges on it will do the brand's image a world of good.
The Honda e costs from GBP 26,660. Top speed for both 100 kW and 113 kW motor cars is 100 mph but the standard model takes 9.0 seconds to reach 100 km/h whereas the motor powerful 'Advanced' gets there in 8.0 seconds. Weights are respectively 1,525 and 1,555 kg.