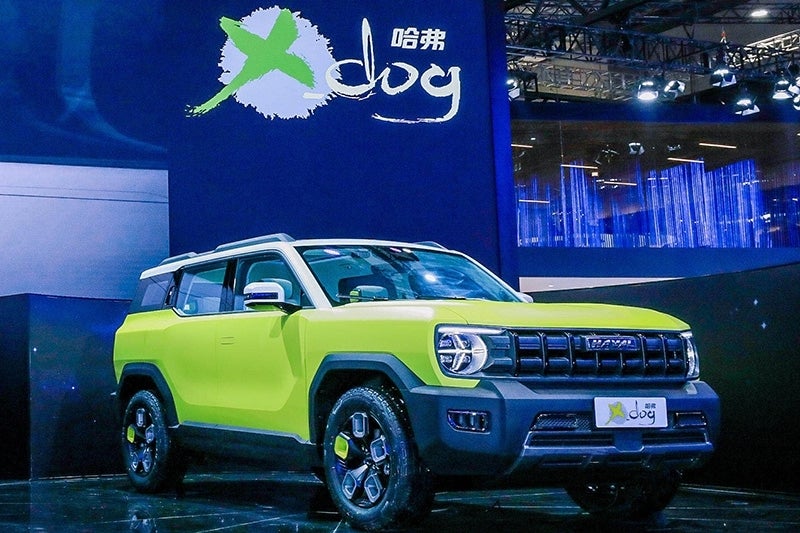 Haval
No brand can match the rise of Wuling (thanks to the Hongguang City EV) in 2021 but with many big names such as Nissan, Audi, BMW, Mercedes, Buick and Chery sustaining year-on-year falls, Haval has done well to retain eighth position in China.
The market itself was down by only 9 percent at a wholesale level in October, which may mean that the worst of the semiconductor crisis could be passing.
Gwm's passenger vehicle divisions have all fared better than the all-brands average with Haval delivering 606,451 SUVs to dealers during the year to the end of October according to CAAM. That's a year-on-year gain of 12 per cent, although last month there was a 36 per cent decline. Will that be reversed in the coming months? Even if it isn't, there's much new metal on the way for Great Wall's number one make.
While nothing can touch the H6, which remains far and away Haval's best seller (295,208 YtD in China), the Dagou – 'Big Dog' – has recently become the brand's number three (77,317) behind the M6 (92,346).
Launched onto the home market a year ago this month, the Dagou is a 4,620 mm long SUV with large circular headlights and a squared-off profile.
There are three engines for the Chinese market: 230 hp 2.0 turbo, 183 hp 1.5 turbo and a 1.5 turbo plug-in hybrid. There should be a facelift in three years' time and a successor in 2027 or 2028.
GWM revealed the X-Dog concept, a larger SUV that looked like the Big Dog, at the Shanghai motor show in April. The striking looking SUV (pictured above) had multiple screens on its dashboard and also one within the steering wheel: rumour even has it that the latter will be retained in series production. As for the name, both X Dog and Henye have been suggested.
As well as the arrival of the H5's replacement (Dagou), last year also brought a successor for the H2. Revealed at the Shanghai motor show, production commenced in October 2020. Initially called H2 First Love, its name can also be Jolion. The 4,472 mm long second generation model is 107 mm longer then the original H2. A Jolion Hybrid will arrive in 2022 and be built in Thailand as well as in China.
A further derivative was launched in June, this being the Chitu or Red Hare. Basically a shorter version of the H2/Jolion, this 4,450 mm long SUV comes as standard with a turbocharged 1.5-litre four-cylinder engine. The model's life cycle should be seven years, which means a refresh in 2024. There will almost certainly be a Chitu Hybrid too, possibly as soon as next year.
Meanwhile, the brand's two most recent additions both arrived earlier this month. The XY concept's premiere at Auto Shanghai back in April had been was a preview of the new Shenshou. Great Wall Motor claims the name translates as 'Mythical Beast'.
The 4,780 mm long five-seat SUV Coupe offers buyers a choice of 1.5- or 2.0-litre turbo engines, each linked to a seven-speed DCT. A 1.5-litre Shenshou Hybrid as well as a 2.0-litre Shenshou PHEV are believed to be coming too.
The other arrival at the start of November was the H6S. This, the follow-up to the H6 Coupé, premiered at the Chengdu motor show in August.
There are both standard (160 kW and 340 Nm 2.0-litre turbo) and H6S Hybrid (180 kW and 540 Nm 1.5-litre turbo+motor) variants. The all-wheel drive system was developed by BorgWarner, while the gearbox is a seven-speed DCT. The life cycle should be six years, meaning a facelift will likely arrive in the fourth quarter of 2024.
Shalong
GWM is about to launch yet another brand. Called Shalong (translated as both Salon and Saloon), so far all we know is that it will initially offer a single EV, a pre-production example of which having just debuted at the Guangzhou motor show. The logo is a silver hand holding another, surrounded by black and silver circles.
The 5.2 m long Jijia Long (Mecha Dragon) is claimed to have four Huawei 96-line hybrid solid-state LiDARs along with multiple radars and cameras. The prototype's power comes from two motors, these having combined ouputs of 405 kW and 750 Nm. A 115 kWh battery, said to be GWM's own design, allows a claimed CLTC range of up to 802 km.
GWM will launch the Mecha Dragon in two forms: a special edition of 101 units costing CNY488,000, with a standard version to follow, priced below 400,000 yuan.
Reports for many other manufacturers' future models are grouped in the OEM product strategy summaries section of Just Auto.

Future platform intelligence
More detail on past, current and forthcoming models can be found in PLDB, the future vehicles database which is part of GlobalData's Automotive Intelligence Center. That includes Haval vehicles not covered above such as the H6.
Following on from a look at what's ahead for Ora, the analysis of the model line-ups for Haval and Shalong is the second in a series of four reports covering Great Wall Motor's passenger vehicle divisions. Next comes Wey and then Tank.