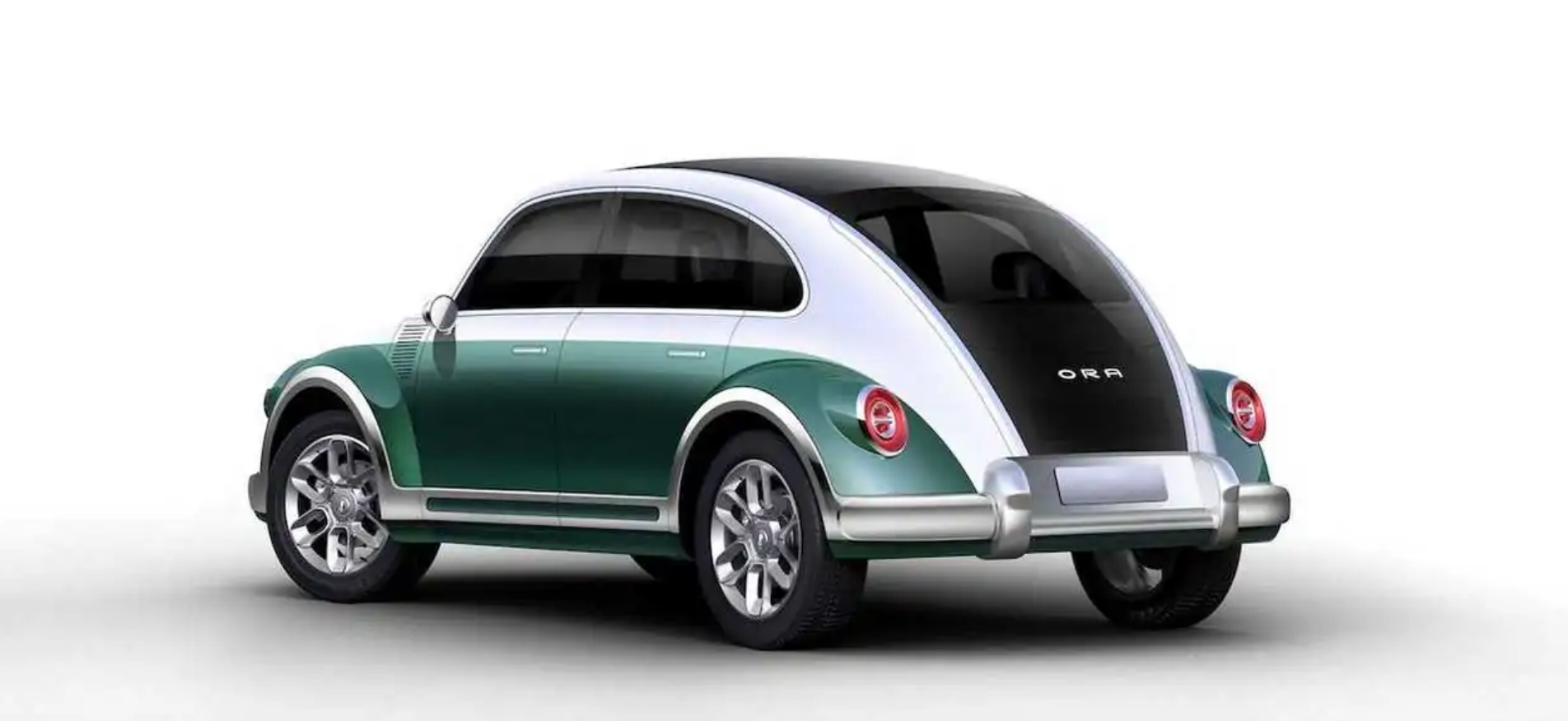 Having only existed for three years, Ora can certainly be counted as a success. The R1 Black Cat (Adora in certain countries), one of two launch models, was released in September 2018. The A-segment hatchback will be facelifted in 2022 and likely replaced in the second half of 2025.
Another moggie model followed in July 2020, this being the R2 White Cat. The 3.6 m long hatchback can be ordered with the choice of two battery/motor options:
34 kWh pack, 48 hp and 125 Nm motor, maximum range of 360 km
38 kWh pack, 61 hp and 130 Nm motor, maximum range of 401 km
Gwm used its ME architecture for this model. The mid-cycle facelift is due in 2024 and the second generation in 2027.
The Good Cat should have a near-identical lifecycle. Also called Haomao, this 4,235 mm long EV has a distinct appearance thanks to large circular headlights. A motor with outputs of 105 kW and 210 Nm powers this five-door hatchback.
Buyers have the choice of two batteries: 47.8 kWh lithium iron phosphate (400 km NEDC range) or 59.1 kWh ternary-lithium (500 km).
This was the launch model for Great Wall Motor's Taizhou manufacturing base. Production commenced in October 2020 with the first cars delivered to customers in China during the following month. GWM also produces the Good Cat in the Thai factory which it bought from General Motors in November 2020. This model and the Haval H6 were the first two vehicles to be made there, build commencing in April.
GWM exhibited the car at the Munich IAA in September badged as the Ora Cat. The company said that it would begin exports to Germany and other European countries during 2022. Cars for the UK will arrive there in 'spring 2022' it was stated in October.
Also possibly headed to export markets, the Punk Cat is an additional vehicle which is due on sale in China soon. It premiered as a prototype at the Shanghai motor show in April and looked somewhat similar to the original VW Kaifer/Beetle, albeit with four doors. As with the brand's other models, the Punk Cat will be electric.
A prototype of the Balei Mao (Ballet Cat in English) premiered at the Chengdu motor show in August. It was more or less the same car as the Punk Cat but with some design alterations such as headlights in the shape of horseshoes. The production model should be in dealerships from early next year.
The Lightning Cat should be added to the range in 2022. As with the Punk Cat, this one premiered as a prototype at the 2021 edition of Auto Shanghai. Looking like a shrunken mash-up of a Porsche 911 and a Panamera, the 4,870 mm long EV is expected to be in Ora dealerships during the first half of next year.
While all of the brand's vehicles have thus far been based on the ME platform, Great Wall's L.E.M.O.N. architecture should be used for the forthcoming Cherry Cat (it might instead be called Big Cat). A 4,510 mm long SUV, this model is said to be a lightly modified version of the Wey Macchiato (which has a petrol-electric powertrain).
The motor is to have outputs of 150 kW and 340 Nm and the top speed for both versions is said to be 180 km/h. The battery choices will be:
60.5 kWh pack with lithium phosphate chemistry providing a claimed 470 km NEDC range
79.6 kWh cobalt-free lithium-ion battery with up to 600 km
The Cherry Cat/Big Cat is reportedly set for launch in China during the first quarter of next year.
Reports for many other manufacturers' future models are grouped in the OEM product strategy summaries section of Just Auto.

Future platform intelligence
More detail on past, current and forthcoming models can be found in PLDB, the future vehicles database which is part of GlobalData's Automotive Intelligence Center. That includes Ora vehicles not covered above.
The is the first of four reports looking at what's likely to be launched later in the 2020s for each of Great Wall Motor's passenger vehicle brands. Next comes Haval & Shalong (Salon/Saloon), then Wey, and Tank.