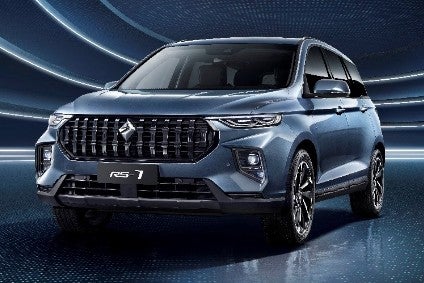 Knocked for six by COVID-19, SAIC, General Motors and Wuling Motors' Baojun brand is not only back on its feet but many delayed new models will soon be launched. The fourth quarter and 2021 could see this affordable brand staging a major comeback in China.
In H1 retail sales plunged by 43% to 182,693 vehicles and by the same percentage in June to 35,631 units. Baojun was able to maintain its 14th place in the country's retail sales ranking and that position is also the number of models offered by the brand. Even though one or two of those will soon be discontinued, SGMW has plans to add fresh alternatives.
There can be three prefixes for the brand's new model naming system: RC, RS and RM where the R stands for the 're-creation' of Baojun and the C, S and M are shorthand for Car, SUV and MPV. The number is meant to indicate the vehicle's size relative to other Baojuns.
Cars
Sales of the RC-5 have just commenced. This 4,650 mm long five-door hatchback replaces the 630 and shares SAIC's R platform with many vehicles, including the RS-5 (see below). Next comes the 4,685 mm long RC-5W, a wagon which has the same 2,700 mm wheelbase as the car it supplements. The first deliveries will take place later this month and there are two engine choices: 73 kW naturally aspirated and 108 kW 1.5-litre turbocharged petrol units. Torque outputs as well as the internal codes for these engines can be found in PLDB.
The mid-life facelifts for the RC-5 and RC-5W should take place at the end of 2023, the successors being due in the first half of 2027.
Crossovers and SUVs
Baojun's best seller is the 4.3 m long RS-3. Sales commenced in October 2019 but there was an update only last month, with SGMW adding a 1.5-litre turbo engine. A facelift is due in 2023 and a replacement in 2026.
Highly popular in the Chinese market, the 530 is also now exported to Saudi Arabia, UAE, Kuwait, Iraq, Qatar, Bahrain, Jordan, and Oman. This 4,655 mm long SUV had its world debut at the Guangzhou motor show in November 2017 and went on sale in China four months later. There, it competes with the Haval H6 among others in its size class. SAIC based the Hector, its first locally built MG for the Indian market, on the Baojun 530. Expect the original's name to change when SGMW next facelifts it.
The RC-6, revealed to the media in July 2019 and to the public two months later at the Chengdu motor show, is a 4,925 mm long crossover. The standard engine is a 1.5-litre petrol turbo which produces 108 kW and 245 Nm. Sales commenced in September 2019. There might well be an MG-badged version of this vehicle for the Indian market in 2021. As for the expected life cycle, this should last until the fourth quarter of 2026 after a styling refresh in 2023.
Due on sale in the fourth quarter, the RS-7 was previewed by a debut at the Chongqing motor show in June. The standard engine will be a 177 PS 1.5-litre petrol turbo. The production life cycle should be seven years, which means a facelift in the first half of 2024.
Mini-EVs
The E100, a 2,488 mm long two-seat EV, went on sale in Guangxi province – where the car is manufactured – three years ago. This tiny hatchback shares some styling features with the former smart fortwo.
According to SAIC and GM, the car's name is meant to represent a 100 km/h top speed. The range, originally between 100 and 160 km, was lifted to as many as 200 after a battery pack update was announced in June 2018. SGMW launched a facelifted E100 in China in May and there should be another one in 2023.
The second of three fairly successful micro electric cars is the E200. Announced by GM China in September 2018, this is one of the most striking looking cars sold anywhere. The 2,497 mm long hatchback has one motor which produces 39 hp. The car originally had "a constant-speed" range of up 270 km or 210 km under New European Driving Cycle (NEDC) but the NEDC range improved to 250 km in September 2019. This coincided with the E200 going on sale nationwide: previously, availability had been restricted to Liuzhou. See PLDB for the life cycle details.
The 'NEV' would be introduced by SGMW in 2020, the company announced last December. The production name or indeed names turned out to be E300 and E300 Plus. Both versions of this 2,625 mm long EV were in dealerships from May. The battery has a capacity of 16.8 kWh. There should be a facelift in 2023 and a battery upgrade at the same time. The successor should appear in early 2027.
Reports for many other manufacturers' future models are grouped in the OEM product strategy summaries section of just-auto.com.
Future platform intelligence
More detail on past, current and forthcoming models can be found in PLDB, the future vehicles database which is part of GlobalData's Automotive Intelligence Center.
This is the first of seven features exploring the passenger car brands of General Motors, including its Chinese JV with SAIC and Wuling Motors. Next comes Wuling, to be followed by Chevrolet cars & pick-ups, Chevrolet crossovers & SUVs, GMC and Hummer, Buick, and Cadillac.