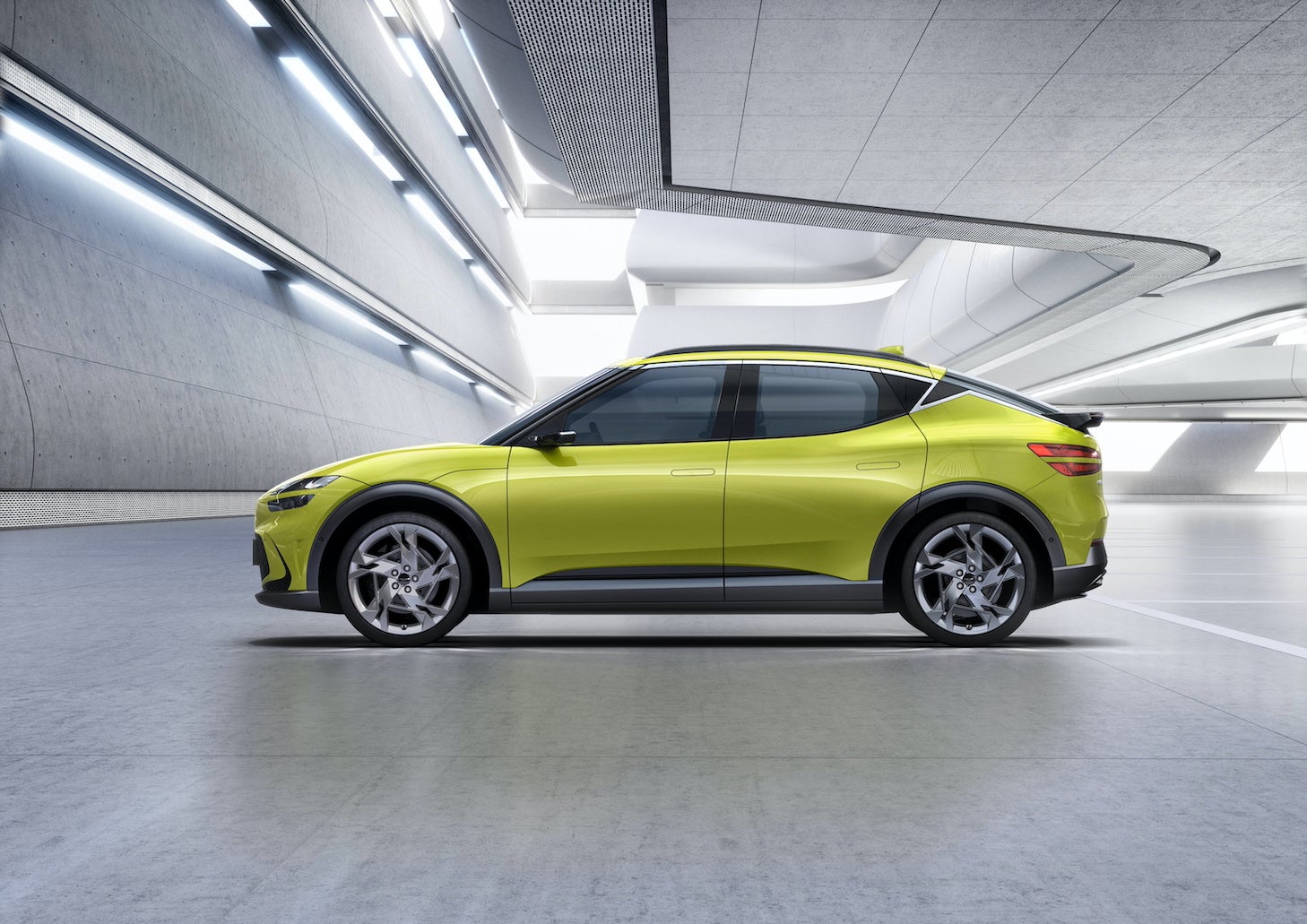 Even though the Hyundai Ioniq 5 and Kia EV6 are already well established as high-priced EVs within Hyundai Motor Group, Genesis too now has its first E-GMP model.
The GV60, an electric-only crossover, isn't the luxury brand's first or even second vehicle to carry a big battery pack. The larger and strangely named Electrified GV70 as well as the eG80 (also called Electrified G80) exist too. Neither the SUV nor the sedan ride on an electric-specific platform though.
Why the architecture does matter
Manufacturers love to gush about supposed major benefits of e-architectures but they're often riddled with all sorts of compromises, just as the platforms which underpin liquid-fuel vehicles can be.
With a BEV there's no engine up front but really, what's the advantage to anyone buying the vehicle? In a Mustang Mach-E it's obvious: a usefully deep second boot. Thing is, an F-150 Lightning has one of those too. The architecture? That'll be T3. As in the gasoline version's ladder frame chassis, albeit modified.
So then to HMG's Electric-Global Modular Platform. Is this a big deal for anyone who owns one of the group's models which are built around it? Actually yes. And not just for packaging reasons. Each of the Group's three brands has overcome the inherent problem of an e-architecture, namely a high floor, by changing the positioning of where people and components are placed.
Side profile: it doesn't look like a speech bubble
In the GV60, occupants don't seem to notice that they are seated high as Genesis' design department has given the vehicle lots of glass. The boot is also big, the tailgate opens high and wide while the me-too flush door handles have a pleasing action. What are surely low-drag wheels are also somehow attractive and there are lovely design details at the front and back ends.
Genesis has kept and evolved its two-stripes theme for exterior lights with this crossover. And if they're not as futuristic as those on the X Speedium Coupe concept, we at least know what will likely change on the car's outside come mid-life facelift time in 2024 or 2025.
Even without two wraparound illuminated bands extending into the front wings, the GV60 already looks exactly right.
Compact dimensions yet huge inside
This is also one of those vehicles which for whatever reason is really different to how it appears in pictures. Even when you know the length is excess of four and half metres, still the stance seems small. VW's a-little-longer-than-a Polo ID.3 can perform the same illusion. Perhaps it's all to do with the long wheelbases and short overhangs which seem to be inherent to many BEV platform vehicles?
That length between the axles also means there is a terrific amount of room for anyone entering the back seats. And, unlike certain other EVs, no wide and high sill to step over. Once you're sitting down, leg room is great. Often this is far from what awaits, narrow and shallow spaces for feet being part and parcel of even some XL-sized BEVs (e.g Audi e-tron GT).
Genesis' designers have made sure there is more than enough room for tall people in the back, and there's an almost ridiculous amount of it up front. Everybody in outboard seats also gets much in the way of door storage space and there are cubbies in other places too.
A different world to an ID.5 or Model Y
Adding to the impression of luxuriant levels of lounging room is the dashboard and centre console. What a wonderful novelty too, discovering that things you want to adjust are done by beautiful-feeling dials and switches and buttons.
Genesis clearly understands what premium means. Does Tesla? Or Volkswagen? A gloss-black piece of plastic covered in fingermarks which is reluctant to lower/lift the volume or temperature/fan speed at the first attempt isn't.
There is more novelty in the form of a revolving sphere, one third of which is clear plastic (which does a convincing impression of cut glass). Within that are criss-crossing lines. At rest, this 'Crystal Sphere' is visible and those lines light up as the car is unlocked. Sounds like a gimmick doesn't it? Yet it does look very cool.
Hit the start button and the orb rotates and vanishes, revealing shift by wire gear selection buttons. Want to see it? Click here and scroll down. It gets even better: heating and cooling for the front seats is via real buttons located behind the sphere. So no distraction with eyes off the road and a finger prodding a screen hoping to find what the driver needs.
The upholstery has a diamond pattern embossed into it. This matches the shapes of multiple elements in the grille. There is also contrasting colour stitching which lends the seats even more of an upscale image.
You really do get the feeling wherever you look or whatever you touch, Hyundai has taken a spend what's necessary approach to matching or beating the class' incumbents. And I include every one of the German, Japanese, American, Chinese, Swedish, Italian and British alternatives.
Is it any good to drive?
All the money spent on quality of materials or surprise and delight features would count for nothing if the GV60 was a bit ordinary to drive or a pain to own. In fact, driving it is an especially nice experience too. Not to mention adding ions, which is where this crossover hammers some rivals.
They're not everywhere, as we know, but if you do find a 350 kW charger, the Genesis can take its rate of power transfer. And that means going from 10 to 80 per cent in a theoretical 18 minutes, assuming no issues with software, plugging in or device/card reader. Yes, most owners will usually connect to a home wallbox but it's good to know the alternative can be properly fast and that the electrical system has been future-proofed by design.
The GV60's maximum range is close to 290 miles (470 km WLTP) so call it 230-270 depending on all the usual factors which affect the range of any car running on energy stored in a battery. Slip in behind an HGV doing 56 mph, stay at that speed and see your battery's depletion rate tumble slowly. Drive at the pace of other cars with the A/C on and it's a different story.
Although every GV60 comes with the same 77.4 kWh battery, there can be up to three power choices, depending on the market:
Standard RWD (one motor), 168 kW and 350 Nm
Standard AWD (two motors), 234 kW and 605 Nm
Performance AWD (two motors), 320 kW and 605 Nm in Sports Mode or 360 kW and 700 Nm in Boost
Summary
This is that rare car: an EV which I would recommend to friends over an ICE model. Why? Safety has clearly been inherent in all aspects of the engineering. Also, recharging should mostly be rapid, build quality and materials are top notch, the after sales back-up is fantastic, value for money is competitive, everything inside the car works (first time) as beautifully as it looks or feels. As a bonus you're also getting into a cool new (to Europe at least) brand. This final point really matters to many people who are drawn to electric cars.
As with other Genesis models, in the UK and the brand's other European markets (so far only Germany and Switzerland) the GV60 comes with a five-year Care Plan. That means courtesy cars, servicing, maps & OTA updates, servicing and warranty for 60 months are included in the price.
The as-tested 160 kW + 160 kW Dual Motor Sport Plus costs GBP65,405 before options.