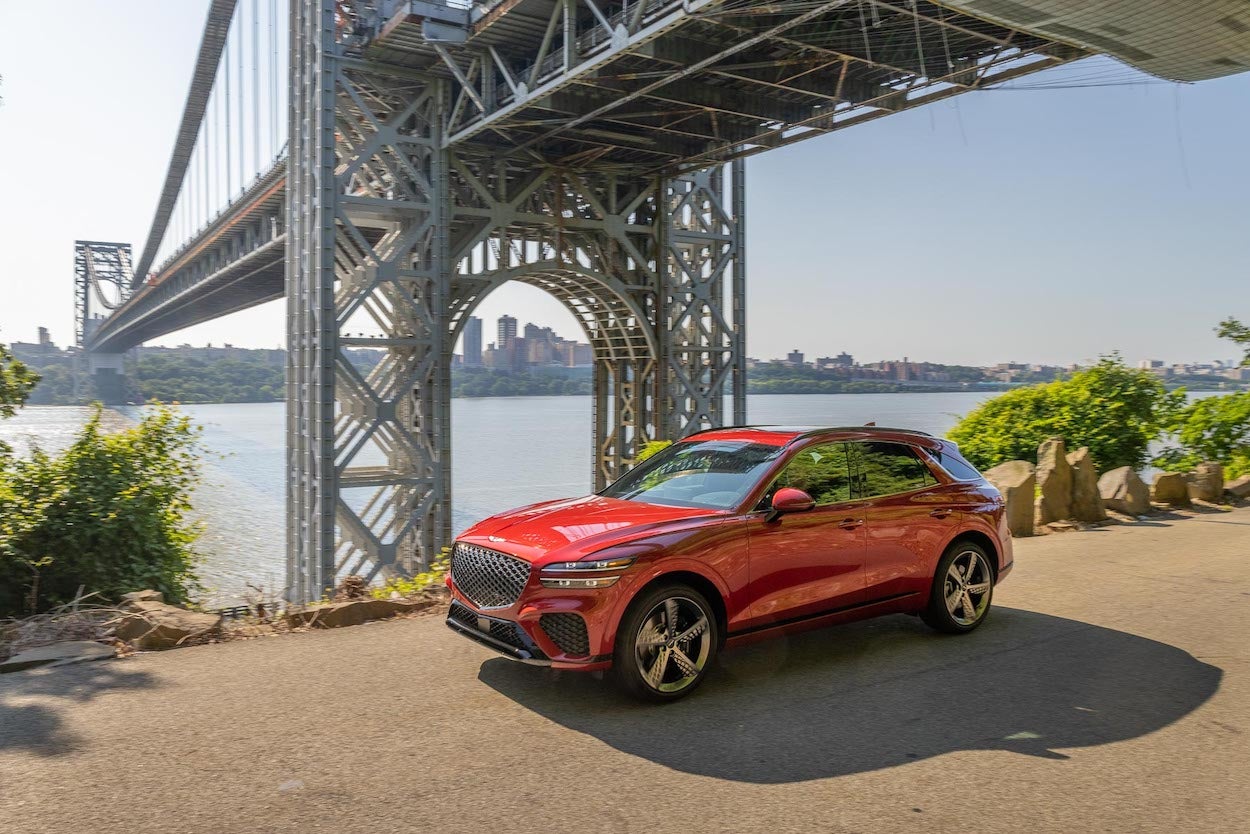 Hyundai stated in September that eight electric Genesis models would be launched by 2030, with every vehicle that's coming after 2025 to be either a fuel cell EV or a battery EV.
We should see the third electric Genesis later this week, that being the eGV70 (name to be confirmed) which could be revealed at the Los Angeles motor show. This follows the eG80 and the GV60.
The electric GV70 will be built in the US, the first such Genesis to be made there and this should happen soon too, production being expected to commence next year.
It's been a year since the ICE versions of this SUV went into production, all examples having so far been built in South Korea at one of Hyundai's plants in Asan.
Up to three engines are available, each turbocharged, depending on the market: 2.2-litre diesel, 2.5-litre petrol and 3.5-litre petrol. In the USA, only the four- and six-cylinder gasoline engines are offered.
As for the life cycle, this will probably be seven years, meaning a facelift would be due in 2024.
Will we see Genesis' answer to the Tesla Model 3 in 2022, or will it take until 2023 for this sedan to appear? The name could be GE70 but as with the 'eGV70', this isn't certain.
Rather than being an electric version of the G70, it is believed that the EV will instead be a model in its own right. The architecture will be E-GMP.
The G70 is Genesis' second oldest vehicle having been released in 2017. The 4.7 m long sedan is closely related to the KIA Stinger though it does not share that model's hatchback body style. The US and South Korea are the main markets but the car is also sold in Europe, the Middle East, Russia and Australia.
This RWD and AWD model originally offered the choice of up to three turbocharged engines: 254 hp 1,998 cc four-cylinder petrol, 202 hp 2,199 cc four-cylinder diesel and 365 hp 3,342 cc V6 petrol.
As part of a facelift in October 2020 engines became 185 kW (252 PS) and 353 Nm (260 lb ft) 2.0-litre, 272 kW (370 PS) and 510 Nm (376 lb ft) 3.3-litre V6 and 149 kW (202 PS) and 441 Nm (376 lb ft) 2.2-litre diesel. There are also slightly more powerful versions of the petrol units: 188 kW for the 2.0-litre Sport and 274 kW for the 3.3-litre Sport. The diesel was discontinued just a few weeks ago, the same applying to the G80 diesel.
A wagon, called G70 Shooting Brake, had its public premiere at the Goodwood Festival of Speed in July. Mainly for the brand's European markets, it won't be available in North America. The length (4,685 mm) and wheelbase (2,835 mm) are identical to the sedan.
The G70's life cycle is due to end in 2023 and at the moment, there is no confirmed replacement. Hyundai may instead move away from this segment, depending on how buyer preferences for D segment sedans evolve over the next few years. It could even be the case that the electric sedan due on sale in 2022 will be the eventual, effective successor.
Soon to be six years old, the successor to the G90 is expected to be shown to the media very soon. However, the ongoing shortage of microchips may cause production to be delayed until the first half of 2022 from the original plan of this month or next.
This big sedan should be equipped with LiDAR for Level 3 autonomous drive. Insiders claim that the car's cameras will be supplied by Mando, with radar coming from Velodyne and Hyundai Mobis.
Reports for many other manufacturers' future models are grouped in the OEM product strategy summaries section of Just Auto.

Future platform intelligence
More detail on past, current and forthcoming models can be found in PLDB, the future vehicles database which is part of GlobalData's Automotive Intelligence Center. That includes Genesis vehicles not covered in this report.
Following on from a recent look at Hyundai, this report on Genesis is the second of three which examine models likely to be launched later in the 2020s for each of Hyundai Motor Group's passenger vehicle brands. Kia will be the final chapter.