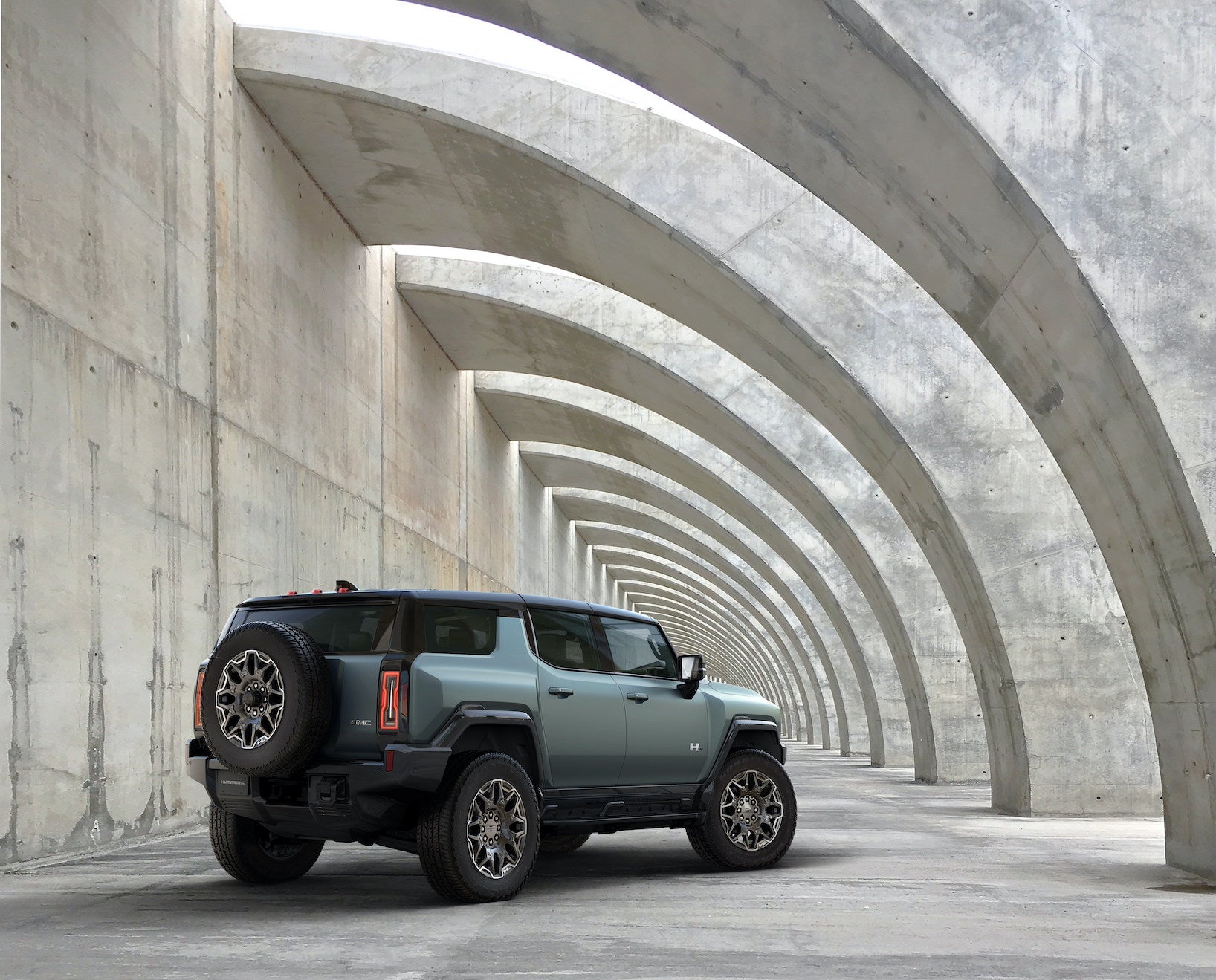 Sceptics suggested that by not dumping GMC, those running the then New General Motors would end up making the same mistakes which had seen Old GM go bust twelve years ago.
Pontiac, Hummer and Pontiac were put in mothballs as part of a 'quick rinse' bankruptcy, while Saab was sold. Surely GMC should have faced the axe too? After all, weren't its vehicles just the same as Chevrolet's?
Over the last decade and a bit, the light trucks brand has become a major earner. That's quite the achievement when GMC has so few markets outside North America.
Proof that General Motors has changed almost beyond recognition came in 2020 with the way the return of Hummer was handled. Rather than being a big bucks, all guns blazing renaissance, manufacturing volume will be modest, pricing will be very high and the GMC name will be associated with this way of doing things. We're now fewer than 18 months away from finding out if it will work.
Hummer
This time around Hummer becomes a sub-brand of GMC with the first model a 1,000 horsepower EV. A prototype of what will be a 5.5 m long and exceedingly wide 'supertruck' was revealed in October last year.
The platform for this pick-up will be BT1, a special EV-compatible version of T1. The Hummer EV will be the first model to be fitted with what GM is branding an Ultium battery pack.
The company told the media in March 2020 that the cost would be below US$100 per kilowatt-hour and offer a driving range of up to 400 miles on a full charge. The packs, which have a nickel-cobalt-manganese chemistry, will be assembled in Ohio as part of a JV with LG Chem.
The first variant will be the US$112,595 Edition 1. Despite reportedly weighing an astonishing 4,103 kg (9,046 lb), it is claimed to have a range of up to 350 miles.
Production of what will be 10,000 Edition 1s is due to start towards the end of 2021. After this comes the 3X which also has a three-motor drivetrain, costs $99,995 and goes on sale in autumn/fall 2022, then the 2X ($89,995) in spring 2023; and finally the 2 ($79,995, spring 2024).
Amongst the features which GMC has highlighted are four-wheel steering with so-called CrabWalk mode (allows diagonal driving on challenging terrain), steel plates around the battery pack, and UltraVision (underbody cameras).
ZF Friedrichshafen identified itself as a supplier in April, telling the media that it will provide AKC (Active Kinematics Control), a rear-axle steering system which dramatically reduces the turning circle.
Insiders have revealed the model's dimensions, these being length of 5,507 mm, a 3,445 mm wheelbase and width of 2,201/2,380 (with/without mirrors). Ground clearance varies depending on which mode the pneumatic suspension is in: 257 mm (Standard) to 302 (Terrain) or 404 mm (Extract). Bed length is 1.5 metres and the turning circle is either 13.5 m but only 11.3 with four-wheel steering.
US market deliveries should commence just before Christmas next year. A facelift and potentially updated battery packs will likely happen for the 2026 model year. A successor could be launched in CY2030, possibly later.
Factory Zero, formerly called Detroit-Hamtramck (D-Ham for short) is where both the EV and EV SUV will be manufactured. The site straddles those two cities.
As with the pick-up, the huge electric SUV (see pic above) will also be exported to multiple markets, including, it is said, Russia, a country which GM has more or less withdrawn from.
The GMC Hummer EV SUV was revealed online in April but production won't commence until "early 2023" the division says. Debuting for the 2024 model year, the vehicle will have a range of up to 300 miles. To be available with two- or three motors, the highest output versions will produce 830 horsepower.
As the first two vehicles from Rivian will be joined by a smaller electric SUV and a pick-up derivative, GM will probably match those future vehicles with GMC Hummers (the EV and EV SUV's natural rivals will be Rivian's R1T and R1S). It will however likely be 2024-2026 before GM moves the reinvented brand down to lower price points and pumps up the volume. These theoretical additional Hummers would be a circa 4.5-5.0 m long electric SUV and pick-up.
GMC
General Motors shared an outline of some of its planned future models in November 2020. Among the vehicles named as being in development were an electric pick-up and an electric crossover for GMC (i.e. different vehicles to the GMC Hummers). Both will use first generation Ultium batteries and Ultium Drive-branded motors. No launch dates or other details were revealed although the 2024 (e-pick-up) and 2025 (e-SUV) model years seems likely.
A second generation – more capacity, lighter – of Ultium battery packs is due out from 2025, insiders report.
As for other future models, General Motors applied to register Envoy as a trademark with the United States Patent and Trademark Office in December 2018. If that name is to return, there are a couple of possibilities as to how it could be applied.
A new Envoy might be based upon the next Canyon (a ladder frame chassis pick-up) and aimed at the Ford Bronco. On the other hand, it could be one of the electric vehicles which GMC will have by mid-decade. In that case, the badging might be EnVoy.
Another potential name which GM is said to have plans to revive is Jimmy.
As for the brand's existing line-up, the mid-life facelift for the Chevy Silverado's twin has been delayed until next year. Instead, the 2022 (MY) Sierra will likely be carried over but have its name adjust to Sierra Limited. Which could mean that when the Sierra gets the styling changes it will be simply, 2022 Sierra.
Depending on how long the microchip shortage remains an active issue, the facelifted truck might instead become an early 2023 model.
In other news concerning GMC's Sierras (1500, 2500 and 3500), an additional build location will come on line later in 2021.
According to the terms of a fresh agreement between GM Canada and the Canadian Auto Workers (union) signed in October 2020, what had once been the largest vehicle manufacturing plant in North America would be retooled at a cost of between CA$1.0-1.3bn.
The Sierra and its Chevy Silverado twin had been scheduled to be made at Oshawa Assembly commencing in January 2022. However in May, this was brought forward to the fourth quarter. First come the Heavy Duty versions, followed by the 1500s in 2022.
There will be other annual model year changes for the Sierra 1500, though none of them major between CY2023 and when the next generation arrives. That should be in the fourth quarter of 2025 for MY2026. We can expect a re-engineered version of the VSS-T frame architecture, more fuel efficient engines and a fully electric variant.
The even larger Heavy Duties should have facelifts for the 2023 model year as they were introduced 12 months after the 1500s, fresh for MY2020. The successors for today's Sierra HD 2500 and Sierra HD 3500 should appear in CY2026.
Engine choice remains either a 401 hp and 464 lb ft 6.6-litre gasoline OHV V8 (GM engine code: L8T) with direct injection mated to a six-speed transmission or a diesel of the same capacity. The Duramax V8 (code: L5P) delivers 445 hp and 910 lb-ft of torque through an Allison-branded 10-speed transmission.
It will be interesting to see whether GM, Ford or Stellantis is first to replace Super Duty/Heavy Duty pick-ups with electric successors. General Motors has already signalled which way the wind is blowing with the Hummer EV (pick-up) detailed above. The big Chevy and GMC HDs are not luxury models though so cannot suddenly become high volume $100,000+ vehicles.
These models make the company vast amounts of money so GM may stick with ICE power even for the next generation (CY2026-2033) Silverado HD/Sierra HD. The ones after that will surely be EVs.
An environmental catastrophe specific to the USA/a rapid shift in public opinion/emergency legislation could end the long era of gas guzzling XL-sized pick-ups relatively suddenly: General Motors and its rivals will surely be war-gaming such possibilities and preparing plans.
Reports for many other manufacturers' future models are grouped in the OEM product strategy summaries section of Just Auto. That includes multiple GMC models not detailed in this report.

Future platform intelligence
More detail on past, current and forthcoming models can be found in PLDB, the future vehicles database which is part of GlobalData's Automotive Intelligence Center. That includes Chevrolet models not mentioned in this report and the previous one for reasons of space.
This is the fifth feature in a series which looks at GM's brands' current and future models. Baojun was the first and Wuling the second, followed by Chevrolet cars & pick-ups and Chevy crossovers & SUVs. Next comes Buick and finally, Cadillac.