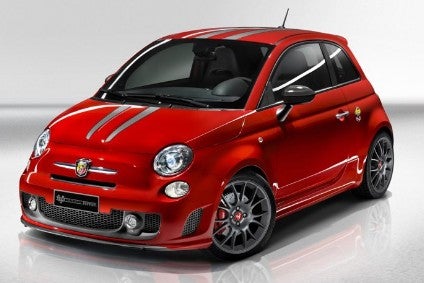 Fiat Chrysler has done a great job of creating Abarth as a brand, the name having originally coming from the surname of a man with a love for motor racing and fettling Fiats to make them faster. The twin achievements of making Abarth well known and being able to charge high prices for the cars are what stand out.
The perplexing thing when looking at the rising success of this brand is that not many – including some who own the cars – know how to pronounce the name, while the only two models are based on Fiats which are variously very old and in a segment which is supposed to be shrinking. Step forward the 595/695 series, closely based on the Fiat 500 which dates to 2007, and the 124 spider/GT which are a roadster and hard-top roadster.
Outselling Alfa in the UK
Last year, combined sales of both models across Europe reached 23,500 cars. That was a 36.5 per cent gain compared to 2017. Not one of these models is a cheap car either, even if you allow for inevitable dealer discounting. Customers in Britain are especially enthusiastic about the cars, having bought 5,631 of them last year, a YoY rise of 27%. Not wanting to twist the knife on FCA's progress with the ongoing revival of Alfa Romeo, but by way of comparison, its sales volume was 4,161 vehicles.
Even though the number of Abarths bought in the UK dipped in January and happily, Alfa ticked upwards, 260 cars was just 39 fewer than the number of Alfa Romeos which found homes. Abarth also outsold DS (253). Still, that's more about Groupe PSA's mistake in convincing itself (but not many others it appears) that a premium brand can be created out of an imagined link to the heritage of Citroen.
UNRAE bundles Abarth registrations in with those for Fiat, so we can't tell how the division is doing in Italy. The same thing happens in Germany and France too, but to judge by FCA's own total for 2018, it's clear that the brand is doing well across most of the big four-plus Spain. There, 1,449 cars were sold last year, which was enough for position 35, more than 1,100 clear of the next brand (Tesla).
Anniversary sales surge?
This year could well be the best yet for Abarth. The Scorpion badge brand celebrates its 70th birthday on 31 March. That was the date when Carlo Abarth founded Abarth & C. with driver Guido Scagliarini, the first vehicle produced being the 204 A Roadster, which was based on the Fiat 1100.
To mark the anniversary, FCA has already announced a special badge for all Abarth cars registered in 2019, this having taken place at the Monte Carlo Rally in January.
North America – not so good
FCA Italy might be doing a great job of creating a premium brand out of Abarth but FCA US isn't doing quite so well. There, Abarth is a trim level on Fiats (124 Spider Abarth and 500 Abarth), which is understandable: Chrysler has a large number of brands so adding another one was ruled out. And would it be insensitive to mention the sales performance of Fiat in the US, Canada and Mexico? It ain't great.
What about future models?
There will be a new Fiat 500 later this year so replacements for the various Abarth derivatives will be launched soon after. That means a hatchback and a convertible line-up to succeed today's 595, 595 Pista, 595 Turismo, 595 Competizione and 695 Rivale. A Scorpion-badge version of the Fiat 500 Giardiniera, a tiny wagon, should not be ruled out either.
As for the 124, this has been around for just shy of three years now after a world debut at the 2016 Geneva motor show. Like the Fiat 124 Spider, it is built in Japan by Mazda. As is the case with the smaller cars, this one is a hoot to drive too. The standard engine is a 170hp 1.4-litre MultiAir turbo, with buyers having the choice of six-speed manual or automatic gearboxes. There is also a mechanical limited slip differential.
For a time, there had been rumours of an Abarth 124 Coupé. Instead, FCA created the 124 GT. This is the Spider but with a carbon fibre hardtop. Again, this is not a cheap car, nor are prices at silly levels, so FCA seems to have located a premium-sporty sweet spot as sales are good.
As for whether or not FCA will be provided with replacements for the Fiat 124 Spider and Abarth 124 Spider, Mazda Motor's CEO Akira Murumoto stated in an interview last December that it was too early to say. He added that the Roadster/MX-5 would always be the company's own design and not a joint venture.
Now and then, there are claims that Abarth will be given a version of the Fiat 500X but that seems increasingly unlikely. What about an Abarth Tipo? More likely, yet if that is going to happen, it needs to be properly engineered. The Tipo is a better car than those who think only of the fairly average models which Fiat used to offer in the C segment would have us believe. Anything less than an equal to the Renaultsport Megane would likely render it a sales flop. And launch timing? How about right now.
Volkswagen has been oh so smart in having recently created a TCR version so as to give the Golf GTI an even brighter halo as it enters the final phase of its production run. And Ford of Europe is taking way too long to bring out a new Focus ST let alone an RS. Opel-Vauxhall? It might not even bother with an OPC/VXR version of the facelifted Astra which will soon be revealed. FCA Italy then, would have close to a clear run IF it can bring an Abarth Tipo to market soon.
The Turin-based part of the two FCA businesses is the daddy, even though FCA US is, as anyone can see, the part of the global business where the serious money is being made. That being the case, wouldn't it be a great thing if FCA Italy became a place where fast, intelligent decisions are made constantly about cars which instantly boost margins and brand images? Abarth is a success and it hasn't cost much to make it that. More great cars please. Il più rapidamente possibile.
Reports for many other manufacturers' future models are grouped in the OEM product strategy summaries section of just-auto.com.
Future product program intelligence
More detail on past, current and forthcoming models can be found in PLDB, the future vehicles database which is part of QUBE.
Fiat was the first, with this one the second feature in a series covering current and future passenger vehicles made by Fiat Chrysler Automobiles. Others to come will focus on Abarth, Lancia, Alfa Romeo, Ferrari, Maserati, Chrysler, Dodge, Jeep, and finally, Ram.