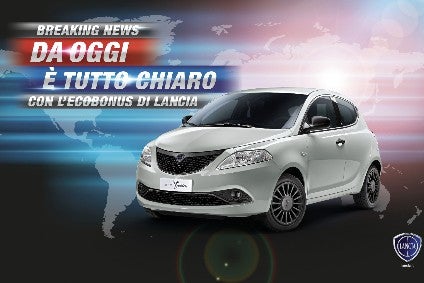 Remember how Fiat Chrysler told the media and analysts that Lancia would fade away during 2018? Well, it didn't disappear. And, an eight-year model is still outselling the Alfa Romeo range in Italy. What's going on?
Pressed for a clear statement, a spokeswoman for Lancia told just-auto earlier on 12 February that "It will survive as a brand but it will sell just one model: Ypsilon". Asked when exactly production is scheduled to end, there was this answer: "We will produce and sell it for the domestic market". As for the potential of adding one or more new models, "Lancia's focused on Ypsilon". Hard then to obtain a true picture.
Never mind the future, an air of uncertainty about the here and now clearly hangs over certain parts of the FCA business. By way of contrast to the uncertainty of where FCA Italy finds itself only six weeks into a new year, what we once called Chrysler is way too busy to be vexed by existential anxiety. Busy trying to milk the good times for as long as cheap gasoline, corporate tax cuts and low interest rate vehicle leases/loans continue.
Muscle cars and trucks powering profits
The US-based side of things is pulling in supersized profits and new or updated models are being churned out regularly. Which sounds a lot like the former Chrysler Corporation in the pre 'merger of equals' days. Even the ancient Dodge muscle cars are going gangbusters, much to the annoyance of Ford and GM which sell way more modern and therefore supposedly more appealing alternatives. The eleven years young Challenger is merrily laying rubber all over the Camaro's driveway, while the Charger, its development and all other fixed costs long ago repaid, must be almost as extravagantly profitable. GM says it can't make money from a factory in Ontario so Oshawa is to be closed. Chrysler can't seem to make people stop people lining up to purchase the vehicles it builds in two (allegedly high cost, or so some say) Ontario plants.
Then there is Ram, which must make the likes of Volkswagen and BMW wonder why on earth they bother with the supposed prestige of having a high-end make such as Bentley or Rolls-Royce: neither makes anywhere remotely near the margins of the pick-up truck brand.
Forget Fiat? Kill Chrysler? Not so fast…
The quip about FCA being a company which, if it wants to really see its share price soar, ought to ditch the brands which denote the first two letters of its name, is flippant. Even if there is some truth in it. Chrysler is in fact doing well enough thanks to the 300 and Pacifica both being in demand. As for Fiat, well that's another story.
The US-based brands and their model ranges – current and next generation – will be discussed in more detail soon enough, as will Alfa Romeo, Maserati and Ferrari (click here for an analysis of another brand, Abarth). First though, back to FCA Italy and the lack of public statements about what is going on with a once luxury, then rally-sports marque, which was supposed to have been deceased by now. Lancia doesn't seem to want to die just yet.
Does Mike Manley see a future for Lancia?
Mike Manley, keen not to be a mere continuity man, will have had a good look at the equity in this historic marque. And also, at the costs of killing it. Might he have told his boss John Elkann and the board of FCA that it should be saved? Possibly not. Why then is the little Ypsilon, the brand's only car, still being made? And why did FCA build more than 48,000 units of this outmoded city car in 2018? And why were sales up by 55% in January? Lancia's spokeswoman attributes the recent success to a promotional campaign (see image).
Back in May 2014, FCA announced future models plans for all of its brands. That was when we officially learned that Lancia was to be wound down, the last model in its eventual final market due to flame out during 2018.
Sure enough, Lancia was withdrawn from the few countries where it was still going, various rebadged Chryslers were discontinued, and the Ypsilon, in Italy, became the last man standing. What now then? The brand climbed back up the sales charts last month, charming its way into the top ten with deliveries of 6,606 cars, after ending 2018 in sixteenth place. And guess which brand was hustled aside as Lancia landed back in the top ten? Ironically, FCA Italy's star performer of 2018, Jeep: sales dropped by 16% to 6,249 vehicles.
If you look at the media website for Lancia, the most recent press release concerns an historic cars event which took place in November 2016. The information issued prior to this one is dated 27 August 2016. There are then just two others prior to this bulletin which itself concerns FCA's brands' response to the tragedy of the Italian earthquake, and these are concerned with an historic race and an expo in Milan. Only then do you see the most recent announcement on new product for Lancia. Dated 15 September 2015 (an overview of a minor update for the Ypsilon). How extraordinary that the car, and the brand, even survive, let alone, as is so clearly happening of late, thriving. The brand's Twitter feed is way more active, at least. And that's very interesting: if Lancia is doomed, why is there a constant stream of information about the Ypsilon?
One car. One market. And STILL it outsells Lexus Europe.
It's more than two years since a similar look at what FCA's intentions for this division may or may not be. The striking thing is how little has changed. Much money has been poured into Alfa Romeo. The results have been somewhat less than remarkable. Lancia has had a gentle decline while Alfa has risen, but not too steeply. It is an extraordinary thing to report that the one-model and one-country make was more successful than Lexus across all of ACEA-defined Europe in 2018: 48,854 (-19.8%) compared to 46,695 (+2.6%). Imagine what could happen if FCA gave Lancia even one new vehicle. Could it happen?
As was pointed out when I last pontificated on this brand in December 2016, there are multiple low-cost ways of saving Lancia and seeing it thrive. Will this be the final time that just-auto reports on the state of the blue shield badge marque? It's hard to say.
Reports for many other manufacturers' future models are grouped in the OEM product strategy summaries section of just-auto.com.
Future product program intelligence
More detail on past, current and forthcoming models can be found in PLDB, the future vehicles database which is part of QUBE.
Fiat was the first, then came Abarth and now this one is the third feature in a series covering current and future passenger vehicles made by Fiat Chrysler Automobiles. Others to come will focus on Alfa Romeo, Ferrari, Maserati, Chrysler, Dodge, Jeep, and finally, Ram.