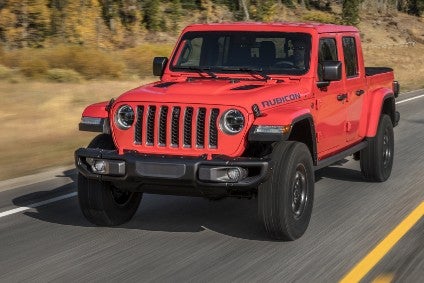 Each of the world's most successful and well known 4×4 model lines had humble beginnings. What is interesting is that of Jeep, Land Rover, Range Rover, Land Cruiser, G-Class and Haval, only three are brands.
Perplexingly, TMC has never exploited the incredibly valuable asset it has with the Land Cruiser name. Daimler took a long time to see that the G-Class could be leveraged into a G-family of SUVs, although it doesn't make much noise about the links when promoting the GLA, GLC and other models.
As for JLR, creating the original Range Rover Sport was inspired. Plus it's not too bold a claim to label the person who realised massive margins could be made out of project L538 by dumping the original idea of it being a Land Rover, as a genius. Positioning this vehicle into what subsequently became a high-volume segment with sky-high prices was an inspired decision. None of the big three mass market German brands or Porsche could match the sales levels and margins of the first Range Rover Evoque.
Shouldn't the replacement for the not so well known Defender just be called Land Rover?
What another Jeep rival should do
What about Land Rover, the brand? I would argue that people generally group the Range Rover and Range Rover Sport as one model and they know the Evoque too. Land Rover…? It's well known, but the general public tends to think of certain models first. Such as the Freelander, and because it was around for so long, the old shape Discovery (the same applies to the Shogun). In Britain, due to ones being driven by farmers, and the military ones we see so often in slow convoys on motorways, the public knows what a Defender looks like. Yet in conversation, it's called a Land Rover. Which is perhaps what the replacement for the Defender should be called: like Mini, just Land Rover.
GWM building ever more Haval factories
Great Wall, meanwhile, has none of the baggage which comes with being a state-run vehicle maker. It does make mistakes of course and yet it seems to learn from them very quickly. The Haval brand was once called Hover. As this sounded a bit odd in some countries, the name was changed. The first generation of crossovers and SUVs was reliable, had OK looks, good fuel economy and crucially, keen pricing in China. Now Haval has a dozen models, each of which is a lot more sophisticated than the first generation H6 which sold in phenomenal numbers.
Just when we thought GWM couldn't possibly any more factories, another one is announced: only days ago, the company inked an agreement with authorities in Jiangsu to erect a plant in the province's Taizhou Port Economic Development Zone. Considering how much money it is pouring into expanding its manufacturing footprint, Great Wall certainly has aggressive plans to make Haval a global force in SUVs. Does FCA realise how big a threat that might be?
Boosting US Jeep production capacity
With all the above by way of background, and especially the quiet progress of Great Wall Motor, mostly unseen by those outside China, it's clear that Jeep has a fight on its hands. That's if FCA intends for the brand to be the world's most popular make of SUV. Just recently, new or expanded spending for the manufacture of various models at US plants (as well as for certain Ram vehicles) was announced. And some flesh laid on the bones of hitherto vague plans for the addition of two extra, big Jeeps plus PHEV powertrains for both and the hint that electric Jeeps might be coming too.
The following is a look at some of what's on the way, with full details available in PLDB, the current and future vehicles database – see the link at the end of this feature.
Front-wheel drive/All-wheel drive platform models
FCA confirmed to the media in June 2018 that it is developing a sub-Renegade model. This A segment SUV – it could wear a Graduate badge – will likely share a platform and mechanicals with the Trekking version of Project 170, the next Panda.
The 'Graduate', a sub-Renegade Jeep, is due in 2021.
The little Fiat is due to reach European markets in 2020, although there is also a chance that it could appear during the second half of this year. The baby Jeep should then follow in 2021 or 2022.
The current smallest Jeep has just had a facelift, which means it probably has another three years of production remaining. The Renegade, which was introduced in mid-2014, has been a big success, although that has mainly been outside North America.
As for the next Renegade, this should be released for North America's 2023 model year during the third quarter of 2022. It will likely be shown some months prior to the start of production, which means either the Chicago or New York auto shows. Expect an evolution of the existing SUSW platform. In addition to a replacement for the PHEV, there could well be an EV.
In the Compact or C segment, Fiat Chrysler has a massive hit on its hands in the form of the Compass. This 4.4m long model replaced not only the previous Compass but the Patriot too. Production commenced in September 2016.
The next major news for the MP series Compass should be a facelift in 2020 for North America's 2021 model year. A next generation Compass isn't due until the 2025 model year. It should either be based upon the same SUSW Evo architecture as the Renegade 2, or else one of the first vehicles for a future FWD/AWD modular platform.
The largest monocoque architecture Jeep sold in North America is the Cherokee. The current KL shape model had its global debut at the New York auto show in March 2013. A mid-life facelift premiered a year ago at the Detroit auto show. A next generation range is due out for North America's 2022 model year although there is a chance that FCA may delay this until CY2022.
Details for the Grand Commander, a special model for China which uses a monocoque platform and is effectively an extended Cherokee but with its own body, can be found in PLDB: see the link at the end of this report.
RWD/4WD platform models
There will likely not be a facelift for the Gladiator until 2024: half-way through its decade-long life.
The Gladiator, a Wrangler-based pick-up, is Jeep's newest model. The world debut took place at the LA auto show late last year and it becomes available in US dealerships from the second quarter.
New for the 2020 model year, this crew cab truck offers the choice of soft top or hard top and two transmissions for its standard 3.6-litre Pentastar V6. These are a six-speed manual and an eight-speed automatic. A 3.0-litre EcoDiesel will be added during CY2020 with a standard eight-speed auto. The gasoline engine's outputs are 285 horsepower and 260 lb-ft with the diesel equivalents being 260hp and 442 lb-ft.
The fifth generation Grand Cherokee will use a stretched version of FCA's Giorgio architecture. This new model should have its world premiere at the New York auto show on 17 April before going on sale in the third or fourth quarters.
The current GC is made at JNAP (Jefferson North Assembly Plant) in Detroit. For the next generation model, FCA will add a second plant. This is the converted Mack Avenue Engine Complex, it was announced in February. Also known as Mack Avenue Engine II, this powertrain plant had been standing idle since 2012. It is opposite JNAP. The same site will also be the manufacturing location for another Jeep, that one having seven seats, FCA also recently stated.
As well as updates of the current model's V6 and V8 gasoline engines, FCA's Hellcat supercharged V8 should be available in a special SRT Track Hawk variant. There may no longer be a V6 diesel option so a PHEV powertrain will be needed for European markets. There is a chance though that the 2,143cc four-cylinder diesel from the Wrangler will be offered in certain countries.
This Grand Cherokee is yet another example of FCA continuing with its strategy of keeping vehicles in production far longer than is normal for many rivals, and indeed, in contrast to what the former Chrysler Corporation did. The GC was once on a six-year lifecycle but the current model could be more than nine years old when it is replaced.
There will be PHEV powertrains for the future Wagoneer and Grand Wagoneer.
The Grand Wagoneer is to be yet another large SUV. The then Chrysler Group revealed plans for this additional model as long ago as the 2011 Detroit auto show so it will have taken ten years to get this model onto the market. The GW, a revival of a dormant model name from Jeep's history, had been due for release in 2013 but after many delays is not now expected to become available until early 2021. There will also be a Jeep Wagoneer: the name was first mentioned by FCA's former CEO Sergio Marchionne during a press conference in January 2016.
The architecture to be used by these vehicles is said to be a derivative of the same body-on-frame chassis which the latest Ram 1500 pick-up truck uses.
Production of both models will be in Michigan at FCA US' Warren Truck Assembly Plant, the company stated in January 2017. This was repeated in a February 2019 media release, which noted that the investment would now be US$1.5bn. There will also be plug-in hybrid versions of these two models, the February statement added. Expect an eight- or nine-year production life, which means a facelift in 2024/2025 and a replacement in 2028/2029.
Reports for many other manufacturers' future models are grouped in the OEM product strategy summaries section of just-auto.com.
Future product program intelligence
More detail on past, current and forthcoming models can be found in PLDB, the future vehicles database which is part of QUBE. That includes various other models not mentioned above, including the Wrangler and Wrangler Unlimited as well as PHEV versions of these plus the Renegade, Commander and Grand Commander.
Fiat was the first, then came Abarth, Lancia, Alfa Romeo, Ferrari, Maserati, Chrysler/Dodge and Ram, with the above being the ninth of nine features in a series covering current and future passenger vehicles made by Fiat Chrysler Automobiles. The next OEM to be looked at will be Tesla.