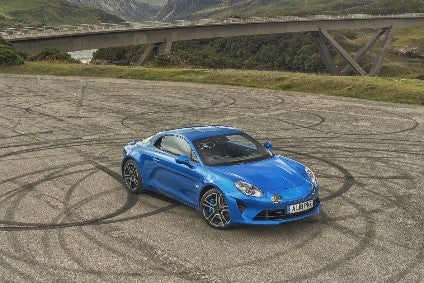 Europe looks set to soon become the world's first region in which Kia is more successful than Hyundai. This is one of the many trends visible in ACEA's passenger vehicle registrations data for Q1 which also show an overall 3.3% decline for the quarter.
Another stand-out fact is the sharp decline of Nissan Europe due to the parent company's perplexing decision not to replace the once big-selling Juke after five, six or even seven years. By the time the yet to be seen second generation model is in production in England, the current shape Juke will be well over nine years old.
Alfa is down by 45% while the apparently doomed Lancia is easily FCA's strongest performer.
Nissan's alarming plunge (29.4% in March to 55,199 units) is Dacia's gain, the Romanian brand overtaking Nissan thanks to a 21.6% rise to 59,475 vehicles. This also helped cement Groupe Renault into regional third place (420,353, +0.6%) during the first quarter behind Groupe PSA (689,423, -1.2%) and Volkswagen AG (989,212, -2.4%).
Behind VAG, PSA and Renault-Dacia-Alpine-Lada is the big mover, Hyundai-Kia, which has pushed Ford of Europe (262,502, -10.3%) down to fifth position. Thanks to rising sales for Hyundai Motor Group's supposed junior brand over the last 12 months, the Korean duo's combined total is 273,085, (-1.3%). The stand-out statistic though is how Kia performed in March. Thanks largely to a seemingly unstoppable rise in Britain, Kia Motors Europe delivered 57,689 vehicles compared to 57,796 Hyundais.
Interestingly, Kia makes no mention of how close it came to outselling Hyundai in a media release which announces the brand's performance in Q1. Year to date, the blue badge (140,911, -2.9%) is well ahead of the red one (132,174, +0.6%) but the trend is with Kia and there are multiple new models on the way.
In other trends, Audi is finally starting to see a return to form as the worst of the WLTP delays finally fall behind it. Even though Mercedes stays in the lead for the year to date with BMW not too far behind, Audi outsold the three-pointed star in March, Mercedes suffering a 14.6% fall. Porsche too is in trouble, its regional sales continuing to decline, a trend which has been in place for many months. In March, the company saw a fall of 20.7% to just 6,631 units. This wasn't too far ahead of a couple of small brands: Lexus (6,008, -5.6%) and Lancia (6,088, +15.3%).
There were no strong signs from any of the PSA brands, although Citroën continues to claw back the dramatic losses it previously suffered, with a 6.9% gain in March to 71,061 vehicles sold. Opel/Vauxhall (106,734, -2.9%) remains PSA's most successful division, outselling Peugeot (102,448, -4.4%) although the latter stays as the number one brand for the year to the end of March with 263,491 sales versus 239,717 for Opel/Vauxhall and 175,790 for Citroën. As for DS, in March, its total plunged by 27.4% to only 4,293 units.
Another embattled brand is Alfa Romeo, its registrations plummeting by 44.8% from already low levels to 5,504 cars and SUVs in March. Fiat's decline continues (-14% YtD to 178,900) too.
Ironically, the apparently doomed Lancia is easily FCA's strongest performer. Dealers have but one elderly model, sales of which are restricted to Italy yet Lancia's total in Q1 was 18,554, a YoY gain of 34.9%. Still there has been no communication to the media from Fiat Chrysler over what will become of the brand. The company had previously stated on several occasions that the Ypsilon would go out of production during 2018, with the division to die at that point.
Jaguar ended the first quarter having sold twice as many vehicles as Porsche.
As of now, Lancia is well ahead of Alfa (14,728, -40.7%), Porsche (12,694, -37.5%) and DS (10,425, -9.8%) across all of Europe. ACEA's data are for 27 of the 28 EU states (only Malta is excluded) plus the four EFTA ones.
The news for Honda Motor Europe continues to be grim, its sole regional brand falling by 21.1% in March to 19,155. By contrast, Mitsubishi had a great month, its registrations rising by 17.0% to 19,971. If things continue as they are, Honda may even be a smaller brand in Europe than Mitsubishi. As at the end of Q1, their respective totals were 43,112 (+16.8%) and 38,271 (-16.4%). That means Honda now has less than a one per cent share of one of the world's largest markets for passenger vehicles.
Finally, JLR. At last there is good news. Land Rover's sales rose by 1.1% in March to 27,478, which was about the same as Mini (27,751) and Jaguar lifted its market share to 0.8% from 0.7% a year ago, selling 14,426 vehicles, a YoY gain of 12.0% and ending the quarter with a total of 24,781 registrations. Who would have thought 12 months ago that Jaguar would end Q1 having sold twice as many cars and SUVs as the then mighty Porsche?