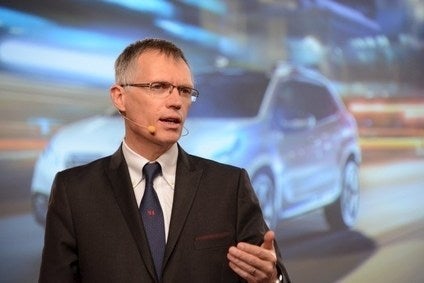 It's still 2014, but not for much longer. In the global automotive business, plenty happened in 2014. Seasoned observer Dave Leggett offers a personal take on some of the year's most significant developments. This instalment considers major markets, corporate developments and people.
Global market expands again
The global vehicle market expanded yet again in 2014. The global pie continues to grow. LMC forecasts that the world's light vehicle market this year is heading for 86.4m units, 2.5% ahead of 2013.
Sales in North America continued to expand in 2014. The US economic recovery may look patchy in places, but it's been sufficient to create the conditions – along with credit availablity and purchase cycles – for a marked uptick to demand. A stuffed to the gills Chinese car market was up again, but with the feeling that a slowing economy and market saturation are causing momentum to ebb.
Western Europe's market is expanding, albeit off a very low base. Many national car markets – especially in southern Europe – remain way off previous norms. Economic growth in the eurozone actually fell back during 2014 – a worrying development that points to continued weak recovery in 2015.
Russia probably presented the major negative for 2014 after the turmoil in Ukraine and plunging energy prices.
Some markets in southeast Asia also went south – Thailand (political instability) and Indonesia (fiscal changes). South Africa experienced considerable industrial strife, yet again. South America was pretty flat, Argentina in a notable spot of economic bother.
So, despite the overall global market expansion, there was a feeling of a mixed picture. Yes, there was automotive sales growth in some places, but tough conditions were also apparent in others.
And let's not underplay the importance of one market in particular: China.
When you look back at recent history, it immediately becomes very clear just how important the Chinese car market has become, in global terms. This sales data (please note all vehicles sold rather than light vehicles) extracted from OICA illustrates the seismic global shift that has taken place since the middle of the last decade. China's vehicle market went into overdrive at a time while the so-called 'triad' markets – North America, Western Europe and Japan – that used to dominate the global auto industry became saturated and struggled to grow.
| | | | | | |
| --- | --- | --- | --- | --- | --- |
| All vehicles (sales, million units) | 2005 | % of global market | 2013 | % of global market | Volume change |
| Global market | 66.0 | 100.0% | 85.4 | 100.0% | 19.4 |
| | | | | | |
| CHINA | 5.8 | 8.7% | 22.0 | 25.7% | 16.2 |
| US | 17.4 | 26.4% | 15.9 | 18.6% | -1.6 |
| EU 27 countries + EFTA | 18.1 | 27.5% | 14.1 | 16.5% | -4.0 |
| CENTRAL & SOUTH AMERICA | 3.1 | 4.7% | 6.2 | 7.3% | 3.2 |
| JAPAN | 5.9 | 8.9% | 5.4 | 6.3% | -0.5 |
| RUSSIA, TURKEY & OTHER EUROPE | 3.0 | 4.5% | 4.2 | 4.9% | 1.2 |
| INDIA | 1.4 | 2.2% | 3.2 | 3.8% | 1.8 |
| | | | | | |
| Source: OICA | | | | | |
That long-term picture is worth bearing in mind. This year's market movements were small in relation to the shift we have seen in the global market over the past decade. Where will we be in the middle of the next decade? Now that's a subject for another article…
So 2014 was a mixed year. Let's look in a little more detail at the regional breakdown.
Europe provided cause for concern in 2014, continuing into 2015
Concerns in Europe remain over the underlying strength of the economic recovery. The Western European car market is up, but that's against a low base for comparison and it remains well down on pre-2008 levels. LMC Automotive estimates that the West European car market will have reached 12.11m units in 2014 (+4.8% on 2013) with growth of just 2.8% to 12.45m units projected for 2015 (for comparison, that's lower than 2011's 12.81m). In 2007, the West European car market peaked at some 14.8m units.
Many national car markets remain below pre-2008 levels due to structural economic problems impacting consumer spending and car demand, this is especially true in southern European countries such as Spain and Greece. The European Central Bank (ECB) remains extremely concerned about the dangers of region-wide price deflation and the possibility of the kind of long-term economic stagnation that has been a feature of the Japanese economy in recent decades.
And while demand stays as low as it is, competitive conditions will remain very tough for the OEMs in Europe.
UK car market 'defied gravity' in 2014
If the continental European market disappointed, there was at least the apparently welcome sight of the UK car market continuing to post healthy looking growth. A car market in 2014 that exceeds 2.5m units is impressive. However, there is an element of the UK car market attracting European OEMs eager to shift volume while demand remains so weak on the continent. Furthermore, the sterling-euro exchange rate has made that even more attractive for some. Is it bad news then? No, of course not, especially when looked at in the context of markets elsewhere. But reports of pressures on dealers to hit volume targets and engage in activity such as 'pre-registrations' should not be readily dismissed. When the market picks up in Europe, they may well change tack and move away from 'flooding' the UK market. Also, it is worth noting that after growth that has taken the annual UK car market over 2.5m units, a natural ceiling has probably been reached.
Severe problems in Russia
The geopolitical crisis in Crimea/Ukraine during the spring and summer became a bigger problem for Ukraine and, subsequently, for Russia's relations with the EU and US following the imposition of economic sanctions that will impair trade. The adverse impact of sanctions on investor confidence was compounded by the collapse of Russia's currency due to the fall of energy prices during 2014.
During the course of the year, the rouble lost around half of its value versus the dollar in what many commentators considered is the country's most severe financial crisis since 1998. The car market was down around 11% in the first 11 months of the year. In November there were signs of support from a scrappage incentive. There was also a mini-stampede to the market by some wily consumers buying current stock because of large price increases in the pipeline due to recent currency movements. That will be cold comfort to manufacturers with operations in Russia that have come under immense pressure.
A number of manufacturers temporarily suspended operations or withdrew from Russia's car market.
Is the outlook for Russia much better for 2015? Well, if the rush to buy late in Q4 before prices go up further is any guide: no. That will have brought sales forward. Ditto scrappage, which is subject to diminishing returns. And the economic forecasters appear to be predicting that Russia is sliding into recession in 2015 on the basis of world energy price trends alone. Are there signs of any softening of Russia's stance on Ukraine? An eagerness to get trading relations with the US and EU back to normal perhaps? No. Investor and consumer confidence in relation to Russia's economy will remain subdued for a while yet.
US recovery on track
New vehicle sales in the US are expected to reach 16.5m in 2014, up from 15.6m last year and the industry is predicting sales of up to 17m next year, a level that is commensurate with pre-crisis norms.
LMC Automotive's 2014 US light vehicle retail sales forecast remains at 13.6m units, but robust sales in November and December have pushed the total light vehicle forecast to 16.5m units. The previous total light vehicle sales forecast was 16.4m units.
Additionally, LMC Automotive has raised its retail sales forecast for 2015 to 14m units from 13.9m and increased its total light vehicle sales forecast to 17m units from 16.8m.
"The prospects for auto sales to overachieve in 2015 are moving closer to reality as 2014 goes out on a high note," said Jeff Schuster, senior vice president of forecasting at LMC Automotive. "Economic bliss, driven by job creation, wage growth and low gas prices may drive consumers to showrooms at a faster pace, emphasising the notion that this recovery may not be over quite yet."
At the Paris Show in October, Ford CEO Mark Fields told us that Ford is preparing for a market of around 17m in 2015. A market of 17m would take the industry close to former peaks and a new record market is a possibility. US auto sales in 2001 reached 17.2m cars and light trucks, a year after a record 17.4m.
"Our guidance for this year is that the industry will come in at between 16.3m units and 16.8m. Our current guidance for next year is between 16.8m and 17.5m."
Fields said that the first three or four years of market growth in the US following the recession were accounted for mainly by pent-up demand but that replacement demand is now driving the market up.
"We have had that initial pent-up demand release and replacement demand is now driving demand. We expect the market to come in next year in the range of around 17m units," he said.
China market up, but slowdown coming
China's light vehicle market this year is forecast by LMC to exceed 23m units, with growth edging up to around 25m units in 2015. Despite the gradual economic slowdown, conditions in China look sufficient to provide some moderate market growth momentum in 2015. As well as some new demand inland, there is a rising tide of replacement demand being generated with rapid growth of the car parc in recent years.
New vehicle sales in mainland China rose by 2.3% to 2.09m units in November, from 2.04m units in the same month of last year, according to the China Association of Automobile Manufacturers (CAAM).
This brings the cumulative 11-month total to 21.08m units, up by 6.1% compared with the 19.86m units sold previously.
CAAM now expects full year sales to grow by just 6%-7% to 23.5m units in 2014, half the growth rate of last year when sales reached 21.98m units.
Dealers have seen their vehicle stocks rise steadily over the last several months. They have increasingly responded to the slowing market growth by offering heavy discounts in the hope of meeting year end targets and qualifying for annual bonuses from distributors. These bonuses can account for up to half of their annual profits which can make it worthwhile for dealers to sell vehicles even at a loss in some cases.
The Chinese market selling rate in November rose to 24.1m units a year. However, passenger vehicles and LCVs are showing diverging trends. The decline in LCV sales this year (by nearly 5% year-on-year) can be partly attributed to the fact that increasingly popular low-end MPVs are stealing sales from Mini Bus models. A slowing economy and uncertainty over the impending China IV emission standard are other factors behind weak LCV sales. As for PV, analysts say a recent increase in inventory is a concern.
Asia outside China throttles back
Elsewhere in Asia, market demand is generally easing off. In Japan, sales continued to decline (on a year-on-year basis) after the consumption tax hike in April, but have remained resilient in general, with the October selling rate exceeding 5m units a year. Following the Bank of Japan's latest monetary easing, the Nikkei stock market has rallied, but the falling yen could fuel inflation and erode consumer spending.
The South Korean market has lost some steam along with a slowing economy. Yet the market is still expected to finish this year with near record-high sales, supported by record-low interest rates and expansionary fiscal policies.
In southeast Asia, the vehicle market has gone into reverse this year. just-auto's analysis shows that demand in Indonesia and Malaysia weakened in the third quarter after a positive first half of the year, while the rout in the Thai market – hit by political worries – shows no sign of abating.
In Indonesia, the vehicle market has been further weakened by the phasing out of fuel subsidies. On November 17th Indonesia's new President Joko Widodo announced a 31% hike in the price of Premium petrol sold across the retail network of state oil company Pertamina. The government also pledged to eliminate fuel subsidies altogether within three years, allowing fuel retail prices to float in line with international prices.
South American prospects cool
In Brazil, the October selling rate of 3.4m units a year was stronger than expected and perhaps boosted by fiscal spending ahead of the run-off presidential election at the end of the month. However, the re-election of President Rousseff and the recent interest rate hike bode ill for the sales outlook.
Meanwhile, the troubled Argentine market has stabilised this year despite the country's debt default in July. The selling rate exceeded 600,000 units a year for the fourth consecutive month in October. On a year-over-year basis, however, the rate of decline deepened to 40% in October which, along with a deteriorating economy, suggests that the market is yet to fully bottom out.
————————————————
COMPANIES AND PEOPLE
Ford said goodbye to Alan Mulally
We said cheerio to Ford CEO Alan Mulally in 2014 as he stepped down to let Mark Fields take the blue oval helm. It was slightly earlier than expected, but maybe better timing for Fields with things still looking relatively benign on Ford's bottom line and in the US. I got the chance to see Mulally on his farewell circuit of Europe when he stopped over in London. He was his usual infectiously energetic self and clearly looking forward to moving on to something new (he googled it!).
Mulally reflected on his time at Ford, the changes to the management culture (bringing in changes that he hopes will endure) and so on. One thing that he got excited about was Ford's small 3-cylinder turbocharged engine.
At Ford, the stress was on continuity with the management changeover, with Fields continuing 'One Ford' and all the positive management process changes that Mulally introduced. After a few months easing himself in, Fields did, however, shake things up with an intriguing top-level job swap (news that we broke). I suspect there's more to it than meets the eye, with the younger of the two probably being given a chance to shine and stake his case for eventual top job consideration. Loss-making Europe is certainly not an easy region to handle and Ford admitted this year that it will take longer than it thought to turn it around.
Nevada got the Tesla 'gig'
The Tesla S is beginning to make a significant impact, in Europe now, as well as in the US. We heard more this year about the plans for a 'Gigafactory' making batteries, with the hope that it can change some of the economics of automotive battery production. Got to admire Elon Musk's ability to have a vision and also put a plan in place to get there. He has already achieved quite a bit with Tesla, which has successfully challenged the auto industry's way of working. Does that mean he would rule out working with established OEMs? Nope. BMW could be described as a progressive OEM (with its i-brand and future-looking views on personal mobility) and might be a very suitable partner, along with others. It's a long haul, a long game, with a vision of cleaner and better transporation at the end of it (and along the way).
While on the subject of long hauls, there was a little bit more activity on hydrogen fuel-cells this year (next year is something of a key year, with a number of developments signposted and slated for 2015). Hyundai moved up a gear with the fuel-cell powered Tucson being made available in the US. Are the numbers big? No, they are tiny. Serious fuelling infrastructure questions remain unanswered. But fuel-cells are sure to be on the agenda for discussion over the next few years. It will be an emerging niche. The old joke about them always being twenty years away may, soon, have to finally be retired.
Tavares sets out a new strategy for PSA
2014 was the year that PSA Peugeot Citroen may well have begun to turn itself around. The company has been under plenty of pressure in recent years. Market geography has been one problem. Brand strategy has been another area of difficulty. And having too many plants in relatively expensive places has not helped either.
This year saw Carlos Tavares (after a curiously short period following an unusual departure from Renault) installed as CEO at PSA. It's a tough brief, for sure. He can't do what some would love top do in his place and take an axe to operations and radically recast the company's manufacturing footprint. There are constraints in place and sensitive relations with labour unions to consider (Aulnay's closure provoked a reaction). Rather, he has set out a major rationalisation of the product portfolio alongside a subtle repositioning of the brands (with DS becoming a third brand) to maximise transaction prices. There's also an expanding cooperation with Chinese partner Dongfeng. Will it all work? There are some positive signs on the product side and the development of engineering architecture. The company has also edged into the black and he appears to have the unions with him. Tavares may well have put an industrial strategy in place that can rebuild confidence – among both customers and employees. So far, things are certainly better than they looked a couple of years ago.
FCA formed – premium hopes aired again
Over at FIAT, it was a pretty lively year. FCA was formed following the merger with Chrysler (the deal wasn't formally completed until October). It's quite a company, with some big plans for competing with premium brands. It's probably the last chance for Alfa Romeo to actually deliver, or maybe it really will be time to seriously consider sending Alfa Ferdinand Piech's way. Ferrari is now to to be spun off and Montezemolo departed Ferrari – possibly in a slight huff – for a fresh challenge. Montezemolo, it would seem, may have clashed with Marchionne over strategy for his beloved prancing horse. Anyway, there's not too much doubt on who's running the show at FCA; the man in the everlasting blue jersey will be there until 2018.
Volvo showed first fruits of Geely cooperation
We also saw a new engineering architecture – Scalable Product Architecture (SPA) – from Volvo Cars-Geely spawn the new XC90.
Volvo says the new SPA modular chassis technology liberates Volvo's engineers and designers and will also change the way Volvo builds cars in the future by allowing a wide range of cars, powertrains, electrical systems and technologies – all of differing complexity – to be fitted on the same architecture, generating significant economies of scale.
Have to say though, the outgoing XC90 is a tough act to follow and I'm not sure about the slightly bland styling on the new one, but the cooperation with the Chinese parent (hands-off style and 'managing the bottom line') seems to be going very well so far.
Nissan's Andy Palmer left for Aston Martin
Nissan's Andy Palmer was a long-term management riser at Nissan and got to the board. Busy chap with a lot of responsibility there (his official title was a lengthy one). In 2014, he moved to take the top job at Aston Martin. Good luck to him; he has his work cut out there I think. I recall interviewing him a few years ago and he vividly described his experience of the March 11, 2011 earthquake in Japan. That stuck out more in my mind than his very comprehensive report of how well Nissan was doing. Oh, and there was the fact that he really enjoyed his lunch because, for a change, it wasn't an airline meal.
Jaguar added XE
Jaguar launched its new XE small car in 2014. For those who remember the disaster that was the X-Type, the arrival of the new model was awaited with great interest. Many observers suggested that the company played safe with the design. My own view was that from the side, it could be a Mazda. However, it is an attractive car and perhaps the main point is the engineering architecture that is shared with Land Rover and the totality of models that can be spun off that.
In what was another good year for Tata-owned Jaguar Land Rover, we also saw a new Land Rover Discovery Sport (shown in Paris at a presentation just dripping with Britishness) and heard about a self-learning vehicle that can understand your driving style, patterns and needs. On the manufacturing front, the company also opened a new engine manufacturing centre in the English Midlands.
That was good news for UK plc. As was news of additional investment at Ford's Dagenham engine manufacturing centre. A prominent politician moved in for some good PR around a positive news story. After hours sat around waiting (I wasn't altogether happy with that) I was allowed to ask the PM just one question. He gave the expected answer on his view of EU membership for the UK. We can expect to hear more on that in 2015…
Japanese get currency tailwind
The Japanese OEMs were helped in 2014 by the weak yen, bottom lines benefiting from the tailwind. Prime minister Shinzo Abe's Liberal Democratic Party has just been re-elected in Japan on an expansionary 'no return to deflation' platform, suggesting that a devalued yen will remain a cornerstone of Japan's economic policy for a while longer. Toyota has raised its profit forecast for the financial year by more than 12% to JPY2 trillion (US$17.5bn) from an earlier forecast of JPY1.78 trillion thanks to a weaker yen – which is close to a seven-year low – and cost-cutting efforts.
The Koreans enjoyed a weak won in international markets, but it wasn't as weak as the yen – something that hit Hyundai's competitive position in the US.
Still on the Japanese, we had a very candid head of Lexus Europe admit to us that it is "impossible to catch the German three, worldwide" but that the brand is determined to be "number four". Well, maybe buoyed by the weaker yen for higher margin, that's not such a bad place to be…