INTERVIEW: Ford CEO Alan Mulally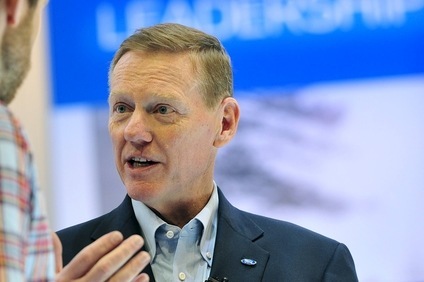 Alan Mulally to Mark Fields: Don't you go changin'
Alan Mulally's tenure as Ford's CEO has seen the company evolve in line with his vision of 'One Ford'. He also successfully guided Ford through recession and has generally been lauded by investors. He passes the reins over to Mark Fields in July. Dave Leggett caught up with him on the London leg of his Ford circuit farewell tour of Europe.
Alan Mulally is characteristically upbeat when he meets with the small group of journalists in central London. The ex-Boeing guy who has made such a huge impact in Detroit is upbeat about the future. He doesn't have anything decided, but he's excited about the new possibilities that could be ahead for him personally. "I'm gonna miss you," he offers to the group. "And, by the way, I won't be doing trains!" It's a good line that goes down well in the room. After the instant images of Steve Martin and John Candy have subsided, we're onto the more serious business of asking him about his tenure, how Ford has changed and the challenges for the future. He's open and happy to talk, the trademark Mulally smile never far away.
"Ford is in a really, really good place. We're growing all around the world."
He runs through the main developments in the major regions of the world. North America, good. South America, some exchange rate and macro issues, but good. Asia-Pacific, very good. And he's happy with the progress and turnaround in Europe, the restructuring that Ford has done in a region where it is still making a big loss.
Mulally is also very happy with Ford's overall financial position, paying off the debt that was left after mortgaging Ford assets in 2006. Ultimately, that loan finance boosted liquidity and kept Ford out of the bailout mire - unlike GM and Chrysler - when severe economic crisis hit in North America in 2009. "It enabled us to accelerate the new products during the bad times. We borrowed to keep that momentum and now we can see the response to the products we have round the world, from the Fiestas all the way up to the F-Series." And the balance sheet looks healthy now, he maintains. "We have repaid all that $23.5m dollars and taken our debt down from $38m to around $14m now. We're operating profitably and we are growing. We have the number 1, 3 and 6th best selling vehicles in the world now. I am really pleased and proud for everybody associated with Ford."
'One Ford' sums up the underlying theme for Mulally's tenure. It's a multi-dimensional mantra that governed all areas of Ford's operation to change the culture and drive the brand forward. Mulally remembers a company that had become regionalised, rather than global, in its organisation, that posessed a house of brands, that was focused unhealthily on large SUVs and trucks in the US. In 2006, the year Mulally joined the company, Ford made a whopping $17bn loss.
'One Ford' was about getting back to profitability and developing a sustainable global strategy, changing the corporate culture to generate better outcomes. Reducing the brands to focus on Ford and Lincoln only was one important element. Another was to think and act globally, develop product geared to global scale and global market needs - serve all markets around the world. "Everybody knew what the plan was and what the promise was for the consumer, the brand promise: to be best in class in quality, fuel efficiency, low CO2, safety, smart design [connectivity]. And we were going to work together worldwide to deliver on that as one team. All of that, including changing the management system, absolutely changed the culture. Everybody was together, everybody was working on it, everybody knew what the plan was, and everybody knew where the areas were that needed special attention."
Mulally says the reputation of Ford, how the brand is now positively perceived around the world, demonstrates the success of the strategy. "The data is amazing on the corporate reputation of Ford. By some measures we [have] had the largest movement, positive improvement, in brand favourability of any brand - I think - in history."
He cites three main components of brands. First, the products and services themselves. Are they valued? Second, are you perceived as an ongoing successful enterprise? And third, people want to know that you care about what they care about. "That would be things like contributing to the economy, contributing to energy independence and security and also contributing to a better world."
"Those three things drive everything about the brand worldwide and clearly we are one of the most respected brands around the world. But what I love about Ford is that over these past eight years we have been moving in a positive direction and it's one of the largest movements ever. And that is fundamental good business when you look at the value of the brand and how it has increased, the transaction prices, comparatively to other brands, we are right there as one of the most valuable brands, vehicle by vehicle, anywhere in the world.
"The brand promise and how people perceive the brand is one of the most important things in business and you have to be able to deliver on all three of those things."
What about the premium brands area? With the exception of Lincoln Ford jettisoned its collection of premium brands (Jaguar, Land Rover, Volvo and Aston Martin) and that is sometimes questioned (especially now that Jaguar Land Rover is as profitable as it is). For Mulally, it's a question of focus and where the business priorities laid at the time. He maintains that Lincoln suffered because of the lack of focus when Ford possessed other premium brands. "We decided to go back to the roots of Ford and Lincoln, where 85% of the volume of the company was. The first thing to do was to revitalise Ford. And now we are increasing our investment in Lincoln. We have a fully differentiated Lincoln family; we're going to focus on the US first, and then China. And then we'll see where we go from there."
Mulally believes the world has changed after the financial crisis, with an increasing emphasis on 'affordable luxury' which is where Ford can capitalise. "There is a sweet spot for Ford where we can have all the technology and more than any [other] volume brand has. With our scale we can provide that most affordably."
Mulally is very confident about prospects for Ford in the future. He believes that the culture has been changed, for the better, on a permanent basis and he cites three points agreed with Bill Ford eight years ago when the two met at the chairman's home. "One, we agreed the need for a fundamental strategy for the business [that was 'One Ford']. Number two was to put in place a management system that would allow us to develop our strategy, refine it, deal with a changing world and also enable cultural change. The third one was to have a leadership development programme for every position and a succession plan. All three of those things are built into the culture and business processes of Ford now. It would be very difficult to deviate from all the process that is in place now. One of the things that Bill and I are so pleased about is that we have an orderly transition plan, not just for the leader, but for the way we run the business."
Mulally emphasises the satisfaction that he has got personally from the transformation of Ford's management processes and culture. "The thing that is most satisfying is what you can do with talented people coming together to create a viable business and with everybody participating. So there's the management process put in place, the fact that we have developed a strategy together, we implement it, we look at the world every week, qualify the strategy, react to changing conditions - or sometimes we have the business reviews every day [for example, during the financial crisis when things were changing very quickly]. Developing a strategy, the management system, the coming together and the cultural change have been the most satisfying, also because they are sustainable."
And that, it seems, is the key legacy point. Alan Mulally has put in place a corporate cultural shift that is hard-wired in to the way Ford Motor Company operates and functions.
"For Ford, the 'One Ford' plan and the working together is a big strength. I have every confidence that Bill Ford, the Board of Directors, Mark and his leadership team will continue to do what they have been doing - they have been there, tremendously successful and continually adapting to a rapidly changing environment. That's always a challenge, but they are absolutely up to that challenge."
Ford, Mulally stresses, has to continue to keep serving global markets with a full range of vehicles that are constantly getting better. And it has to maintain focus and avoid distractions that can impair overall business performance. "Don't go wandering off, buying things, doing things...it's exciting enough to make the best cars in the world and continuing to grow as a company in an industry that is continuing to grow by around 5% a year. You just have to stay absolutely laser focused."
See also:
Blog: The secret to Alan Mulally's success at Ford
COMMENT: Alan Mulally's Ford legacy
Ford Europe chief Stephen Odell on the Ford 'Vignale' sub-brand
Most popular news
---
Most popular insights
---
Oops! This article is copy protected.
Why can't I copy the text on this page?
The ability to copy articles is specially reserved for people who are part of a group membership.
How do I become a group member?
To find out how you and your team can copy and share articles and save money as part of a group membership call Shivani Hayer on
+44 (0)1527 573 732 or complete this form..