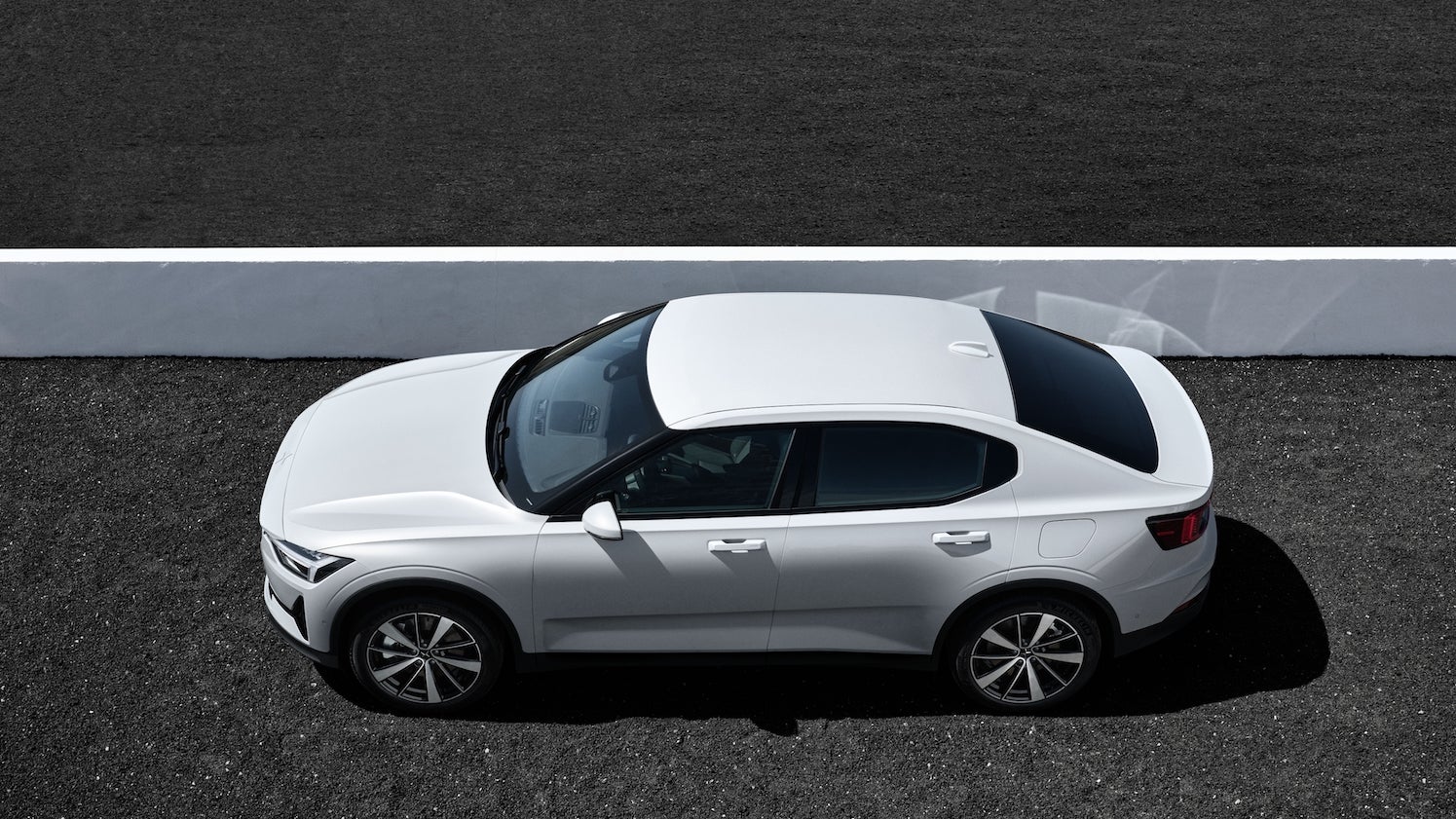 POLESTAR, a team which raced noisy-fast Volvos in the Swedish Touring Car Championship, sold its name to Polestar, maker of silent-fast EVS. Quite the transformation.
The continuing evolution of this now listed but mainly Geely-controlled sports-luxury start-up has some parallels with a certain other electric car company. Each of their first models was a rework: Tesla based its Roadster on the Lotus Elise while the Polestar 1 channeled the Volvo Concept Coupé.
Going global
The brand is becoming ever better known and has major appeal to those who want to be ahead of trends: vegan interiors now and by 2030, a climate neutral car. It's also little by little going global. The latest example of this is the end of a long fight over the emblem's alleged similarity to the Citroën chevrons. This dispute had prevented any presence in France but now that's resolved.
Polestar doesn't have what has always been Tesla's biggest advantage – a network of its own rapid chargers (which once dispensed free energy and still do, for some). Instead, it's turning to distinctive design and eco-credentials, attempting to build an image of Scandi-cool innovation.
China sales: could be better
Progress takes time, however. The sole model continues to have very strong links to Sweden's most famous car maker. You only need to Google Volvo 40.2 to recall or learn where the shape of the 2 came from. Not that being nearly identical to a Volvo concept from more than six years ago is an issue.
Something which does present an awkward truth about Polestar is the number of cars sold to date in the world's biggest market. Which just happens to be where its vehicles are manufactured. For the record, the company's management insists that the home base is as much Sweden (HQ plus R&D) as it is China. Which is a fair point.
I don't mean to rain on the firm's parade. It's more that while Polestar is doing remarkably well across Europe for a brand that didn't offer any cars only a few years ago, it has some way to go in the PRC. For example, during H1, just 954 cars were retailed there.
What may seem an oddly low number isn't. The 2 has been available in China since April 2020 and it's taking some time to gain sales traction. That will improve soon though as the first of many extra models arrives. The 3 (see below) is promised by year-end, the 4 (coupé-SUV) should follow in 2023, then the 5 (four-door GT) in 2024 and the 6 (roadster) in '26.
Leaving the twin issues of high pricing and a multitude of competitor brands in the PRC (Nio, Xpeng, Li and so on) to one side and looking at Europe's LHD and RHD markets combined, things are way better.
Europe and America sales: encouraging
Deliveries of 12,986 cars (Polestar 2: 12,931; Polestar 1: 55) is quite the result given all the temporary factors which should be preventing this brand from succeeding. Would you also believe that the Swedish-Chinese make delivered more cars to Europe-based customers than smart (12,785) during the year to the end of June? It was also close to outselling Alfa Romeo (13,099) and Jaguar (13,146).
Polestar hasn't broken out sales by region but given that we know the number for Europe, things are also looking good in North America. The brand says it delivered "approximately" 21,200 vehicles in the first six months of 2022. That compares to 9,510 in the same period of 2021.
Like a Volvo, only better
The 2 happens to be a very good car and for an EV, possesses a surprising amount of character. This starts with how the exterior design, which is genuinely individual. And highly appealing.
On the inside it's also very Volvo, only better. Safety and ease of operation would of course be improved by the addition of physical controls. Even so, the menus of the touchscreen are somehow faster to navigate than in, say, an XC40.
Long drives in the 2 are a real pleasure. Drag must be fairly low as wind noise is not something you even think about. I'm not usually keen on one-pedal driving but in this model it works smoothly.
Other bonus points are awarded for a Lane Keeping Assist system which tends not to intrude, instrumentation which has a wonderful minimalism to it and a less is more approach to light and sound gimmicks. So you won't be distracted by attention-seeking dancing LEDs or loud chimes upon entry and exit.
Two unusual features are the lack of stop-start and parking brake buttons: just select D or R to move away and when you come to a halt, the brake is applied automatically. Supposedly the motors are readied when a sensor feels the weight of the driver on the seat. Clever, like when someone realised a diesel engine could be started without the usual delay by activating the glow plugs the instant the car was unlocked.
What about the range?
Even the range is OK, with the top-spec and most powerful model I borrowed offering up to 250 miles in close to ideal conditions. Use the climate control or drive at the legal motorway limit and all that changes though. However, that criticism applies equally to almost all of the 2's competitors.
Is consideration by size and price an accurate reflection of what real buyers do? With EVs, even if some of that goes out the window, technically the 2's rivals are hatchbacks around the 4.6-4.8 m long mark. That would include the Model Y, Mustang Mach-E, BMW i4, Jaguar I-Pace, Kia EV6, Hyundai Ioniq 5, Genesis GV60 and VW ID.5.
Handling and roadholding are the best things about the 2. The car I drove came with two motors and 300 kW. This also means what is a high combined torque output is split between both axles.
With 650 Nm to put down on the road, AWD is essential and it prevents wheelspin in almost all conditions. I've tried a single-motor FWD variant and it's good but nothing special. Even with one of those motors positioned below the boot floor, there's loads of room for luggage, along with a lower compartment.
Two battery choices
Until the announcement of a new battery and motor in April, FWD cars could be ordered with either a 78 kWh 'long range' battery pack or a 64 kWh one. Choices are now:
standard range – 69 kWh battery, 170 kW (231 PS) and 330 Nm, single motor, front-wheel drive
long range – 78 kWh battery, 170 kWh (231 PS) and 330 Nm, single motor, front-wheel drive
long range – 78 kWh battery, 300 kWh (408 PS) and 650 Nm, two motors, all-wheel drive
Performance Pack – 78 kWh battery 350 kW (476 PS) and 680 Nm (502 lb ft), two motors, all-wheel drive
Why no big POLESTAR badge?
There's really only one thing which has to change about this car and it's something very simple. Everybody asked me what it was. So if ever a car needed its maker's name adorning the back end, this is it. All you get is a logo (OK, the word Polestar does appear on the registration plate frame but it's small). There is also what looks like an afterthought of stickers on each front door.
Tesla challenger or something different?
Polestar has some typically Swedish modest global sales ambitions but I think it could easily exceed these by mid-decade. Particularly given how good the first mainstream model is. The new Tesla? Perhaps not anywhere near the American company's volume achievement yet but by 2030, who can say.
The 3 – soon to be revealed
The third model for Polestar would be a "…larger [than Polestar 2] SUV-style BEV, the Polestar 3, which will create a modern expression of electric performance and driving dynamics". So said a media release issued back in October 2017. One image was released to the media in June. The model will be fully revealed at an event in Copenhagen in October, deliveries being due to start in the first quarter of 2023.
Polestar has stated that it hopes to sell 24,000 units in 2023, 67,000 during the following year and 77,000 in 2025.
The 3 is presumed to be aimed at the Audi e-tron, BMW iX3, Mercedes EQC and others in that class of 4.8-4.9 m long electric crossovers and SUVs. It will use Volvo Cars' SPA 2 as opposed to Geely's PMA/SEA. The first of those architectures is EV-capable whilst the second is EV-only.
In June 2021, Volvo Cars and Polestar told the media that the 3 would be manufactured in the USA at the former's Ridgeville factory in South Carolina. Production was "expected" to start in 2022, both divisions said. There will also be build in China from late 2022.
Thomas Ingenlath says the 3 will have two rows of seats and be available in single motor and dual motor forms.
The division's CEO further notes that a special rear-axle motor called P10 will be optional. Its output will be 450 kW and in certain Polestar vehicles, when combined with a front motor, total power will be 650 kW. P10 won't be available on the 3 from launch but will instead come later.