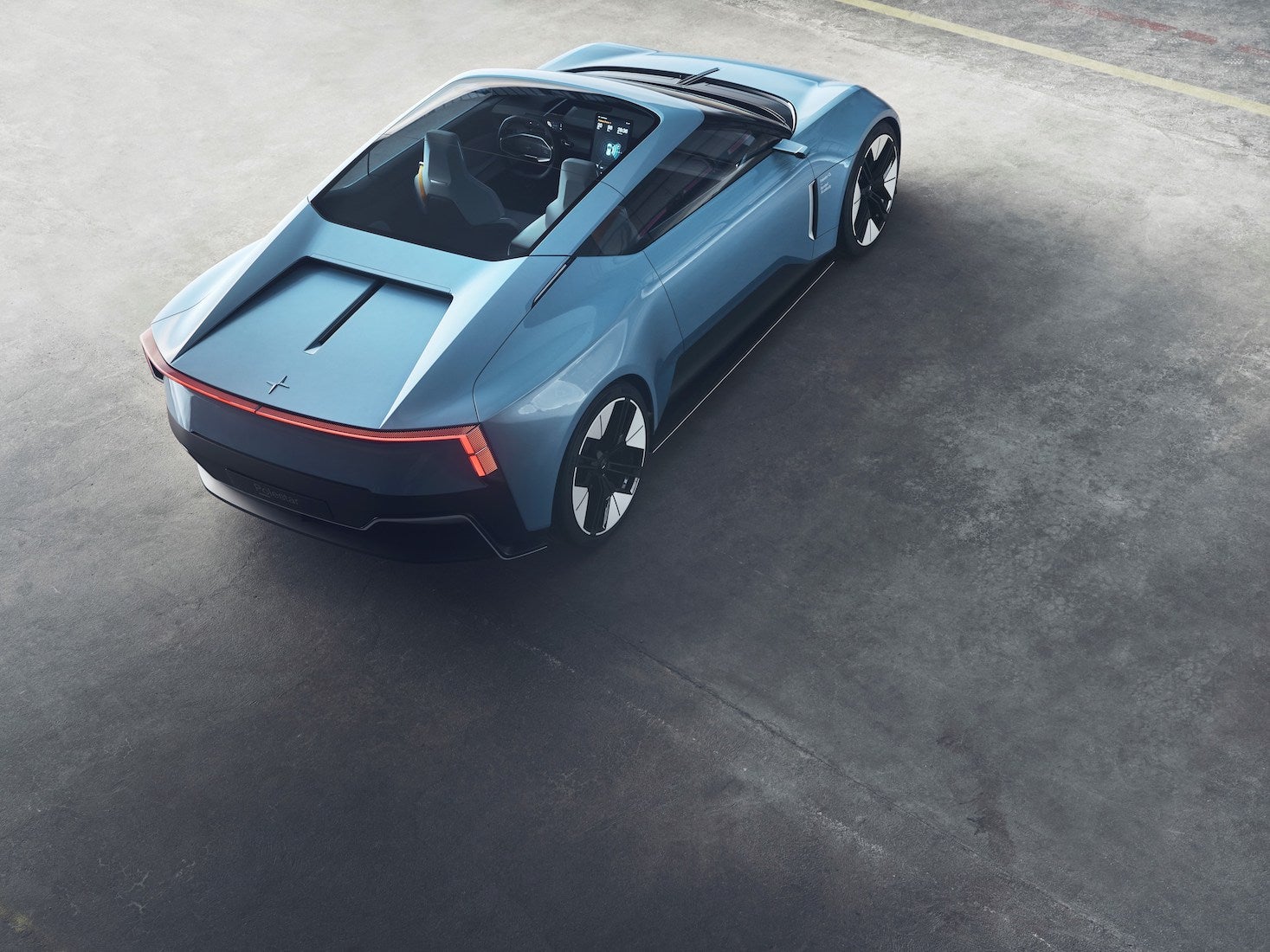 As fewer than 30,000 cars sold in 2021 and a mere 444 in China during Q1, 2022 shows, it's proving to be a challenge for Volvo's sports-electrified brand to ramp up sales.
Can Polestar really lift deliveries by a factor of ten, reaching a target of 290,000 annually in 2025? Plus another aim: breaking even as soon as next year. Extra models will be needed and these are on the way.
The 1, which unlike the brand's higher volume 2 and all future models, was a REEV rather than an EV. Production ended in late 2021, its job done as a high-tech, high-priced electrified car which positioned the brand. Polestar has also been expanded from China and Europe to North America, the Middle East and the Pacific Rim.
The younger, five-door hatchback, which like the 1, had once been a Volvo concept, is now Polestar's sole model. Revealed in February 2019 and then having a public debut at the following month's Geneva motor show, the 2 looks much the same as the 40.2, a design study which Volvo announced six years ago next month.
There was originally just the one version of the 4,606 mm long five-door hatchback, but two less expensive ones were announced in April 2021. That was exactly one year after production had commenced, the car being manufactured at a plant in the Chinese city of Luqiao. The factory is owned by Zhejiang Geely Holding and operated by Volvo Cars.
The lesser-powered additions have just the one front-mounted motor but this can be paired to standard and larger capacity battery packs. The line-up is as follows:
64 kWh battery, 165 kW (224 PS) and 330 Nm, single motor, front-wheel drive
78 kWh battery, 170 kWh (231 PS) and 330 Nm, single motor, front-wheel drive
78 kWh battery, 300 kWh (408 PS) and 650 Nm, two motors, all-wheel drive
A 360 kW version which was called Experimental Polestar 2 had its public premiere at the Goodwood Festival of Speed in July 2021. Five months later, Polestar stated that extra power and torque had become an option in certain countries, delivered over the air. Outputs can be increased to 350 kW (473 PS) and 680 Nm.
A facelift is likely for the third or fourth quarters of 2023 and a next generation model will probably appear in 2027. The platform will shift from CMA to the forthcoming Polestar Aluminium Space Frame.
The brand's third model, expected to be revealed later in 2022, will be a larger SUV. The 3 is presumed to be aimed at the Audi e-tron, BMW iX3, Mercedes EQC and others in that class of 4.8-4.9 m long models. It will likely use Volvo Cars' SPA 2, although Geely's PMA/SEA is also possible. The first of those architectures is EV-capable whilst the second is EV-only.
The 3 will be manufactured in the USA at Volvo's Ridgeville factory in South Carolina. Production is "expected" to start in 2022, both divisions said on 16 June 2021 but it could instead now be 2023 due to the microchips shortage. There will also be build in China and this is where vehicles for European markets are expected to be sourced from.
Thomas Ingenlath says the 3 will have two rows of seats and be available in single motor and dual motor forms. The division's CEO further notes that a special rear-axle motor called P10 will be optional. Its output will be 450 kW and in certain Polestar vehicles, when combined with a front motor, total power will be 650 kW. P10 won't be available on the 3 from launch but will instead come later.
There will probably be a seven- to eight-year life cycle for the brand's third vehicle. Which means a facelift in 2026.
When will we see the 4? Possibly as soon as mid-2023. Although not confirmed, it should be an electric coupé-SUV about the same size as or slightly lengthier than the 3. The platform will be Geely and Volvo's PMA (also known as SEA).
The code for the 5 can be found in PLDB (see link below). Coming in 2024, this big electric sedan or five-door hatchback is to be aimed directly at the Audi e-tron GT. The Precept gave guidance for a general outline of the looks. Build will be in China at a new plant, with an estimated 30,000 units to be manufactured in 2025, the first full year.
The architecture will be unique to Polestar, Thomas Ingenlath claimed in a December 2021 announcement. Six months prior to this the CEO had told the media, "Our UK R&D team based in Coventry is leading the development of the project."
A few weeks ago, a two-door concept with obvious links to the Precept was announced (see image). The big difference is that this one, called O2, is a two-door hard-top convertible. A production car similar to the 'oh two' concept is certainly possible but does seem unlikely.
After the arrival of the 5 there will probably be a relatively quiet period for new models, broken by the debut of a second generation 2 in 2027 plus the 3 facelift in 2026 and its successor in 2029. Right at the end of the decade. Polestar has tentatively promised one other car which in theory should be built from 2029 or 2030 until 2037 (or later).
In April 2021, the target of releasing a so-called climate-neutral vehicle by 2030 was made public. The 0 project is explained via this statement:
"Until there are offsetting solutions with proven results, this approach must be viewed as a last resort. Instead, focus will be placed on reducing the emissions that can be mitigated, either directly or indirectly. This means that all parts of Polestar's supply chain are to reach our targets without resorting to offsetting by tree planting or other schemes relying on the CO2 intake of crops. Ultimately, the aim is a car that will leave factory gates with a zero-carbon footprint".
Reports for many other manufacturers' future models are grouped in the OEM product strategy summaries section of Just Auto.
Future platform intelligence
More detail on past, current and forthcoming models can be found in PLDB, the future vehicles database which is part of Global Data's Automotive Intelligence Center.
This is the fifth of of five reports looking at the current and future models of brands controlled by Zhejiang Geely Holding Group. It follows recent features on the Geely brand; as well as Maple, Geometry, Zeekr and Jidu Auto; plus Lotus, Lynk & Co, smart and Proton; and Volvo.