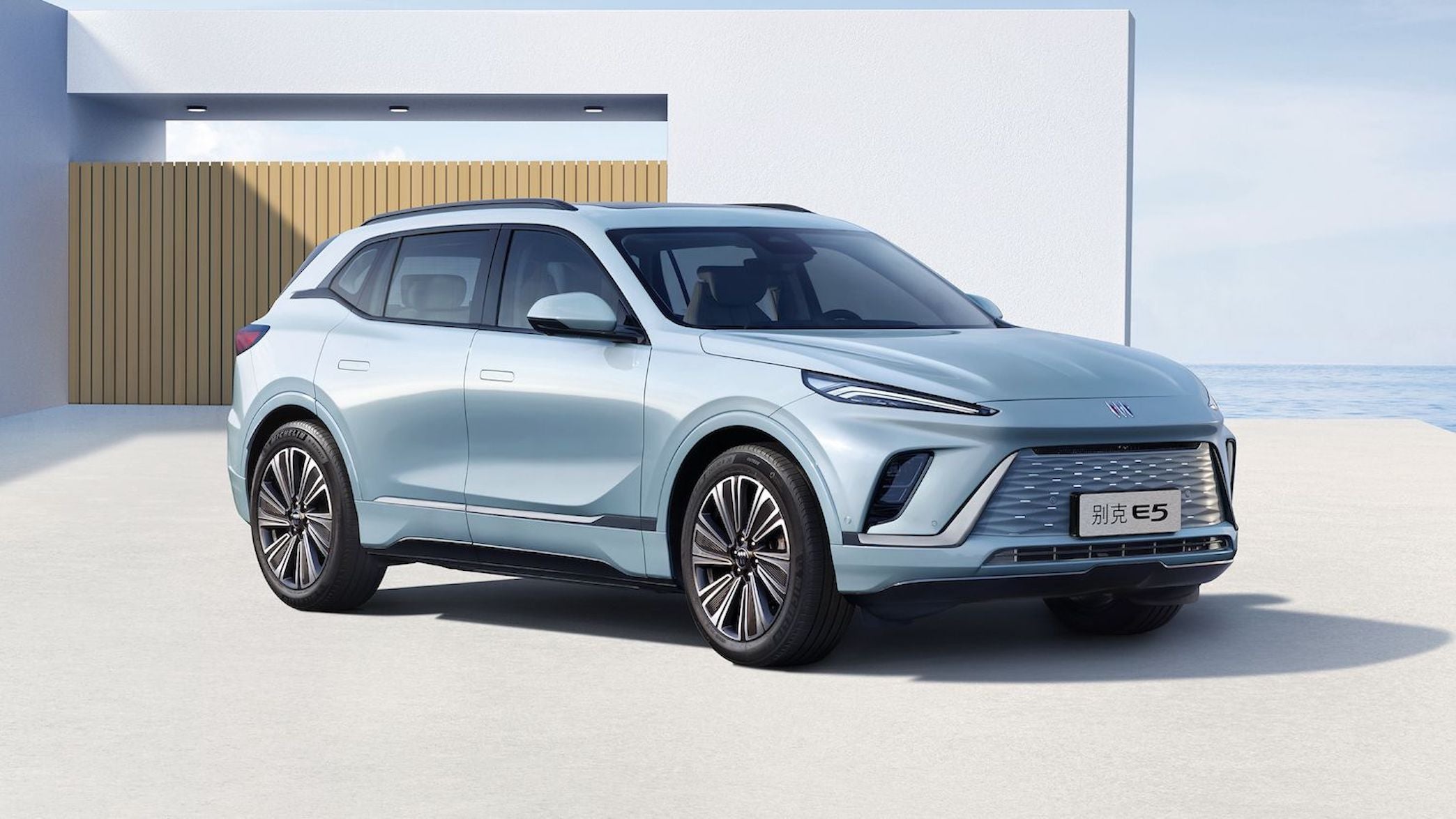 After the recent overview of selected Chevrolet and GMC new and next generation vehicles, the second of two features covering GM brands now turns to Buick and Cadillac.
Buick
General Motors and SAIC have had phenomenal success with Buick in China, easily GM's biggest brand in the world's largest market. And while not every model has been a hit, the partners keep adding new ones while culling the slow-sellers. Next comes a line-up of EVs, each of which will be called Electra.
The Electra E5, a 4,892 mm crossover, has just been officially launched. The JV manufactures this, the first Electra, at the new Wuhan Ultium Center. Production will also take place in North America but the plant is yet to be named.
The line-up comprises five variants:
Standard Range – 180 kW & 330 Nm, one motor, front-wheel drive, 68.4 kWh battery, 545 km maximum CLTC range
Long Range – 150 kW & TBC Nm, one motor, front-wheel drive, 79.7 kWh battery, 620 km maximum CLTC range
Standard Range Enjoy – 180 kW & 330 Nm, one motor, front-wheel drive, 68.4 kWh battery, 545 km maximum CLTC range
Long Range Enjoy – 150 kW & TBC Nm, one motor, front-wheel drive, 79.7 kWh battery, 620 km maximum CLTC range
Long Range Avenir – 211 kW & 465 Nm, two motors, all-wheel drive, 79.7 kWh battery, 603 km maximum CLTC range
Both batteries are supplied by the CATL-SAIC joint venture.
One nifty detail is the shape of the high-mounted brake light: this consists of three vertical elements which resemble the Buick emblem (and the 'lion claw slash' tail lights of many a Peugeot, moreover).
Not all future Buicks will be EVs though, at least not yet. Last year Buick division stated that no liquid-fuelled models would be launched in North America after 2024. Further, the brand will be electric-only "by the end of the decade" in that region. GM China is however yet to make any equivalent statement for the marque's number one market.
An Electra E4 will make its debut in June. This we know thanks to China's notoriously porous Ministry of Industry and Information Technology (MIIT). The leaked exterior images of a prototype show an SUV which resembles the Electra-X, a concept from 2022. MIIT says the E4's bumper-to-bumper dimension is 4,818 mm. Which means the Electra E3 due in 2025 will be 4.5-4.7 m long.
An SUV about the same length already exists but it runs on gasoline, not ions. The Envista is a 4,638 mm long crossover-coupe. Making its world debut at the Chengdu motor show last August, in China it's powered by a turbocharged 1.5-litre four-cylinder engine.
The platform, a 2,700 mm wheelbase dimension and certain other things are shared with the Chevrolet Seeker, another model which is mainly for the PRC.
General Motors' president Mark Reuss confirmed in November 2022 that the Envista would also be available in North America. Announced for the region only yesterday, the Federalised model is more or less identical to the SAIC GM original, save the orange lights in each front wheelarch.
New for the 2024 model year, there are to be three model grades: Preferred, Sport Touring (ST) and Avenir. All-wheel drive won't be available and the sole engine/transmission pairing is a 136 hp and 162 lb-ft 1.2-litre three-cylinder turbo. Drive to the front axle is via a six-speed automatic gearbox. Build for North American markets will commence at GM Korea's Changwon plant later in 2023.
Returning to China-specific models, Buick is especially strong in upscale MPVs. Though many other OEMs continue to pile into this segment, the GL8 series remains strong. Some of the reason for that is SAIC GM keeping older models in production as it launches new ones. For example, there are presently three GL8s, with a fourth – the first GL8 EV – on the way.
The newest MPV is the GL8 Century, this 5,230 mm long fourth generation model having become available in November 2022. Trim levels are Avenir and Flagship with a turbocharged 2.0-litre 48V mild hybrid four-cylinder engine (GM code: LSY) standard. As befits its luxury level pricing, there are four or six individual seats.
Meanwhile, generations two (GL8 Legacy) and three (GL8 ES) continue as cheaper alternatives. They should remain in production for some years yet.
Cars still feature in Buick's future, at least in its largest market. The next LaCrosse will be China-only and should be launched there later in 2023.
According to MIIT data, the new sedan is to be 4,996 mm long with a 2,905 mm wheelbase. As for the drive system, that will be a turbocharged 2.0-litre engine linked to a nine-speed automatic transmission. The platform is GM's E2xx, albeit in updated form.
The LaCrosse Hybrid – also presently manufactured by the SAIC-GM joint venture – should also have a direct replacement.
Cadillac
GM's luxury brand is arguably further along the road to full electrification than Buick. Whether it will find as many customers for its EVs as planned to be manufactured is anyone's guess. At least before proposed legislation in the US begins to bite and/or demand rises dramatically for built-in-China e-Cadillacs.
This year's big statement is the Celestiq, an enormous hatchback with a price tag to match. It will be a rare car indeed though: potentially just 200 examples are to be built each year.
Assembly at the Warren Technical Center in Michigan starts in September. This will probably last somewhere between five and nine years. Cadillac is yet to reveal how many firm orders it has and likely does not have a true picture of demand just yet.
Boasting arresting looks, the 2024 Celestiq features four-wheel drive, four-wheel steering, a 111 kWh battery and in excess of 600 hp with a torque output of more than 640 lb ft. Given the heft of its other Ultium-branded EVs, perhaps it's not surprising that the car's mass is yet to be communicated. In this case, the platform is BEV3.
The new Caddy will also feature GM's so-called 'Ultra Cruise'. Compared to 'Super Cruise', a level 2 system, what sounds like Level 3 AD will allow a driver "…to travel truly hands-free…across nearly every road including city streets, subdivision streets and paved rural roads, in addition to highways," the company asserts.
Interviewed in December 2022, the car's chief engineer stated that the Celestiq would not be available with right-hand drive. Nonetheless, Tony Roma mentioned both Japan and Britain among export destinations.
Whilst many of the components in the Celestiq are bespoke, the architecture is not, having debuted with the smaller Lyriq in 2022. Sporting an impressive 3,094 mm long wheelbase, this 5,003 mm long electric SUV has now been in production for one year. Vehicles for North America are made at the former Saturn plant in Tennessee, with those for Chinese customers built at SAIC-GM's Ultium Center in Shanghai.
The RWD version weighs from 2,580 kg (5,688 lb) with the AWD Lyriq tipping the scales at a minimum 2,683 kg (5,915 lb). Which also means next year's GM-built Acura ZDX will be – uncharacteristically for the brand and its parent company – a hefty thing.
American Honda will in fact receive not one but two BEV3 architecture SUVs. Spring Hill is to be the source of the Acura with one of GM's Ramos Arizpe factories in Mexico to provide the other. This, the 2024 Honda Prologue, will be on sale later in 2023. Each is a stopgap model as Honda is still working on its own e-architecture for large vehicles.
No specifications for American Honda's vehicles have been disclosed but the Lyriq has outputs of 255 kW and 440 Nm for single motor vehicles. That rises to 375 kW and 710 Nm for the two-motor four-wheel drive alternative.
General Motors applies Ultium branding to the Lyriq's battery and this has a capacity of 100 kWh. Packs are assembled in Ohio as part of a JV with LG Chem.
Cadillac's ICE models are of course how the division makes its money – imagine the margins on the Escalade series – and for that reason, it's no surprise that such vehicles are far from going the way of the Dodo. As with most of its competitors, the brand will likely continue selling IC models into the 2030s, at least in China.
Take the XT5, as one example. While it won't have a successor in the US, Canada and Mexico, a replacement powered by an internal combustion engine has been engineered by SAIC General Motors. Look to the fourth quarter of this year for the Chinese market sales launch. The platform will be an update of the current XT5's (C1xx).
This was the second of two features looking at certain new and next models for General Motors brands. It follows a recent focus on what's current and coming for Chevrolet and GMC.